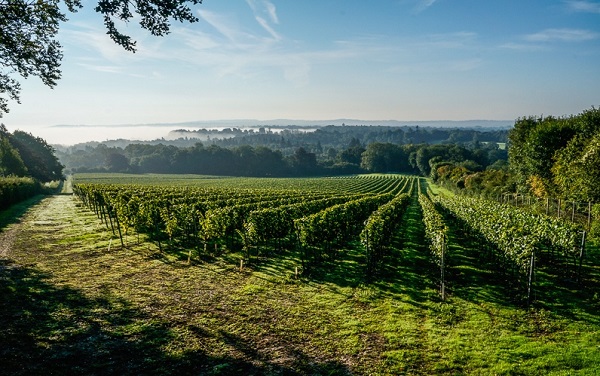 Greyfriars Vineyard
United Kingdom, English Sparkling Wine
Greyfriars was originally planted in 1989 and has been producing great grapes and wines for over 20 years. We took over in late 2010 with the aim of expanding the vineyard dramatically, producing stunning English sparkling wine and building a state of the art winery, cellar and tasting room. We are well on the way to that goal.
We have planted over 40 acres of new vines, predominantly the three classical Champagne grape varieties; Chardonnay, Pinot Noir and Pinot Meunier. This will enable us to create a small range of spectacular English sparkling wines reflecting the unique local soil conditions, climate and heritage of the Surrey North Downs.
The Downs in southern England are blessed with similar geological and soil conditions to the Champagne region in France. At Greyfriars we have a clay/loam topsoil over several hundred feet of wonderful free draining Cretaceous chalk. The chalk was originally deposited over a hundred million years ago when this entire area was submerged under a tropical sea. The highest part of the estate offers splendid views towards the South Downs and east towards Guildford and beyond.