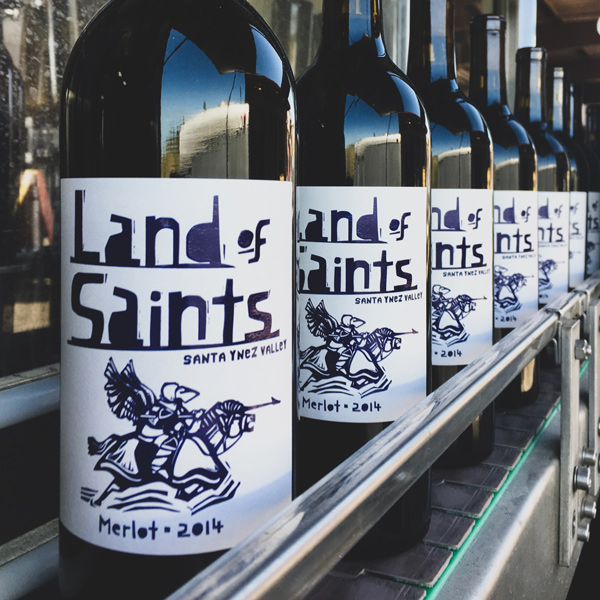 Land of Saints
USA, California
https://loswines.com/
The Land of Saints is a project from three friends from four cultures, under one Californian sun. Exploring the terroirs of Santa Barbara County with a wide-angle lens, their wines are honest, unpretentious, and unapologetically convey a sense of place.
Land of Saints is produced at C2 Cellars (as are the A Tribute to Grace wines), which is located just 10 miles west of Los Alamos and owned by Manuel Cuevas – a native Californian with Mexican heritage. Manuel has learned from and worked alongside winemakers in Santa Barbara and San Luis Obispo counties so brings a wealth of local knowledge.
The other two custodians of Saints are husband and wife team Angela and Jason Osborne. They met whilst Angela was on sabbatical in London from New Zealand, where she was a part of the opening team at Peter Gordon's Marylebone antipodean fusion restaurant The Providores.
Jason Osborne is a native of Cornwall, rich with its folklore and ancient history which lends the project its name. In 410AD the UK entered the 'age of saints' where many holy people flocked to its shores and left their names as legacies as they settled (St Ives, St Austell etc.). The front labels are adorned with images of old English folk tales and reference stories such as 'George and the Dragon', 'The Lion and the Unicorn' and the mythical harpies featured in the works of William Shakespeare's 'The Tempest'. The back label proudly features the Cornish proverb 'What's said of old is said in truth' which, in a vinous context, conveys their dedication to honest winemaking.
The Land of Saints project is fully realised when you look at their newfound home of California, featuring over 30 San's and Santa's, such as Santa Barbara, Santa Maria and San Francisco.
Angela, Jason and Manuel collaborate with local growers across Santa Barbara and San Luis Obispo counties, who are working with minimal intervention. This is a principal that is carried through into the cellar, all the wines are fermented spontaneously with native yeast and racked and bottled in accordance with the lunar calendar.
Each wine strikes the perfect balance between Californian pep and old-world sensibility:
The Chardonnay from sites in Santa Maria Valley and the Sta. Rita Hills is barrel fermented in neutral wood with bâtonnage once a week for the first month of 6 months élevage. The resulting wine has a strong acid backbone to support the wealth of mandarin fruit and kiss of butterscotch on the long, lingering palate.
The Pinot Noir from San Luis Obispo County is silky and elegant, with a small proportion of whole bunch inclusion that brings welcome freshness.
The GSM is a real stand out, comprising 60% Grenache (fermented whole cluster), 20% Syrah (fermented with carbonic maceration) and 20% Mourvèdre from three sites in Santa Ynez. It's undeniably juicy and crunchy, with a wash of red and black fruits and a bite of black peppercorn.
Completing the line-up, we have the Cabernet Sauvignon and Merlot, both from a single site in Happy Canyon (Santa Ynez's warmest AVA) and both blended with a small amount of Petit Verdot. The Cabernet gives you that left bank Bordeaux structure with the warmth of California sunshine.
For those still under the 'Sideways effect', forget what you think you know about Californian Merlot. The Land of Saints Merlot is fruit forward (not a fruit bomb) with light, well integrated tannins and archetypal plum and mocha notes – an absolute delight!