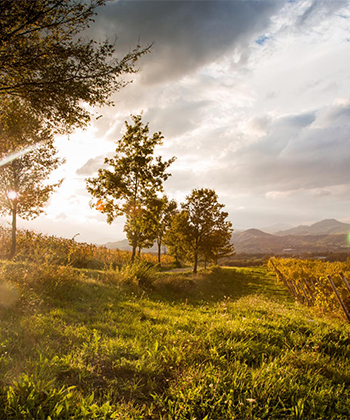 Monte delle Vigne
Italy, Emilia Romagna
Having started out in 1983 with a small farm of 15 hectares (just 7 hectares under vine), Andrea Ferrari produced his first wine, Nabucco, in 1992. This placed the winery on the map as it was the first still red wine produced in the Parma region, which until this point had only ever produced sparkling wine. Since 2012 the vineyard has been farmed entirely organically and they are now making a small range of fantastic sparkling wines too, as befits the area - Monte delle Vigne has come of age!
Over the years, the winery has grown in size, notably in 2004 when they combined forces with neighbour and Parmesan entrepreneur, Paolo Pizzarotti whose collaboration has added more vines and much energy to the project.
Located just south-west of Parma at 300m altitude, in the hills which lead from the Po Valley to the Tuscan-Emilian Apennines, the vineyard is beautifully situated. Laid out strategically with white varieties facing east and the reds facing west to ensure perfect ripening. It is well placed to benefit from a large diurnal difference in temperature with cool air rushing down from the Apennines higher peaks which reach over a 1000m. This allows the grapes to develop elegance, aromatic refinement, complexity and lengthens the 'hang-time' for the bunches on the vines.
Respecting nature is a key to what they do here. At the heart of the property there is a new, perfectly integrated underground winery, that allows gravitational pressing. It has been designed to achieve the highest quality results from what nature offers. The aim is to combine tradition with innovation and they are making some sublime wines - we are delighted to add two Lambruschi to our list.