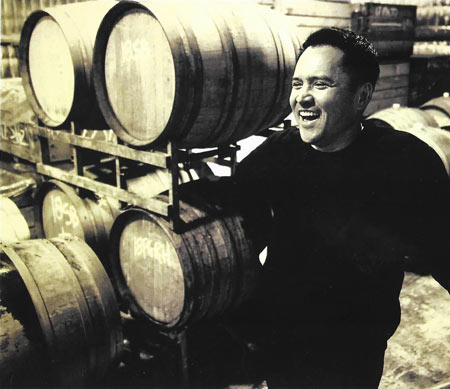 One Block
Australia, Victoria
http://www.oneblock.com.au
Winemaker Jayden and partner Morgan Ong set out their goals thus: "Our wines unashamedly reflect the year and the site that the fruit was grown and harvested. The highs, the lows and the guiding hand of our wine making philosophy. There is nothing for us to hide; our ambition is not to strive for a 'perfect wine', instead balance is the cornerstone of our offering. We believe our wines will express their own alluring character."

Jayden, who was not from a wine growing family, had to start somewhere, and did so by buying grapes from single blocks (hence the 'One Block' label) which he supervises though the year - "Single block, single vineyard wines. I have the same rows in those vineyards each year, and good control over spray regimes, but I do not own them. However, I am now in the position where some of these farmers are now selling the fruit from their 'home' blocks to me as they love the wines I make from their vineyards."

Jayden also makes wines from his own vineyards, under the 'Jayden Ong' label, and buys other fruit not strictly from 'one block' to make other wines under the 'La Maison de Ong' label - just as much worth looking for.

There is not much to add to this other than that Jayden is clearly already an astonishingly accomplished winemaker with experience all over the world, and it is a long time since we got this excited about a set of wines from Australia. A 'must try'.
Jayden Ong, a first-generation Eurasian-Australian, was infected by the wine virus working at the Melbourne Wine Room from 2000-06, and has moved with bewildering speed across all facets of the wine industry since then. Wedging in vintages at Curly Flat ('06), Moorooduc Estate ('07) and Allies/Garagiste ('08-'09) while completing the CSU oenology course degree and (in a throwaway line) opened Cumulus Inc, a restaurant and bar in Melbourne, with superstar chef Andrew McConnell and business partners; he continues to mentor the wine team at both venues. Apart from an annual pilgrimage to France to further his grapegrowing and winemaking experience, he went to Italy in '06 and '12, Germany in '10, Spain in '11 and '13, and California in '14. He founded One Block in '10 with the philosophy of making single vineyard wines 'from quality individual vineyard sites where the variety grown suits the site', making 100 dozen of his first love, chardonnay, in '10. In '15 he and partner Morgan Ong purchased a small property and home at Mt Toolebewong, 700m above sea level in the Yarra Valley. They immediately began biological site preparation for a close-planted vineyard with three new clones of chardonnay. He also leases the dry-grown Chestnut Hill vineyard and winery at Mt Burnett, and has begun conversion of the vineyard to organic and biological farming methods. He doesn't intend to slow down, with all sorts of projects in mind for the coming years. A star in the making. Rating: ***** James Halliday - winecompanion.com.au (Nov 2018)