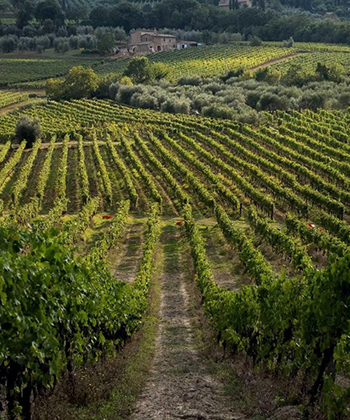 Padelletti
Italy, Tuscany
https://www.padelletti.it/
The Padellettis are one of Montalcino's oldest families, and one with an illustrious past, stretching back into the 13th century at least. In 1529, Giovanni Padelletti, an architect, was given charge of a section of wall and two gates for the defence of the city against the Spanish invaders, and his descendants still own them. Under the Medicis they had to lie low, but by 1576 they are again listed as owning land and vineyards.
Over the centuries the quality of the wines of the area was improving. White grapes, commonly vinified with the red to make the wines drinkable younger, were excluded, and the best wines were aged in barrels made of oak imported from elsewhere, which did not make the wines as tannic as the local chestnut. It was over this time that the wine became known as Brunello, from the tawny-edged colour it took on from long oak-ageing.
The family had a rough time of it in the nineteenth century, many dying young, including Guido, a professor of three universities who died at thirty-five while fighting with Garibaldi, and his brother Dino. However, thanks to the stewardship of his great-uncle Domenico, Guido's son Carlo Augusto inherited a large estate in fine condition.
Carlo Augusto was one of those people you'd like to have met. With four doctorates to his name, he was a diplomat, a judge, a physician as well as being a remarkable industrialist. He by-passed the age of steam to bring electrical power to the region, with internal combustion generators powered by waste from forestry. By 1899 he had lit Montalcino with electricity, and this was followed by electric flour and saw mills, an olive press, and a brick kiln. He built a paper and book-binding industry, and eventually a cinema.
All this time Brunello was produced in tiny volumes, and it became clear that it was the alluvial soils at the foot of the Montalcino hill which produced the best wine. The Padellettis always had vines in the Rigaccini estate, a valley on the north side of the city which slopes down the east side of the fortress, with a soil enriched by volcanic debris from Monte Amiata. From this six hectares they select less than a quarter of the grapes for Brunello, a production of 7-8000 bottles. The wine is fermented in cement tanks and aged in large Slavonian oak casks, in the original cellar in central Montalcino, in Via Guido e Dino Padelletti, under the family's historic house.
Padelletti is a small family estate just to the northeast of Montalcino, where it is operated by Claudia Susanna Padelletti along with the guidance of enologist Antonio Mori. Padelletti is practicing organic viticulture. Audrey Frick, JebDunnuck.com (Mar 2021)