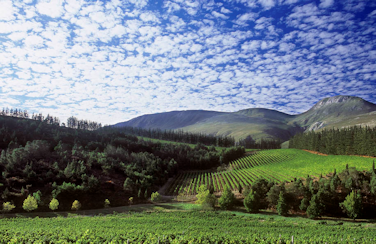 Paul Cluver
South Africa, Western Cape
This family-owned, family-run wine estate is located in the cool-climate Elgin Valley, approximately 50 miles south-east of Cape Town up and over the dramatic Sir Lowry's Pass. The property has been in ownership of the Cluver Family since 1896. They started as fruit growers with apples and pears the focus, but they are recognised as pioneers of wine in the area, the focus here is elegance. Wines that are expressive of this very particular terroir.
It is not only much cooler here than in Stellenbosch or further West in the Cape wine region, but it is also more humid and the soils are very particular. Whilst walking in the vineyards Paul Cluver (the 4th) dropped to one knee and scooped a glass of water out of the 'Dam' right next to one of the Pinot Noir vineyards up on the high ground. The colour of this natural water was extraordinary, a deep browny-orange tint, but still quite clear. He then encouraged me to taste it - and you caouls see why - this is extraordinary, some impressive tannic grip, iron notes and earthiness all come from the high phenol content of the water which is related to the natural scrub-cover of Fynbos. This adds a lovely minerality to the soil and therefore to the vines. In many of the estate's wines you can note this lift and clean edge.
Central to the success of the wine and farming business is the Cluver Family – a close-knit group with a visionary, pioneering spirit. Four of the five Cluver siblings are currently involved in the business, taking over the reins from parents Paul and Songvei.
Paul Cluver IV is managing director, Liesl is marketing director, Inge is financial manager, Karin is production manager (orchards). Winemaker, Andries Burger, is married to Inge.