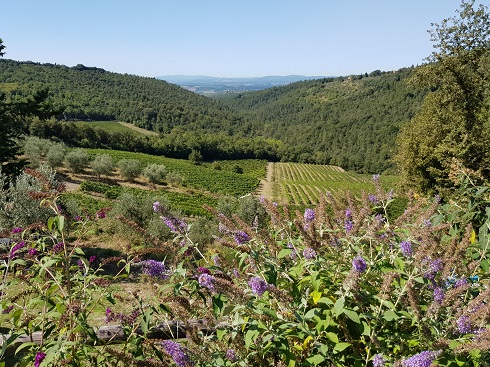 Piemaggio
Italy, Tuscany
https://www.facebook.com/Piemaggio/
Piemaggio sits up on the high slopes of Castellina in Chianti, just to the North East of the town. With stony, galestra laden vineyards between 400 and 450 metres above sea-level there is very much a 'cooler climate' feel to these wines than so many in Chianti. At this height the temperature drops notably in the evenings and this has a great impact on the grapes - slow steady ripening and a broad diurnal temperature range which helps concentrate more complex flavours and avoid over richness in the juice.
Based entirely within the small 'cru' called Le Fioraie this small (15 Hectare) farm is making some brilliant, finely layered wines - each with a precision and persistent elegance that has wowed us at each tasting we have had together. Winemaker Michele Neri was born at the estate in the early 1970's and although it is now owned by another family - he still oversees all the estate's production.
So elegant, so fine - their systematic approach to long ageing in their cellars before release means that these arrive in the UK absolutely ready to drink.