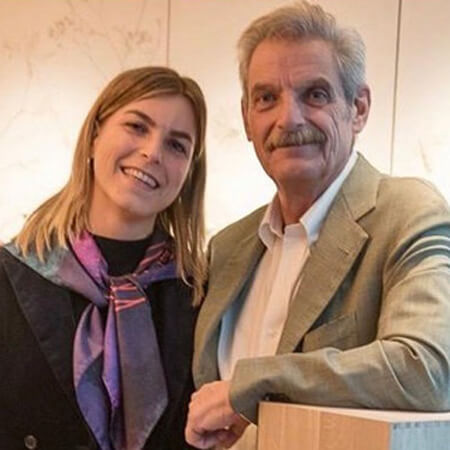 Podere Giodo di Carlo Ferrini
Italy, Tuscany
Famed oenologist Carlo Ferrini who's stellar career has seen him consulting at some of the greatest estates in Italy has finally put down some roots of his own. Putting his full effort and expertise, his heart and soul - into his own winery in Montalcino. Named after his parents 'Giovanna and Donatello' - Giodo is small, just 5.5 Hectares - but perfectly formed.
Carlo spent many years looking for the best spot for his own venture. Just south of the town of Montalcino he found Giodo. South-east facing, gentle slopes, perfectly exposed to the morning and early afternoon sun, where through rigorous selection he has planted 15 different clones of Sangiovese, all selected for their quality of fruit and their low yields. All perfectly suited to this ideal site.
With limited production and incredible provenance, it is no surprise that these wines are in huge demand and heavily oversubscribed.
We are delighted to be the UK's importer for this very special estate - not just because of our respect for the pedigree of Carlo Ferrini - but because they are fantastic wines.
The maestro has finally put his name on the bottle and these wines are full of class and pedigree.
Live videos from the vineyards were also shared by young producer Bianca Ferrini of Giodo Brunello di Montalcino. Her father, Carlo Ferrini, is one of the most talented winemakers in Italy, a master of tamed tannins and elegant wines. After many years of treading vineyards, Ferrini's dream to own land of his own finally came when he purchased 6ha of vines in Montalcino – a considerable extent in the noble world of Brunello – between Sant'Angelo in Colle and Sant'Antimo. Decanter Magazine (May 2020)
Ok, it's probably controversial (you know me by now), but I think Carlo Ferrini's best wines are made here on his own property, Giodo, in St Angelo in Colle. Within view of the majestic extinct Monte Amiata he planted those clones that over the time span of his career gave the best results in five different plots. The cellar is packed to the rafters with tonneaux, but practically all used. Amphoras made their entry too, one so big it had to be build on-site. The Brunellos are some of the most elegant around - after all, this is Mr Smooth Operator, while the IGT, called 'La Quinta' is vibrant and sappy. Unsurprisingly the wines are not exactly given away but they will disappoint no one. (Instagram) Walter Speller, www.jancisrobinson.com (Jan 2022)
Carlo Ferrini is one of Tuscany's great winemakers. But you probably have not heard of his tiny Montalcino estate, Podere Giodo. In fact, I didn't know anything about Giodo until Ferrini drove me there along a rutted, unpaved forest road outside the medieval hamlet of Sant'Angelo in Colle—population around 200. "I must be discreet," says Ferrini, 62. A tall, soft-spoken Florentine with silver hair and a thick salt-and-pepper mustache, he is one of Italy's top consulting enologists. Giodo is his personal project, started over a decade ago, totaling about 1,000 cases a year of Brunello di Montalcino and a simpler IGT Sangiovese. But he keeps the wine low-key so as not to compete with his high-profile clients in Tuscany, which include Barone Ricasoli, Fonterutoli, Brancaia and Talenti. Along an alley of cypresses, he pulls his dust-covered station wagon up to an abandoned farmhouse surrounded by vineyards with stunning views over the rippling hills to the towering Monte Amiata. "After more than 35 years of work, this is my dream," Ferrini says. "I thought it was one of the most beautiful places in Montalcino." The son of a bus driver, Ferrini began his enology career in 1979 as a consultant for the Chianti Classico consortium. After 12 years, he struck out on his own. Over the decades, he helped modernize his clients' cellars and viticultural practices—encouraging better clones of Sangiovese and more appropriate matches between sites and varieties—becoming one of the key players in the quality and style renaissance of Tuscan wines. In 2002, Ferrini fell upon a deal to buy about 25 acres of land, mostly oak forest, from a local family. "There was nothing," he says. "It was all woods and wheat." But Ferrini saw huge potential in the mineral-laced slopes that faced southeast, shaded from the hot summer evening sun. As a consultant who has long emphasized investment in vineyards over winery technique, he set about planting 7 acres of Giodo (a contraction of his parents' names, Giovanna and Donatello) with 15 clones of Sangiovese that he had selected throughout the 1990s for their low yields and high-quality grapes. Ferrini farms organically, with one full-time employee to take care of the vineyards. From Giodo's first vintage in 2009, Ferrini's harvest formula has been simple. In August, he green harvests, dropping about 40 percent of his crop. In September, the first selection of the best grapes goes into his Brunello di Montalcino. About a week later, a second pass in the vineyards goes to his IGT wine, made like a Rosso di Montalcino. In poor vintages, such as the rainy 2014, he skips the Brunello. Ferrini makes his wine in a corner of the cellars of one of his clients—artist Sandro Chia, who owns Castello Romitorio. Carlo Ferrini makes Giodo wines at Castello Romitorio's winery. The winemaking is gentle—a lot like Ferrini—with relatively short macerations, wild yeast fermentations and no pump-overs. "I don't like extraction," he says. "I like elegance, elegance, elegance." You can see it and taste it in his lively, ruby-colored wines that, on first impression, can seem almost Burgundian. Except for a few cases of wine that Ferrini sells to Florence's legendary restaurant Enoteca Pinchiorri (a Wine Spectator Grand Award winner for its 4,500-selection wine list), the rest is exported primarily to North America and Northern Europe. Prices aren't cheap: His Brunello (the 2011 vintage is the current release) starts at about $150 retail and his IGT (current vintage 2013) at about $50. Ferrini remains a man in motion, constantly traveling around Italy to work with his 30-plus clients. But, he says of Giodo, "My dream is to stay here." For now, the house is a stone husk. There is no electricity or running water, but this summer Ferrini hired a crew to drill a well. He has cleared land for a tiny winery, designed to harmonize with the natural surroundings, to be completed for the 2019 harvest. He hopes his daughter, Bianca, a 25-year-old student in advanced economics, will join him making wine there. Ferrini has other dreams left in him—like making a fine cow's milk cheese (he originally wanted to study cheese production) and making wine on Sicily's Mount Etna, where three years ago he bought about 3.5 acres of Nerello Mascalese vineyards. For now, he gives his Etna crop away. "In five or six years, I would like to make a wine on Etna," he says. "Now I am focusing on Montalcino." The Wine Spectator, www.winespectator.com (Aug 2016)