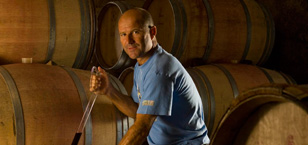 Spice Route
South Africa, Western Cape
Spice Route is owned by winemaker Charles Back with vineyards in both Malmesbury and Darling, North-West of Paarl in the Swartland district. Deep rooted unirrigated bush vines, moderated by cool Atlantic breezes, produce exceptionally ripe and full flavoured wines with great balance.
Other reviews and comments
Having established Fairview in Paarl, Charles Back founded the Spice Route Wine Company back in 1997 after acquiring a farm in Malmesbury. His aim was to source fruit that had been traditionally sold to co-ops and exploit the untapped potential of the region. The company expanded into Darling in 2005 to source Sauvignon Blanc from its cool surrounding hills, which has since been complemented by Shiraz, Chenin Blanc and Semillon. This was a good range of wines, especially the Chakalaka considering the price point, although I felt that the flagship Malabar was trying too hard to make an impression.
Neal Martin, www.robertparker.com