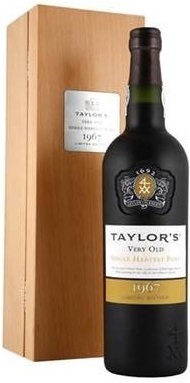 TAYLOR
1967 Very Old Single Harvest
| | |
| --- | --- |
| Origin | Portugal, Port |
| ABV | 19% |
This is a 50 year old Colheita - Tawny Port from a single vintage known as Single Harvest to avoid any confusion. As soon as this hits the glass you are hit between the eyes by incredible aromas, dried fruit, hard toffee, beautiful spices, some clove, some cedarwood - a wonderful ethereal fresh cigar whiff. With more time in the glass this gains weight and momentum. Beautifully harmonious, the raisins at the start are plumping out to gorgeous golden sultanas, the toffee becoming more treacly - but there is acidity too a bright zip of cranberry and redcurrant. This adds a zing of electricity and urges you to hold this in your mouth and let it unfurl itself further. Intense, beautifully balanced - this glides over the palate and goes on revealing more and more levels of flavour and depth. Simply delicious and back to the level of the epic 1964 that launched this recent Taylor initiative to present 50 year old wines to the market. Packed in a very smart beech-wood single case this fabulous drink would make the perfect present to help celebrate fiftieth birthdays or remarkable anniversaries. Very long and a huge treat. L&S (May 2017)
*Case Price: Mix any 12 bottles of wine or buy 6 bottles of Champagne, Spirits or Fortified (as a full pack) to get the 'case price' for each bottle.
So what was news in 1967? Prime Minister, Harold Wilson applied for EEC membership, Sir Francis Chichester completed his single-hand, round-the-world voyage on Gypsy Moth IV, the QE2 was launched, the Beatles released their iconic album, Sgt Pepper's Lonely Hearts Club Band, Concorde was unveiled in Toulouse and Strictly Come Dancing contestant and former Labour MP, Ed Balls, and ex Liberal Democrat leader, Nick Clegg, were born. L&S
This draws you in, with aromas of warm halva and toasted pistachio giving way to a wide range of buckwheat, toasted sesame, walnut husk, menthol and licorice root notes that refuse to break down in the mouth. Exhibits remarkable length, with ample viscosity matched by steely tension, putting this in rarefied air. Rating: 98 James Molesworth, The Wine Spectator (Dec 2016)
This 1967 is part of Taylor Fladgate's regular releases of aged Colheita. It is showing a perfect moment in which the fruit finally passes into old gold maturity. The wine still has hints of sultanas, but now it's the fine wood and spice character that is equally important. Rating: 94 The Wine Enthusiast (Dec 2016)
Taylor
Taylor, Fladgate and Yeatman is one of the oldest and largest port houses, and owns the renowned brands Fonseca, Fonseca-Guimaraens, Croft and Taylor. Based in Oporto and the Douro Valley, it is an independent company which is still family-owned and managed. Widely renowned for its vintage ports, which are blended from the finest wines from its three iconic 'quintas', Taylors is also credited with being the originator of the Late Bottled Vintage style of port.
This wine isn't currently part of a mixed case, but you can always browse our full selection of mixed cases
here.
We offer free nationwide* delivery for all orders over £100. For orders under £100 please call 020 7244 0522
Order & Collect from any of our 4 London shops. Order by Midnight for collection the next day from 11am
For full delivery details see our Delivery page.
ORDER COLLECT
ORDER ONLINE AND COLLECT FROM ONE OF OUR SHOPS