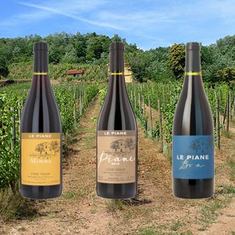 Here's a cross the board selection from Christoph Kunzli's outstanding, vinously isolated and deliciously different estate in north-east Piedmont.
'This is simply a magical bottle. That's all there is to it.' says Antonio Galloni of the Boca 2011, lavishing 96 big points on it into the bargain. That's reason enough, surely, to lay in a pack. 85% Nebbiolo 15% Vespolina, so the one that speaks most of what you might expect from Piedmont, Maybe.
The Le Piane, on the other hand, is idiosyncrasy that proves how different Boca is to the rest of Piedmont. 90% Croatina with small amounts of Vespolina, Nebbiolo, Erbaluce and others.
And the charming plump blackcherry and spice Mimmo (70% Nebbiolo, 30% Croatina) is the one to drink whilst you're deciding when to broach the other two.
L&S
We offer free nationwide* delivery for all orders over £100. For orders under £100 please call 020 7244 0522
Order & Collect from any of our 4 London shops. Order by Midnight for collection the next day from 11am
For full delivery details see our Delivery page.
CONTENT

2013 MIMMO Le Piane
Piedmont Italy
The most approachable and most immediately inviting of Christoph's magical wines from these high vineyards in the Alta Piedmont. This is 70% Nebbiolo and...
2 x 75cl bottles

2012 LE PIANE
Piedmont Italy
90% Croatina - from vines over 100 years old, 10% Vespolina a little Erbaluce and some other bits and pieces. Croatina is quite a low-acid grape, but the...
2 x 75cl bottles

2011 BOCA Le Piane
Piedmont Italy
As with more mainstream Piedmont to the south the 2011 vintage here in the Alta Piemonte was very good with some ideal growing conditions throughout the...
2 x 75cl bottles