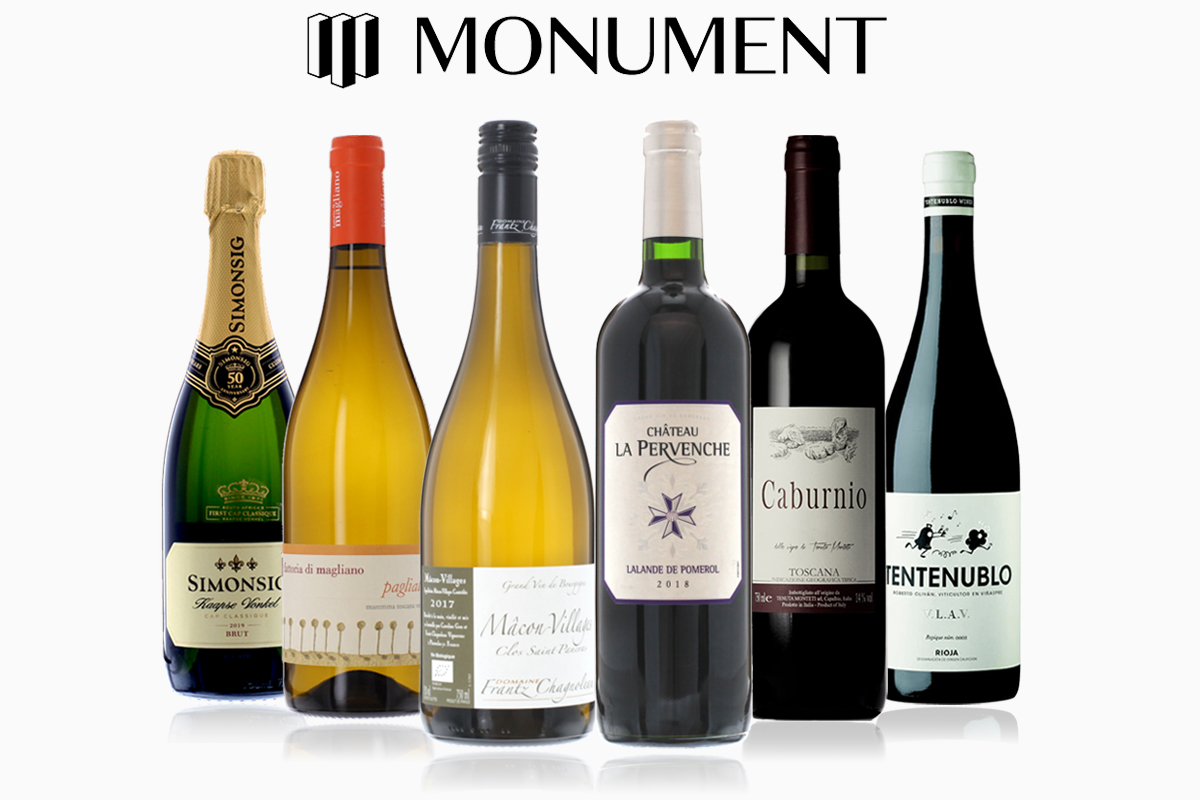 A case of guilt free fun!



Start things off with a bottle of Simonsig's Kaapse Vonkel Estate Brut, the first people to ever produce a Champagne clone in South Africa, it's an amazing alternative, made in exactly the same way and with the same grape varieties as their more famous French cousin.
Food pairing: Fish & chips. You'll be amazed how well the zesty, toasty characters compliment the nation's favourite dish.

Then, channel your inner sunshine with a bottle of Vermentino from Fattoria di Magliano. Their stunning vineyard starts at 300m then rolls gently down to the Tyrrhenian Sea – it is both a wild and beautiful place, which reflects in the wine. Zesty, citrus and Italian herbs mingle in the glass.
Food pairing: Tuscan salad. A great way to use up a bit of stale bread, and will transport you immediately to the windswept coast…

Following on from this, we've a complex and elegant Mâcon Villages Clos Saint Pancras, which, instead of being named after the London train station, comes from a little walled vineyard (known as a 'Clos'). It got a massive 93/100 point score from Decanter Magazine and is rich, tropical, creamy and zesty.
Food pairing: A lovely creamy chicken risotto. The citrus elements will lift it all up and the richness will bring the whole dish together fantastically.

Next, moving onto the reds, we have a Lalande de Pomerol. Château La Pervenche literally translates as 'house of the blue periwinkle', a rather wonderful, romantic name. Although the wine isn't perhaps a pretty as the flower, it is warming, rich and fruity. Pomerol is an area famous for incredibly expensive merlot based wine – Lalande, as its slightly less glamorous neighbour, produces a great alternative.
Food pairing: This is something to have with your Sunday roast beef. Classic and delicious.

Caburnio from Tenuta Monteti transports us back to Tuscany. This time to the Bolgheri coast, an area famous for producing some of the most expensive wine in Italy. What we've snuck into this case might not quite have the recognition of those that cost hundreds of pounds per bottle, but it's an amazing way to discover what people mean when they mention a 'Super Tuscan'. Bordeaux grapes are blended with the native Tuscan varietals to make something even greater than the sum of its parts. To boot, 2016 was one of the best vintages ever, and has enough bottle age to really smooth out the wine.
Food pairing: Put this together with a lasagne and find out just how enjoyable they make each other.

Lastly, a classic Rioja from Tentenublo with a twist. Focussed on making high altitude wine from tiny vineyards in the Rioja Alavesa, this is much fresher and brighter than Riojas you may have had in the past. Tentenublo harks back to a superstition where bells were rung in Rioja to try and chase off hailstorms (who knows if it worked…), hence the picture on the front of the little bell chasing away a storm cloud. This is modern, small production Rioja at its best.
Food pairing: Great with lamb, whether it's slow cooked, chopped or roasted.
L&S
For full delivery details see our Delivery page.
We offer free nationwide* delivery for all orders over £150 with our own vans. We also offer an express delivery service for an additional charge.
Order & Collect from any of our 5 London shops. Order by Midnight for collection the next working day from 11am.
Private wine storage: we offer a full In Bond and Duty Paid private wine storage service - find out more here.
CONTENT