Mini-Offer of MAREMMA MAGIC – Sassicaia 2010 and other jewels of the Tuscan coast
The release of Sassicaia 2010 gives an opportunity to have a look at a few of the other wines from the west Tuscan coast, the 'Maremma'. We will be putting a fuller offer onto the website in the coming days.
Tenuta San Guido
Sassicaia was the original Super Tuscan estate that burst onto the scene in 1971 spawning many imitators and it needs little more introduction other than to reaffirm that it is as close to buying a First Growth as you will get from this region and for now still a lot kinder on the pocket.

SASSICAIA 2010 Tenuta San Guido £ 535 per 6 IB (£672 Duty-Paid Incl. VAT)
Pointed, fresh Cabernet nose. Very supple and smooth and serene and in this
sense surprising for a pure Cab – no doubt the Cabernet-Franc portion contributes to this. Great harmony and fine texture, a real joy in it's gentle authority. The refined side of Sassicaia. L&S
Le Macchiole
Over at Cinzia Merli Campolmi's le Macchiole they are gearing up for the celebration of the first 20 vintages of Paleo Rosso on the release of the 2009 later in the year, but since the 2008 is one of the best vintages yet, don't hang about, dive in. By the way there is a website devoted entirely to the 20 year anniversary and a competition which could see you go to Tuscany to join the tasting of all 20 vintages – enter here!
2008 PALEO Bolgheri Rosso Le Macchiole £220 per 6 IB (£280.80 duty paid incl. VAT)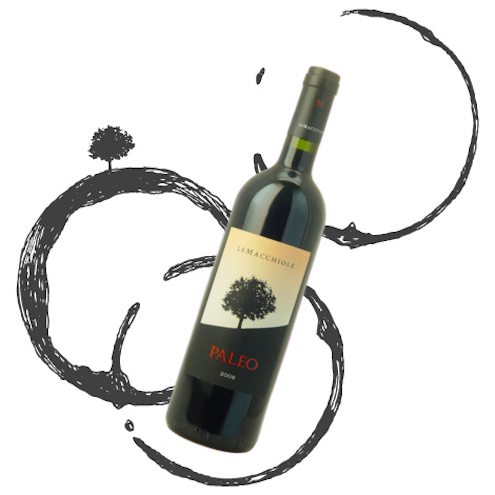 The best pure Cabernet Franc on earth? Best Paleo ever here. Incredible concentration of fruit, yet racy and balanced. The palate is crazy. It's like chocolate olive oil cake. Beautiful fruit, with dark berries, olive leaf and chocolate. Love the texture. Can't wait to drink it. 97/100 James Suckling.
Dark red fruit, freshly cut flowers, minerals, spices and sweet herbs are some of the notes that emerge from the estate's 2008 Paleo Rosso. The Paleo impresses for its vibrant minerality and exceptionally long, focused finish. The 2008 isn't a huge, opulent Paleo, rather it is a wine of more classic proportions built on harmony, of which there is no shortage here.  Anticipated maturity: 2015-2028. 93/100  Antonio Galloni, The Wine Advocate.
And for those who cannot wait, or simply want a great value Bolgheri for drinking now, we are offering Le Macchiole's 2010 Rosso at a very special price for a limited period only:
2010 BOLGHERI ROSSO Le Macchiole
Normal 'case' price per 6 £101.70 incl. VAT (£16.95 bottle)
Offer Price per 6 £95.70 incl. VAT (£15.95 bottle)

The 2010 version of Le Macchiole's Bolgheri Rosso is a blend of Merlot, Cabernet Franc and Syrah. Upfront and ripe this full-bodied, yet remarkably elegant wine drinks beautifully already having been aged in a combination of cement tanks and neutral oak. You would have to pay a lot more in Bordeaux to get this level of quality and satisfaction.
From the Bordeaux-orientated part of Tuscany, i.e. Bolgheri on the Adriatic coast, this is a blend of Merlot, Syrah and Cabernet Franc showing aromatic, delicately herbal notes and bright, dark cherry fruitiness polished by a delicate touch of oak, very much in the modern Italian vein; a powerful, opulent red with a Bordelais accent, yet distinctively Italian. www.thewinegang.com.
Tenuta Monteti
Tenuta Monteti is in the southern part of the Maremma, some fifteen kilometres from the border of the region of Scansano, under the hill of Monteti, near Capalbio. The twenty-five hectares of vineyard are planted with Cabernet Sauvignon, Petit Verdot, Cabernet Franc, Alicante and Merlot in individual lots of one hectare, each vinified separately in the new, state of the art, winery. Described by Robert Parker as one the most exciting properties on the Tuscan coast, we urge you to try these wines and enjoy them as much as we did when tasted earlier this year in London. The top wine 'Monteti' has really come into its own in the last few vintages, and for this offer we have squeezed the 2007 back under £20 at the 'case' price.
2007 MONTETI £119.70 per six bottles inc. VAT, (£85.00 in bond)

'The 2007 Monteti bursts from the glass with the essence of blackberries,
blueberry jam, crushed rocks and spices. This is a decidedly inky, sumptuous,
super-ripe wine that needs a few years in bottle to settle down. The 2007
Monteti is 55% Petit Verdot, 25% Cabernet Franc and 20% Cabernet Sauvignon that
spent 18 months in French oak barrels, 70% new. Anticipated maturity: 2012-2022.' 92 points, Antonio Galloni, the Wine Advocate.
As a little celebration of three top vintages, Monteti have offered us a very limited number  of  these mixed 3-bottle wood cases with one bottle each of 2005, 2006 and 2007. This makes a fascinating vertical, as Javier proved on a recent visit, and comes strongly recommended. This pre-release price  works out at £24.95 per bottle, very fair when it includes these two older vintages. Buy early for end of year gifts?
MONTETI 'Tris', 1 2005, 1 2006, 1 2007 £74.85 Incl. VAT (£54.00 ib)
OFFER PRICES: These offer prices are valid until THE END OF JULY  (and while stocks last), after which the prices will revert to normal for any remaining stock.
TO ORDER: Please email sales@leaandsandeman.co.uk, or call your usual shop or L&S contact. If you want to have a look at all the wines we have from this exciting area, there is a wider website offer coming soon with some mixed case ideas.
DELIVERY: With the exception of the Monteti Tris (shipping now for delivery in around a month) all these wines are available for immediate despatch, subject to our usual terms.
BOND DELIVERIES: Please specify if you are ordering In Bond, together with your account details. All Bond orders will be subject to a £15 + VAT documentation and delivery charge, except for Elephant Storage  account holders.