"I was bowled over…"
Last week we got an order for this wine from Exeter College Oxford, with the remark from Dr Hanneke Wilson, coach to the multi-competition-winning Oxford Blind Tasting Team:-
'I was bowled over by the CABURNIO 2010 (Tenuta Monteti) in my recent order … it would make an excellent addition to the College cellar.'
So why not to yours too? Ready to drink, although undoubtedly with bags of life left, this is a remarkable value wine, and the best vintage yet. We wrote about it in passing when making the recent offer on its big brother 'Monteti', but it really deserves its own moment in the sun:-

2010 CABURNIO Tenuta Monteti   £14.50 single bottle, £12.95 per bottle 'case price'*
You will remember from the Monteti post that the rocks that were grubbed out of the vineyard, and are now scattered around its perimeter, are the basis of the rather odd label design.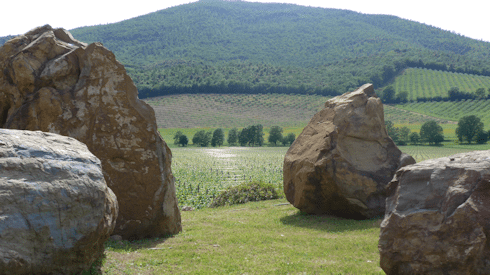 * 'Case price' refers to the discounted price per bottle which applies to all orders of 12 bottles or more from L&S, however mixed and including delivery on all orders over £100.
Why not mix this up with some previous 'Wines of the week'?