"Tenuta Monteti remains arguably the single finest source for reasonably priced wines in Maremma." Antonio Galloni on erobertparker.com.
The L&S team at Vinitaly voted Tenuta Monteti's 2008 'Monteti' the most exciting wine we tried there this year. Maybe not the best – see Le Macchiole, Terriccio or upcoming Barolos from Fabio Oberto (coming soon) for that, but the most exciting in terms of most improved, most extraordinary value. The 2007 was and is excellent, but the 2008 is just something else – finer and more streamlined, with astonishing complexity and class for a wine hovering around the £20 mark – a real rival for Tassinaia – you have got to try this now, but it has potential for another five or ten years too.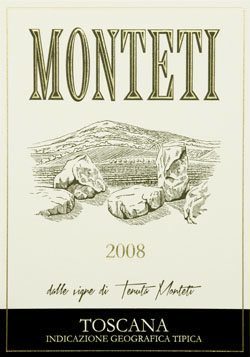 'The 2008 Monteti impresses for its depth and pure sensual expression of fruit. A warm, inviting bouquet leads to dark cherries, asphalt, graphite, tar and licorice in this rich, dynamic wine. The personality of the Tuscan Maremma comes through in spades. The 2008 is another incredibly reasonably priced wine from Monteti. It will challenge wines costing two times (or more) as much! Monteti is 50% Petit Verdot, 30% Cabernet Franc and 20% Cabernet Sauvignon aged in French oak barrels, 70% new. 94 points' (Antonio Galloni, erobertparker.com)
Special offer (by the case) at £19.95 per bottle inc. VAT and delivery subject to normal terms (post-offer £24.95 by the case – so save £24 on a case)
We also have their second wine, which is better-known to our customers, Caburnio. This comes in at a mere £12.95 per bottle at the case price.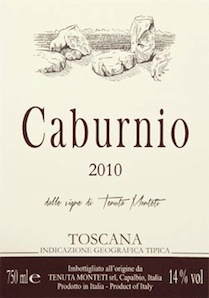 Don't forget you can mix any 12 bottles to take advantage of this special offer case price.
It is quite a story. This estate only planted its first vines in 1998. To have produced this beauty after only ten years (+ another four of ageing) is an astonishing feat, and testament to a huge commitment and perfectionism on behalf of the owners, Paulo Baratta, his wife, daughter and son-in-law.
It started with a vision – Paulo, whose origins are in Lombardy and whose family are producers of Oltrepo Pavese, spent a lifetime working in Rome, but yearned to get back to the country, and to make a completely different style of wine. He hired Carlo Ferrini (also oenologist at Terriccio and Le Macchiole) and togther they scoured Tuscany looking for the perfect location, finding it eventually in the hills south of Capalbio, not far from Orbetello and the Monte Argentario peninsula (which sits on the kneee of Italy like a semi-detached patella). No one else was making wine of anything like the quality he aspired to in this region at the time.
They bought the property in 1998 and immediately started planting – although the plantings did not reach the final 28 hectares until 2004, which was also the date of the first commercial vintage (which L&S began selling in 2006, with the second wine 'Caburnio'). They planted Cabernet Sauvignon, Merlot, Cabernet Franc, Petit Verdot and Alicante Bouschet, at a density of 6600 vines per hectare (a density unheard of in Tuscany). Each plot is vinified separately and the wines are kept entirely apart up until the blending which happens right at the end of the ageing process. In the vineyard as well as the winery, Paulo's background as an engineer is evident. As they were planting they came across some huge rocks in the ground, and these were extracted with immense care, now standing as sentinels around the vineyard as a 'signature'.

The vines, planted 80cm apart in rows, are restricted to between 1 and 1.2kg of grapes per vine. Drip irrigation is installed throughout the vineyard, as are robots that have been specially designed to mimic the vines, with sensors on the tops and undersides of 'leaves' to measure humidity and stress from reading of the air and the soil. These robots communicate with a central meteorological station which combines all the data and advises when treatments are necessary – by doing this they have halved the number of treatments required.
The winery was designed to sit hidden in the landscape by an architect friend of Paulo, while the interior shows the attention to detail that only a perfectionist engineer could bring.


They do not like to pump-over the fermenting wine, so they use pigeage, but no jumping into the vats themselves – they have the perfectly designed bespoke plunger to gently depress the floating cap into the fermenting liquid – in the picture below Javier is shown with this machine – which slides along a rail to be positioned over each vat in turn. The railing of this gantry doubles as the pipe which brings nitrogen to each vat, with which the wine is protected from an air contact – another touch from engineer Paulo. It is no accident that they have achieved the quality level they have, but by an almost breathtaking attention to detail.