New releases of Le Macchiole, including Paleo, Messorio & Scrio 2012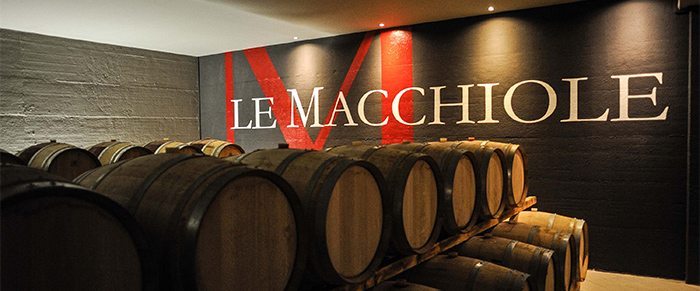 This year's release from Cinzia Campolmi's extraordinary Bolgheri vineyard are as exciting as ever. This wonderful estate is run by a small and close-knit team, and as Antonio Galloni wrote last autumn,
"In a region that is increasingly dominated by deep-pocketed owners and glamorous wineries, Le Macchiole stands out for decidedly artisan wines that reflect more human values than is often commonly found in this part of Tuscany".
We love this place and the people – there is a close-knit team (Cinzia aided by her brother Massimo in the vineyards and winemaker Luca Retondini) and there is an energy an precision in everything that they do, and they remain self-critical so that improvement is constant.
Paleo
As well as the Bolgheri Rosso, the blend which forms the major part of the production, which offers such terrific value for money year in year out, and the infinitesimally small production of the white Paleo Bianco, the estate distinguishes itself, in a region where 'Bordeaux blends' are the rule, by making three single varietal wines that have each become classics in their own right….started life as a blend, but as time passed the quality of the Cabernet Franc fruit of the estate made them dream, and from 2001 onward Paleo has been pure Cabernet Franc, and this has proved an immensely influential wine, with plantings of Cabernet Franc now growing fast in the area. It could and has been argued that this is the greatest pure Cabernet Franc wine in the world. Certainly you have to wonder what you'd pay for other wines with a high proportion of Cab Franc with this critical acclaim from elsewhere. Cheval Blanc or Lafleur anyone?
The ripeness is complete, but the wine remains cool and collected, for all its concentration, supple, dancing, silky, with elegant and fresh floral notes intertwined with the dark background of ripe fruit and spice. If you want to try the style now, we have a small quantity of the 2009 left (it was the final red of the night at the NSPCC City Fine Wine Challenge, and the one that Tim Atkin MW decided he'd like a glass of after he had finished the quiz!), but the 2010 sold out en primeur, and the 2011 is also all but gone.
Scrio…is a pure Syrah, and much the smallest production of the varietal wines. It is not like a Côte Rôtie, but neither is it like anything called Shiraz. It has been described as 'atypical', but we prefer to call it 'individual'. This too is a wine that is evolving, and the 2012 continues the move away from the big chocolatey 'mocha and spice' of some of the early vintages, and towards fresher, more floral, fresh berry aromatics atop a wine that still has density and ripeness.
Messorio…the pure Merlot, remains (at least for now) the king here, rivalling Masseto from the Ornellaia estate across the way. The Bolgheri ripeness, which gives such depth and breadth, is there in spades, but there is something about this site which gives an extraordinary textural sensation, smooth but strong, like a fine soft leather, it seems all of a piece, with flavours that seem to come from sun and earth, even a sea breeze freshness. Immensely complex, it will develop over many years.
All wines can be ordered In Bond or Duty Paid via our website: