Dreaming of a White Christmas, but some Red of course too!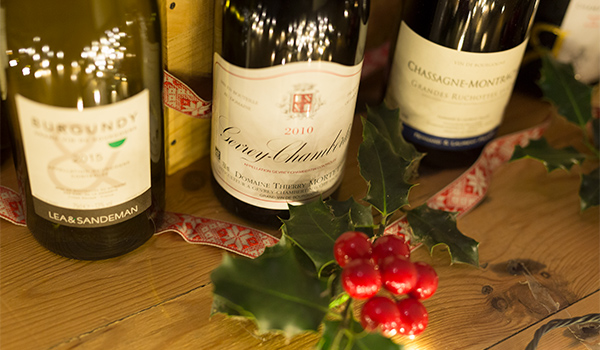 Christmas is the perfect time to indulge a little, in every quarter, wine included. This does not mean we all have to drink hugely expensive wine at every turn – no, what's important is to make sure that what we do drink is perfect, every time. To have all options covered for drinks party guests, for that vital glass to go with your quick kitchen-supper interlude while you 'down tools' from the wrapping frenzy. Through to the big day itself, the all-important Christmas Dinner and the aftermath, something comforting and indulgent to go with your mince-pies and the oft overlooked Boxing Day gathering that needs some well-chosen bottles to revive body and soul as left-overs are hoovered up. We have some superb Christmas Selections to make this task easier and the mixed case selection takes the time out of getting yourself the perfect mix – so you have everything covered, in an instant.
If not now, when?
Getting the home 'cellar' in order is vital and the L&S delivery team are second to none in getting you sorted for Christmas. To underpin the whole stretch, some 'sparkle' is in order. We have some fantastic Champagne deals this year, it really is the best time to buy Grandes Marques Fizz, as almost all your favourites are now available at unbeatable prices. It is always worth having a little bit of something special like the super Taittinger Brut down to under £30 per bottle until the end of the month – but also something more thoughtful, we'll be grabbing a 6-pack of the fantastic value BARNAUT 'Blanc de Noirs' which comes from our friends, the Secondé family, in Bouzy whose grapes all come from their own Grand Cru vineyards.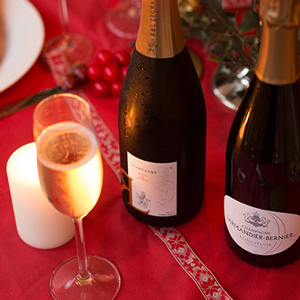 Reduced by almost £5.00 per bottle, the Barnaut is a broad, intense Champagne which is perfect at this time of year – made only from red grapes, this white sparkler is incredible; Satisfying, complex and sophisticated, yet most importantly it is completely delicious. Serve to those in the know, they will simply love it.
(Alongside great offers on Grandes Marques Champagnes, we have made a strong effort on all of our Grower's Champagnes – they are truly excellent value)
 But, what about with Turkey?!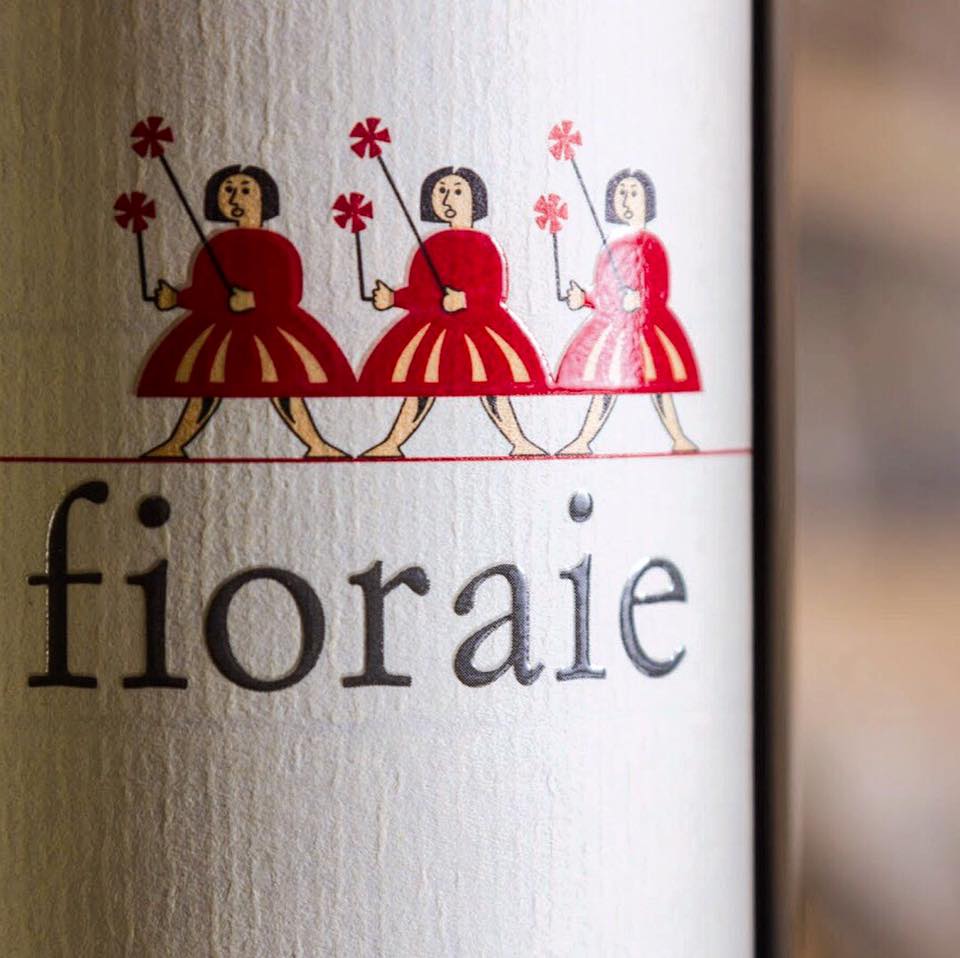 This year we have been delighted to find some new gems and over the next few weeks, we'll certainly be enjoying some of these as they will make perfect seasonal drinking. The 2008 CHIANTI CLASSICO 'Le Fioraie' from the Piemaggio estate up in the hills of Chianti is fantastic drinking. Held back at the winery until they felt it was perfectly mature – this is spot-on for Christmas time. Full of delicious dark fruit and lovely spice, with the classic Chianti 'ping' of acidity that keeps this bright and fresh. A suave, mature alternative to the classics.
But, the classics should be involved, of course! We'll be opening some great bottles of Bordeaux too, just what is called for on a cool winters evening. The 2011 CHÂTEAU CAPBERN GASQUETON is delicious now, lithe and 'claret-shaped' as you would hope from this smart St Estephe property. This is beautifully fine, full of bright juiciness, with no hard edges at all. Just a sexy, sleek flow more old-school perhaps, joyous certainly. Bordeaux is rightfully a Christmas favourite and deserves its place in our carefully selected 'Complete Christmas Case'.
Sometimes a Magnum is what is called for and we'll certainly be pouring some of the fantastic 2009 CHÂTEAU PUYGUERAUD from magnum for friends and family. Made by the Thienpoints of Vieux Chateau Certan, this has breath-taking class – and is joyous to drink. Loaded with perfectly ripe, fleshy dark fruit, a classic 2009 feel – from this stand-out vintage.
Another of the wines we are really looking forward to drinking is the 2015 POMMARD Tavannes from the brilliant Laurent Pillot. Pinot Noir is a great partner for Turkey and this has just the right level of satisfying fruit heft and sleek Burgundian Pinot elegance to be a knockout on Christmas Day. This is part of the brilliant Burgundy Mixed Case – delivered to your door in the click of your mouse!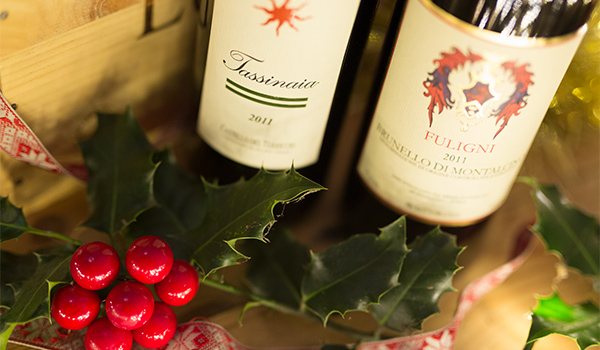 (Our last remaining Tassinaia 2011 is in our Italian & Tuscany Mixed Cases)
For a proper treat, perhaps even a perfect Christmas Present – we can hardly wait to pull the cork on the rare and very special 2008 NUITS SAINT GEORGES 1er Cru 'La Richemone' from Christophe Perrot-Minot. Deep, rich Pinot Noir from one of the smartest producers around, the 2008 is powerful, broad and totally charming. This thrilling, nuanced, complex red will light up the table on Christmas day.
We're not all red heads, what else have you got?
For Whites we'll certainly need something crisp and bright, any of the joyous bottles in the Dry Whites Christmas Mix will pair well with Christmas Canapés and satisfy all when it's aperitif time. This mixed case will be a bit like an advent calendar as we lead up to the big day with a glorious mix of 12 different zippy bright whites, we'll enjoy every step of this countdown! And we cannot wait to try Leo Felici's awesome VERDICCHIO CLASSICO SUPERIORE with the traditional Smoked Salmon – these will work together wonderfully.
We'll certainly need something with a touch more substance too – and the LEA & SANDEMAN White Burgundy is definitely part of the plan. This is full and intense in 2016, but fantastically poised too – with a crisp, citrus line running right through it. But for a Christmas treat a bottle or two from the  Christmas White Burgundy Selection will be necessary, some fantastic, grown up White to hold its own with Turkey, delicious.
To Puddings, Cheese & Beyond!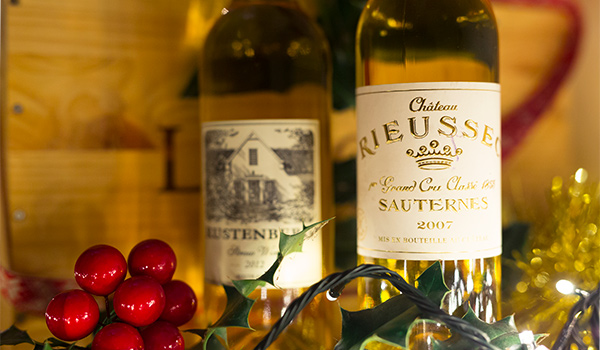 With the Christmas Pudding it will be fantastic to crack a bottle of the '5-year-old Reserva' Boal Madeira from the awesome producer – Barbeito.  This copes brilliantly with the pud but also holds sway with Brandy butter too – in fact this will stay on the table for cheese too – but it would not be the same if we didn't also open some port for the Stilton, it is Christmas after all! Depending who makes it on the day it will probably be one of these two beauties, either the 2012 QUINTA DA ROMANEIRA Late Bottled Vintage – or the fabulous 40 year old 1977 GRAHAM will finish things off with style!
Round off your Christmas Selection from our wide range of Sweet wines & Sauternes.
As the old saying goes: 'Life's too short to drink bad wine' and this is never truer than at Christmas, sharing great bottles with friends and family must be one of the greatest joys.
Merry Christmas from us all!