Bollinger R.D 2004 – Global Launch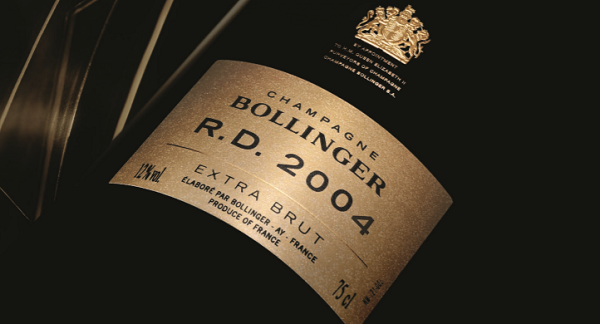 On Tuesday last week we had a visit from the charming and engaging Karl Reuter, export director at Champagne Bollinger. Karl was introducing us to the latest release of this noble Grande Marque's legendary 'R.D', or Recently Disgorged, vintage Champagne.
We were very privileged to be the first people to taste this hotly anticipated new release outside Bollinger itself. Not only that, Karl had a very special treat up his sleeve; one that he had squirreled away in his hold luggage and chilled over-night in his hotel mini-bar… a bottle of the gloriously developed but still sprightly 1995 R.D. It all made for a very exciting Tuesday morning at our Kensington shop!
The Concept of R.D.
Karl began by introducing the unique concept of R.D – a wine which combines the richness of long lees ageing and late disgorgement with the freshness of very low dosage. It's a cuvée that Madame Bollinger specifically envisaged, "to benefit the consumer who was searching for a new and exclusive level of quality." That was the aim when R.D. was launched in 1952, and that is the aim with the 2004 – just the 25th release of this exceptional Champagne.
Fruit for the R.D is sourced exclusively from 16 of the very best premier and grand cru parcels in the Montagne de Reims and Côte de Blanc, where yields have been kept incredibly low. In the winery, only the first press is used and each batch is subject to forensic tasting and selection. Vinification is all done in used oak barrels sourced exclusively from Domaine Chanson in Beaune. Dosage is deliberately limited to just 3g/l. The base wine is then put into hibernation in Bollinger's cool Aÿ cellars and is only disgorged when ready to drink – often a decade or more later! The result is a Champagne of profound intensity and freshness that will keep on developing for years to come.
Bollinger R.D 2004
The nose on the 2004 was strikingly crisp with plenty of orange peel and pink grapefruit floating above the deep autolytic base that is always a hallmark of 'R.D'. As it opened out, the nose developed some very inviting notes of candied peel, sweet spice and baked apple. On the palate you could really feel the 13 years this has spent on its lees. It had a lovely weight and softness that beautifully balanced the lively acidity and low dosage.
At present, this is quite a muscular wine, certainly more so than the 2002 at this stage of development. Where the 2002 R.D was a sleeping beauty on release, this is much more alive, open and inviting. You really could drink it now. In fact, '007' may do just that in his next installment. Samples have apparently been sent (presumably direct to MI6).
Who am I to question Mr Bond's taste? Particularly given his extraordinary ability to identify the 'unmistakable' basis (1851) of an 'unusually fine' Solera in Diamonds are Forever! Nevertheless, my advice would be to squirrel this away for at least five years when it will have really knitted together and developed yet more layers of beguiling complexity.
Bollinger R.D 1995
The first thing to mention about the 1995 R.D was the colour – glorious, deep, shimmering gold. The sort of colour you imagine a life-giving elixir might possess. The nose was beautifully developed with plenty of rich unami, truffle and butter. Bottle age has mellowed the fruit which is now reminiscent of candied peel, apricot and delicious Mirabelle plumb. The texture is perfectly knit and the length astonishing – I could taste it for minutes afterwards.
What's remarkable about this – and many other mature R.Ds – is that they retain so much refreshment, despite being such an obviously rich style of Champagne. You get the feeling these are wines that will simply go on and on – but then I suppose you'd expect that from an elixir of life!
The Bollinger R.D 2004 is currently available for £625 per six bottles In-Bond, subject to availability. We also have a very limited number of magnums available so please inquire with your order if these are of interest.