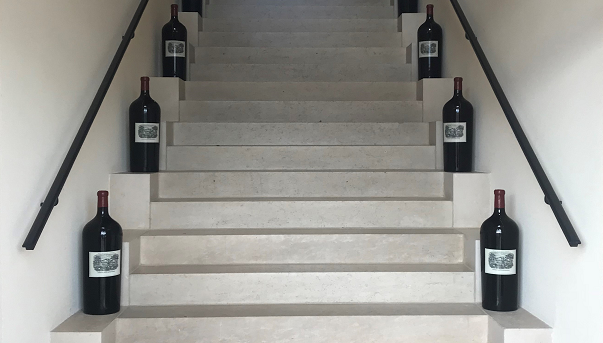 (Staircase at Lafite Rothschild)
Flicking through my diary over breakfast revealed another jam-packed day including two first growths and the lion's share of 'super-seconds'. Not bad for a cold, grey Wednesday!
The fun began at Léoville-Poyferré where we tasted the superb Le Crock as well as a very impressive grand vin. The message here was all about the quality of the Cabernet Sauvignon, a theme which was to recur across the left bank. A number of properties have made wines with record quantities of Cabernet, either because the frost took some plots of Merlot, or because the quality and yield was such that less Merlot was used in the final blend.
It's then just a short walk across the road to Léoville Las Cases. This is a wine that can sometimes show a little withdrawn en primeur. It certainly wasn't the most open we'd encountered but it did more than enough to hint at the class to come. The delicious Potensac and Clos de Marquis showed plenty of immediate appeal.
Grand-Puy-Lacoste is always one of our favourite tastings. Not only are the Bories utterly charming people, there is also such energy and joy in the wines made here. We always seem to leave with a big grin on our faces and 2017 was no different. Both the grand vin and the Lacoste Borie come very highly recommended. We were also rather taken by their new head of security…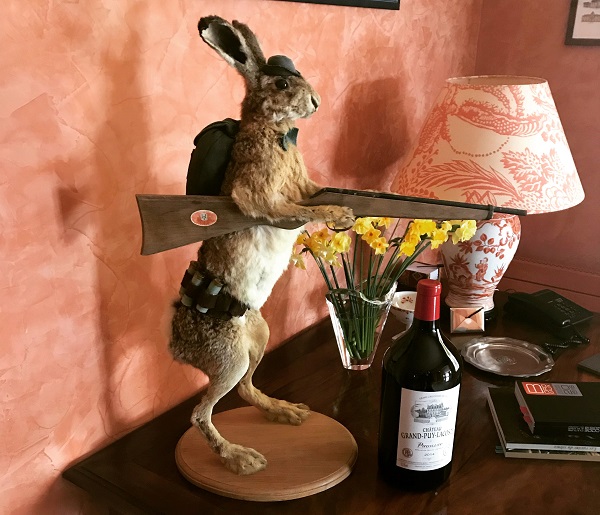 (Hare at Grand-Puy-Lacoste)
Then came the battle of the first growths… Mouton vs. Lafite. Both were outstanding wines but, on the day, Lafite just about had the edge with its irresistible detail, energy and intensity. Needless to say, you would not be disappointed by either! If your budget doesn't quite stretch to a first growth, do look out for d'Armailhac and the crowd pleasing Clerc Milon from the Mouton stable. These were both superb.
It's all go at Lynch Bages following the acquisition of Haut Batailley. We even managed to grab a sneak peak at the new label design but are sworn to secrecy for now. Followers of Lynch will be very pleased with the 2017. We also liked Ormes de Pez which came across as particularly juicy in this vintage.
Lunch at Pontet Canet was a real treat as always. The cheese board was so large this year that it had to be put onto two separate tables… Thank you for your generous hospitality M. Tesseron!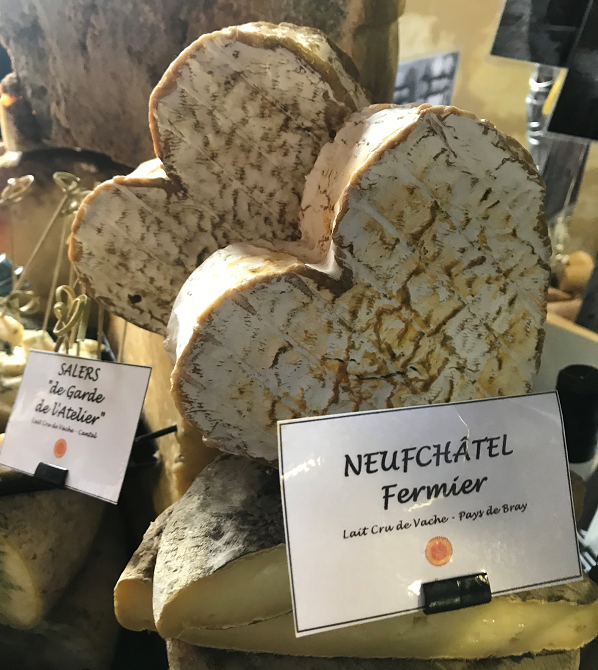 (Cheeseboard at Pontet-Canet)
It was back to Saint Julien after lunch, starting with one of our perennial favourites in Branaire Ducru. The 2017 showed characteristic freshness, fruit purity and elegance. If you want a beautifully balanced 2017 Saint Julien that (hopefully) won't break the bank, this has to be it. Ducru Beaucaillou was a little more closed by comparison but it did have really impressive concentration and plenty of class. The excellent Croix de Beaucaillou is also well worth looking out for.
Some of our favourites from a whistle-stop afternoon in Saint Estèphe included Montrose, Calon Ségur and Lafon Rochet but don't overlook the 'second' wines from these estates; particularly the Dame de Montrose, Marquis de Calon and Capbern. Fingers crossed these will also represent good value.
The last tasting of a fascinating day was at Pichon Baron where Christian Seely, mastermind of AXA Millésime, put on a breathtaking vertical of wines that perfectly demonstrated the faultless pedigree of this grand terroir (more on that in a separate blog). For now we'll just say that the 2017 was outstanding and certainly one of the stand-out Pauillacs in this vintage.
(more news from Saint Julien and Margaux to come…)