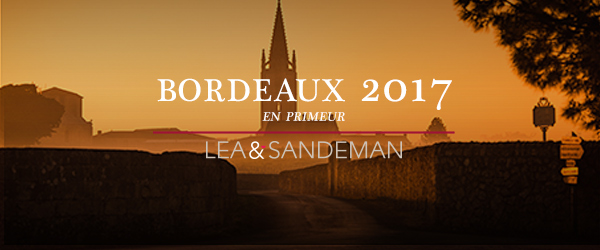 As we mentioned in our initial post on the vintage, it was the frost that hit Bordeaux for several nights at the end of April which dominated the early headlines on the 2017 vintage. The frost was undoubtedly catastrophic for some but the more we chatted to winemakers across every appellation, we realised there was a subtler story to tell. The frost was highly variable and even where properties were effected the impact could often be managed by hard vineyard work and careful selection. For others, the impact was negligible and the primary concern became the September rains which interrupted some harvests.
No wonder the winemakers didn't want to talk all about the frost. The rest of the season was very good and without too many extremes. The very early flowering and long, coolish summer allowed complexity to develop and tannins to ripen. Luckily it never got too hot, so plenty of acidity was also retained. Consequently we found a lovely balance in most wines we tasted and were often bowled over by how soft and attractive these were to taste from barrel.
What the wines are like and why…
While in Bordeaux we heard a lot eager chatter about which vintage provided the most suitable comparison for 2017. Were the wines like 2012, 2014, 2014 '+', 2001, 1996…? In truth, vintages all have their own unique signature so trying to pigeon-hole them is at best difficult and at worst slightly misleading. Nevertheless, it's obviously useful to get a feel for the style of a vintage so we've put together this short blog to help decode some of the chatter.
Freshness
The most obvious thing to note is that almost all the wines we tasted were really fresh and juicy. Acidities were generally very good, largely as a result of some cooler periods in July and August as well as a high diurnal temperature range. This has kept the fruit fresh, bright and crunchy.
It isn't just the reds that show real energy. Sauvignon Blanc seemed to be particularly successful in this vintage and some of the dry whites have managed to retain plenty of 'zip'.
Ripeness
The freshness of the vintage was not at the expense of ripeness. Most wines were open, fragrant and generous. We very rarely encountered anything with a 'green' tinge. In fact, there were a noticeable lack of pyrazenes (flavour compounds which impart herbacious character) across the board. That's largely because the season was so early. A hot June and beginning of July jump-started the ripening process. If anything was lagging behind, a final blast of heat in September did the trick. The resulting wines have plenty of bright fruit character and a soft mid-palate that means they will definitely be approachable young. 
Structure
Tannin levels didn't generally hit the lofty levels of the previous two vintages but, in most cases, the wines don't lack structure as skins and pips reached a good level of ripeness. The tanins are also very finely grained giving most wines a lovely silky feel.
Some harvests of Merlot and Cabernet were effected by the September rains but most producers were able to manage this through careful picking and selection. Many wines do therefore have the structure and concentration to age, particularly those that avoided April frost and September rain.
Balance
While this is not a 'modern', blockbuster vintage such as 2009, 2010, 2015 or perhaps 2016, we were nevertheless impressed by the balance of the wines in 2017. Most have freshness and concentration, structure and poise. Guillaume Thienpont summed it up perfectly when he described the vintage as 'the return of Bordeaux' in a more traditional style – early drinking wines, with tension and freshness, that also have the ability to age.
As ever you can keep up to date with the latest news from the campaign on our Recent Releases page or read all our thoughts in the Release Reports archive.