Mondays can be tough however when a work trip to Portugal beckons, to say that we were all excited was an understatement. Working for L&S, we have been told many great things about this estate. Yes, we all know the wines are wonderful and pictures can only go so far. Our destination was Quinta da Romaneira in Vila Real.
We were met in Porto by the lovely Marisa Cavadas who covers a multitude of markets including the UK, as well as lending a hand as an Oenologist. A 200km drive later we arrived at the entrance. A further 7km down a very bumpy, windy and slightly precarious roads we arrived at the guesthouse. In 2012 there was a hotel on site, with a soon-to-be Michelin-starred restaurant however, one of the new owners decided that this wasn't the best use of the space so now it is just used for guests invited by the team. It was such a treat to be led to our rooms (some would say suites) with stunning views of the Douro river. A quick change into something more comfortable (temperatures were almost 10 degrees hotter here than in Porto) for a lovely alfresco lunch by the river was a great start to our stay. Luckily Marisa had some Rosé on ice which was a perfect thirst quencher. What a delicious drop: a smidge more colour than those from Provence but a real cracker and a perfect match with salads, fish and cold meats. Next up was a little boat trip. Marisa had informed us on arrival that the estate was twice the size of Monaco (in terms of hectares). Quite perplexing in the first instance but once you get on the boat and travel up and down the length of the estate you start to realise how big it is. As well as grapes there are plenty of olive groves, orange, lemon & almond trees and a multitude of herbs with Rosemary being the most prominent. Romaneira, according to a historian, has direct links to the word/herb Rosemary. A wonderfully diverse estate where nature thrives.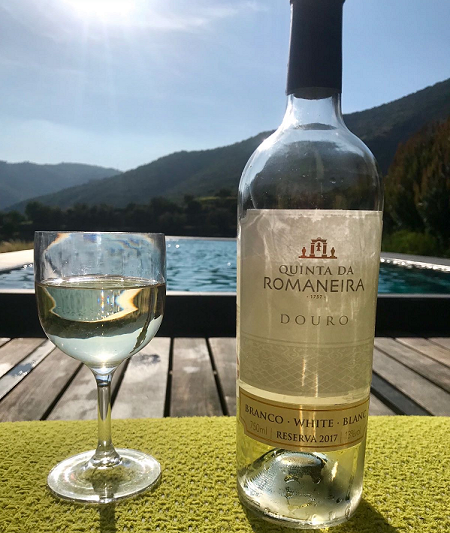 The rest of the afternoon was quite a slog as I started to write this blog. Then I was ordered to relax, take in the views, enjoy the pool and tuck into the new vintage of the Quinta da Romaneira Reserva white (2017 on order). And very delicious it was. It is truly a stunning wine producing region but what is more fascinating is the realisation of how difficult it must be to make wine here. Regardless of heat, the steep slopes, the tough rock that must be blown up to create the terraces – everything is done by hand. Extraordinary when you think of the size of some of the estates in the region.
After our tough time by the pool it was time for dinner. Olives, almonds & olive oil (all estate grown) to start with to whet our appetites. Then it was a traditional dish of Bacaloa (salt cod) baked with potatoes, cream and garlic. Portuguese version of fish pie. Delicious. Perfectly paired with a new wine from the team, a 100% Gouveio (Verdelho). Salty, minerally, herbaceous with lovely ripe citrus notes. Can't wait to get this into the UK. Next up a baked custard with orange syrup matched with the 10yo Tawny. Perfect! Then to finish a local sheep's cheese that arrived with three little spoons. Very tasty indeed. Almost pecorino in flavour, camembert in texture. Delightful. 2012 LBV helped cut through the richness very well indeed.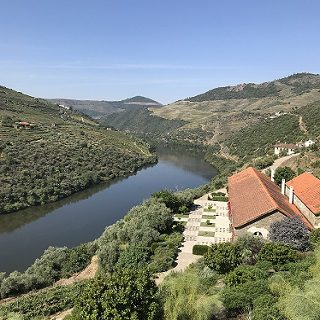 The next day started off with a quick swim to shake off the cobwebs from the night before. After breakfast Marisa & Dennis took us for a tour around the vineyards. Again, it's hard to explain how lovely Quinta da Romaneira is. Everything is immaculate. It was sad to think we had to leave in a few hours. Sadness aside we headed up to the old restaurant for a tasting and a bite to eat. Red was the focus. All were tasting very well but there were two standouts for me; the 2012 Quinta da Romaneira Tinto & the 2014 Quinta da Romaneira Reserva. Excellent wines that could age for at least another decade but are so joyous to taste/drink now. Carlos Agrellos, the new Technical Director of Noval & Romaneira, joined us for lunch. A charming man with a true passion for the Douro. So, it was a real pleasure to be able to taste the wines with him and pick his brains about the ins and outs of being a winemaker (his uncle Antonio Agrellos was the previous technical director and now acts a consultant). He was kind enough to grab a bottle of 2008 Quinta da Romaneira Tinto from the cellar. The surprise wine of the day. Side by side with the 2012 it really stood up. Certainly didn't feel like a 10 year old wine. Perfect example of how great these wines are.
Unfortunately, after lunch it was time to leave. A fleeting visit to one of the most stunning wine regions I have ever visited. Quinta da Romaneira may not be one of the greats yet but watch this space. Together with Christian Seely's guidance (MD of AXA Millésimes) I truly believe that the wines of Quinta da Romaneira will become a major talking point amongst wine lovers around the globe. The wines are stunning and if they continue the course, they will only get better. We are thrilled to be working with them and looking forward to another visit soon…I hope.