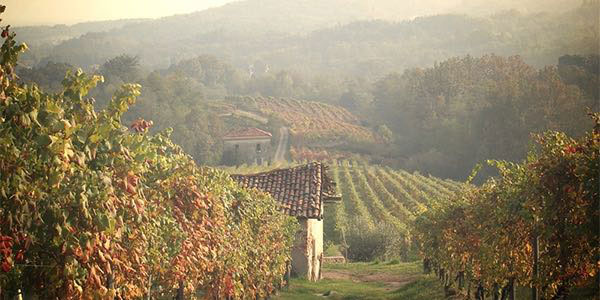 'The recent Lea & Sandeman Italian tasting was a voyage of discovery,' said Susy Atkins in last week's Telegraph. We are thrilled that our tasting has drawn so much positive feedback, from journalists and customers alike. Italian wine is definitely alla moda and it's easy to see why. From heel to alpine heights, Italy offers unparalleled variety, individuality, quality and value – if you know where to look!
While there are many Italian wine regions that are very well established, others are undergoing a revival that reflects a generation of investment, passionate stewardship, oenological study, and renewed enthusiasm for Italy's treasure-trove of indigenous varieties. Two areas that perfectly encapsulate this renaissance are Alto Piemonte and Etna. Both were represented at our tasting last month; Boca by Christoph Künzli of the Piane estate and Etna by Valeria Constanza of Palmento Constanza.
Boca – Back From The Brink
High up in the foothills of the Alps sits the quiet, rugged and ancient DOC of Boca. The soils here are volcanic in origin, coarse, and rich in minerals. The best sites are sheltered from Alpine winds and face southwards, allowing the grapes to ripen gradually in bright summer sun and long autumnal warmth. Vines were already being grown here at the time of Pliny the Elder who mentioned the wine regions of the Novara Hills in his Natural History. By the 19th century, plantings covered some 40,000 hectares – a mixture of Nebbiolo, Vespolina, Croatina, Bonarda and a host of other local varieties. Sadly, two world wars and the industrialistion of the Po Valley stripped the region of money and manpower. By the 1990s, all but 10 hectares had returned to wilderness.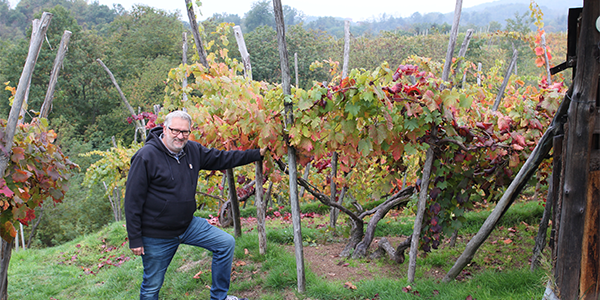 Two pioneers – Christoph Künzli and Alexander Trolf – visited the region at its lowest ebb and saw enormous potential in this ancient but forgotten viticultural landscape. They took over the Piane estate in 1998, when plantings were just 0.5 hectares and much of the land was overrun by scrub. Very sadly, Alexander was killed in a car accident soon after but Christoph has soldiered on, gradually restoring the best sites and retaining, where possible, old vines and the ancient Maggiorina training system.
'All of Mr Künzli's wines strike me as rather special, both made from the heart and speaking to the heart.' Harry Eyres, Country Life
While it's all hands-on in the vineyard, Christoph's approach in the winery is very light-touch, allowing the natural expression of his wonderful varieties to shine through. There are no modern gizmos to be found, he chooses to work 'by his mouth' and the results are a marvel – wines of profound complexity, good structure, silky elegance and great aromatic purity. Here are Harry Eyres's tasting notes from his recent review in the Telegraph:
2016 MIMMO Le Piane (£23.95 or £21.75 by the case)
'Mimmo 2016, made from 70% Nebbiolo, 25% Croatina and 5% Vespolina, has the rather subtle, smoky nose of Nebbiolo and then is strikingly fresh and raspberry-ish on the palate.'
2012 LE PIANE (£31.75 or £28.75 by the case)
'Le Piane 2012, made from 90% Croatina, is a bright, deep-purple in colour and shows vivid, inky fruit – it's not a wine for the faint-hearted, but is perfect with strongly herb-flavoured stews.'
2012 BOCA Le Piane (£46.75 or £41.95 by the case)
'Boca 2012, made from Nebbiolo and Vespolina and aged for four years in big barrels, has a fascinating smoky, tarry and truffley nose, but preserves the vivid, wild-fruit freshness of Boca on the palate.'
Etna – Active Again
At the other end of Italy, Etna's rugged slopes and dark soils are once again bubbling with viticultural activity. This is another ancient wine growing region, etched with torrette and old terraces of alberello trained vines, some over 100 years old, some long abandoned. Here the renaissance varieties are Nerello Mascalese and Nerello Cappuccio for reds, Cataratto and Carricante for the whites.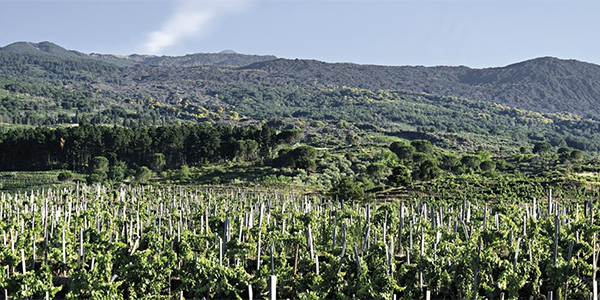 Etna's upper slopes are particularly fertile ground for vines, which are refreshed by cool nights and persistent sea breezes. The late-ripening north face is best for red varieties, largely because of the extended growing season. That's exactly where you'll find Palmento Costanzo, an estate near Passopisciaro with almost 10 hectares of vines between 650 and 780 meters in altitude. The property was acquired in 2011 and has been painstakingly restored by the Costanzo family. Their hard work and investment are already bearing fruit. Here are The Wine Gang's thoughts on the fantastic 2015 Mofete Rosso sampled at our Italian tasting:
2015 MOFETE ETNA ROSSO Palmento Costanzo (£18.95 or £16.95 by the case)
'Relatively pale red in colour, as befits Etna Rosso, this Nerello Mascalese-dominated blend from the slopes of Mount Etna shows delicately succulent red fruit flavours, a cross almost between Pinot Noir and Nebbiolo, yet with a characteristic herbal note all its own and that trademark volcanic Etna bite on the finish. Pairs nicely with: Lamb cutlets, pork belly.' The Wine Gang
It's not just Palmento Costanzo you need to keep your eye on. Le Casematte produces some great value introductions to Etna's noble varieties and coming soon is the Etna Rosso from legendary Italian winemaker Carlo Ferrini. This really turned some heads at our tasting, the elegance and Pinot-like grace of this wine are hard to resist. We hope to offer it in the Spring alongside his superb 2014 Brunello but you can register your interest in advance by emailing privateclients@leaandsandeman.co.uk.
2016 ETNA ROSSO IGT SICILIA Alberelli di Giodo (£TBA)
'This is the first vintage of famed Italian wine consultant Carlo Ferrini's own Etna wine, and it is a lovely debut. It has a charming nose of red cherrries, vanilla, spice and white chocolate. A very Burgundian-syle Nerello Mascalese with great purity and precision. Supremely elegant and seductive.' Susan Hulme MW, Decanter