You know what I can't stand. When you try and look up something very simple like 'how to change a light bulb' and a website insists on running you through the history of the lightbulb, every other lightbulb on the market and what might replace the lightbulb in the future before just telling you what you need to know – all in order to up their content-based hits.
So here it is, in short: 2020 was an outstanding vintage in Burgundy. It was warm, but not as warm as 2018, although on average sunshine hours were up by 20%. For the reds of the Côte de Nuits, 2018 had expanse, 2019 had charm, 2020 has structure and concentration. These wines are for the cellar and will live a very long time (and indeed take a while to unfurl), but when they do, they will be wonderful. The all-important, if never totally relevant vintage comparison is 2016 but with darker fruit.
If you'd like a blow-by-blow account of our tour in the week when we were mostly in the Côte de Nuits, then please read on. Hopefully my repeated mention of lightbulbs won't have pulled in too many people who were looking for an Ikea.

Day 1 – Monday, 8th of November
Bright skies over Beaune and a crisp winter chill were more than enough to blow away the cobwebs of Sunday night's dinner. A rather delicious glass of Montagny proceeded by a rather less than delicious bottle of 2013 Morey 1er Cru were what we chose to help relax after an early Eurostar, train and hire-car journey. The latter, which I'll keep nameless, an unfortunate but nevertheless fun foray into a producer we were not especially aware of. In this camp, they will remain.
I'm never really sure if you should start low and finish high – sometimes by the end of a long run of village wines, then premier crus, your palate can feel awfully fatigued before it's supplied with the A star material, so there may be some wisdom in the reverse order. Whether this is true or not, it seemed to be the way our trip would proceed (although as you'll find, if you read to the end, it started exceptionally high, ended in the same fashion, and really didn't dip much in the middle!) as we arrived outside the winery of Loïc Dugat-Py.
Domaine Dugat-Py
For those that don't know Domaine Dugat-Py, I would urge you with every fibre of my being to try and experience the wine at least once. From the Village to the Grand Cru, they all have an utterly distinct fingerprint – gorgeously lush, silky fruit which seems to caress your entire palate before being whipped away by a stream of tensile acidity. They're floral and aromatic, dense and serious, structured and appealing, fresh but rich. A perfect storm of sublime contradictions. We were yet to have the full, or even really any measure of the vintage by this point (I'll save you some time here if you don't want to read on – 2019 oozed charm, but was more delicately structured, 2020 is serious. The wines are phenomenal and largely monolithic, perhaps not such a joy to taste from barrel, but will be very highly regarded with time in the cellar. Think 2016 with a slightly darker fruit profile).
I'm not sure, looking back, that Dugat-Py gave us much of the story. Not because his wine didn't express the vintage, or terroir… Quite the opposite – they are just so phenomenally well-judged and balanced that they never put a foot out of place. Comments like 'oh, so it's a high acid vintage' or 'ah yes, the fruit is rather ripe' are almost impossible to make when a wine maker has such total mastery over his art.
It's no wonder that the 2019 Chambertin (please don't ask for this – it's not released en primeur) was one of only four wines to be given 98-100 points by RobertParker.com, alongside Romanée Conti.
Loïc, ever relaxed, charming and friendly, was kind enough to give us his insight into what he viewed as a 'vintage a-typical' which you can find in the video below.
Domaine Rémi Jobard
Onward to Meursault, a bit of a detour on what otherwise would be a fairly Côtes de Nuits-focused trip, and to Rémi Jobard. Rémi's style of wine making is incredibly incisive – forget fat, sluggish Meursault with globules of oak. Monsieur Jobard's élevage mainly employs large Stockinger casks, the type you'd expect to find in Alsace or Germany, so that the imprint of the wood is minor, allowing what can only be described as a sheer wall of energetic fruit to play centre role. This was the first real idea we got of how powerful and concentrated 2020 will be. Remi's Bourgogne Côte d'Or (which those in the know realise is almost a Meursault in itself, coming from several plots in the village which all touch 'village' appellation vineyards and easily capable of 10 years of age) was a tour de force in incredibly pretty, but vigorous green and yellow fruit. All achieved without breaking balance at all.
Moving up the scale, every Meursault has its own impressive direction – Sous la Velle zesty and focused, Narvaux, silky and textured, Genevrières sapid and powerful. Drawing comparisons is something that is often reductive in Burgundy, but there's something of Jean-Marc Roulot here. The way they dance across the palate – 'these are 50-year wines' Charles suggested to Rémi, who disagreed and said you could enjoy them after five. Only time will tell.
Domaine Ninot – [New]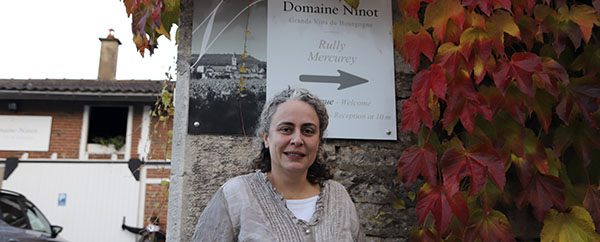 A short drive later and we found ourselves in Rully, not for Vincent Dureuil-Janthial (although that will come later, and is worth reading on for in itself), nor for Domaine Jacqueson, but instead Domaine Ninot. A new discovery for us, we were greeted by the utterly charming and rather good fun Erell Ninot, who runs the Domaine with her brother Flavien. My French is less than fluent, but personality can easily transcend these barriers and Erell's open, smiling manner is reflected in her wine. Having received organic certification last year, Ninot are really able to express what is becoming (or perhaps has already become) one of the most exciting, affordable terroirs of in Burgundy. Each wine has its distinct expression – Rully La Barre is 400m up, so the aromatics and fruit are prettier, Chaponnière has more clay, so the wine is denser and fuller bodied.
We thoroughly enjoyed everything we tasted and consequently bought as much as we could, so look out for these on the website and in shops very soon.
Domaine Hubert Lamy
It was growing late, and we made our way to our last appointment of the day, with Olivier Lamy, in the dark – one that any oenophile would be willing to travel through the night for. Monsieur Lamy was full of his usual enthusiasm and gave us a short summary of his wine 'the whites are outstanding; the reds are very good'. Not much more needed to be said. Apparently, he said, Burgundy received 20% more sunshine than is usual in 2020, but it was actually not as hot as 2018. I was once told by my viticulture lecturer at Plumpton that the primary aim of a vigneron is to bottle 'cool sunshine' – it would seem that in 2020, they may have succeeded.
Lamy's wines were perhaps the least along the evolutionary track of everything we tasted, so some were more closed than usual or lacked some clarity, but, if there's one word I took away from the whole tasting, it was texture. It can be hard to imagine a silky white wine – it's a phrase usually reserved for reds, especially when the white wines in question are so highly tensile that they should really be referred to with words like 'crunchy' and 'zesty'. They were both these things and an awful lot more, but one of the tell-tale signs that a wine maker has managed to extract the very finest juice from his grapes is when these components are married with an almost ethereal, silky texture. This year he even fermented some of his wine in glass, just to keep the balanced right.
Jasper Morris joined us for the tasting and Olivier very kindly treated us to a blind bottle at the end of the samples. With Charles Lea and Jasper Morris as my competitors, I understandably felt rather out of my depth, but we fortunately all got the vintage wrong – 2004, 2008 and 2009 all being offered for what turned out to be a 2000 Frionnes, ably demonstrating just how incredible these wines are at aging.
Above, the photo of Oliver Lamy Charles was taking when snapped by Jasper Morris for

this Instragram post… and below the one Charles took of Jasper finding that hilarious.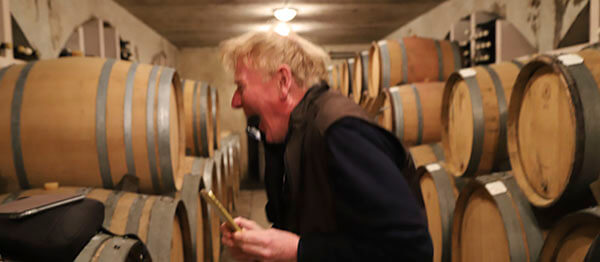 That evening, we enjoyed an absolutely stunning run of dishes in Caves Madeleine. There is always the option to just throw your hands up and say 'bring me whatever the chef is cooking tonight', a statement which is followed by 7 or so little plates of delicate and delicious fare. Our wine choice for the evening, deviating from Burgundy, was cult vigneron J-F Ganevat's 2016 L'Enfant Terrible, a Poulsard from the Jura. Neither of us have much experience with this revered producer and, although a good fun thing to try, we walked away not especially desperate for another bottle.

Day 2 – Tuesday, 9th of November
Domaine Christian Clerget
Glorious sunshine greeted us again, this time for a trip up to Vougeot to see Christian and Justine Clerget. We were met at their door by Justine, who was wrapped up against the November cold, and lead us through the winery (where Christian was merrily working away, listening to the radio) and down into the barrel cellar. When we discovered their wine last year, we were immediately enamoured of a certain texture that it possessed – something which we hadn't felt anywhere else in Burgundy. They somehow have the ability to feel like they're almost gliding across your palate. The wine doesn't so much roll in and roll out, as hover, then sweep through the mouth, enveloping it. It's quite remarkable and perhaps unique. The 2020s were a serious bunch. Masses of concentration and structure but retaining the signature texture and mouthfeel. Of particular interest was their Vougeot 1er Cru, made from near 100-year-old vines which back onto the Vougeot wall. In 2018 and 19, it was a very lovely expression of Vougeot, but in 2020 it has taken on a whole new level of explosive complexity. Justine explained how her great grandfather planted the vines on SO4 rootstocks (something I know the vagaries of all too well, as it's what everything is planted on in my little English vineyard). This particular variant is quite disease resistant, frost resistant and early ripening (which is why it's so prevalent in the UK, and perhaps why it suited Burgundy 100 years ago) but does not produce fruit with the highest concentration. She explained how they'd tried everything to get the quality up to the level it should be for these remarkable vines, with degrees of success, but in 2020 tried simply chopping the bunches in half early in the season.
This, she said, seems to make the plant believe it still has all its grapes (unlike green harvesting) so stimulates it toward trying to ripen a large number of bunches, but with half the grapes.
If you're fortunate enough to acquire a case, the results speak for themselves.
Domaine Confuron-Cotetidot
We left in high spirits, taking the short journey to Vosne Romanée to visit Yves Confuron at Domaine Confuron-Cotetidot. Yves is one of the most interesting characters in the Côte, and always has something to say about any given vintage or trend in wine production. The easiest thing, perhaps, is to say that there are the wines of 2020 and then that there are Yves' wines of 2020.
He has always followed the philosophy of late-picking, not just to maximise the ripeness of his grapes, but also to fully ripen the stems (he was doing whole bunch before anyone else had even really thought about it). As a result, he produces powerful wines, even in a relatively shy vintage. So, what does he produce in a powerful vintage like 2020? Some of the most enormously age-worthy wines you'll ever come across in Burgundy. He references 1947 and the style of Burgundy made then – wine which can last 100 years. This is it.
I wouldn't even consider trying to determine the finite qualities of these wines at the moment. It's like looking at the parents and trying to guess what the baby will look like in 30 years – you might be able to say if it'll be broad, tall, short or slight, but much more than that will be beyond you.
Interestingly, Yves also opened a bottle of his 2019 Vosne-Romanée 1er Cru Les Suchots for us over lunch and his 2018 De Courcel Pommard 1er Cru Grand Clos des Épenots. Both of these we tasted last year and they were exceptionally hard to get to grips with from barrel. This time though, his Vosne was one of my favourite wines of the trip – so sleek, so powerful, but already incredibly impressive, it was pure pleasure. The Pommard was impenetrable until you had it with a bit of food. The 'AOC' and organic Vosne-Romanée tomatoes from his garden were ideal, but just putting it in your mouth with a piece of bread was enough to cause an explosion of flavour.
Always an interesting tasting, this year felt like a masterclass in appreciation for artful Burgundy. It also helped to put into focus that, whilst barrel tasting is useful, swilling and spitting a couple of mouthfuls will never give you the full picture.
Domaine Thibault Liger-Belair
Taking the car down to Nuits-Saint-Georges after a quick lunch, we turned up at Thibault Liger-Belair's aircraft hanger-esque winery. As ever, full of cheerfulness, he greeted us and sat us down in his tasting room for a near 50 sample masterclass in the terroirs of Burgundy.
The first thing worth mentioning is the Gamay. He's been building a reputation for great Moulin-à-Vent for years, but 2020 bought something entirely new to the table. The fruit was much more on the piercing red part of the spectrum, much like his pinot, than the previously more dark-fruited renditions – they were sensational, and I would encourage any Burgundy fan to try at least a bottle.
For the rest of the tasting Thibault took us across his different terroirs, up and down slopes, from shallow to deep soil, clay to limestone, illustrating the subtle differences these create (leanness for shallow soil, energy from limestone, density from clay, broadness from lower altitude). The easiest thing to say is that each wine was totally and impressively reflective of these terroirs. A firm sign of a great vintage.
Domaine Chicotot – [New]
After seeing Thibault, we shot just down the road to visit a new prospect – one that I'm very pleased to say we will now be working with. Domaine Chicotot ranks up there with the best Nuits-Saint-Georges focused Domaines (Gouges, Chevillon, Faiveley), so we feel very lucky to be now bringing them into the UK.
Georges Chicotot, the father of the Domaine, popped his head in briefly while we were tasting, but today the work is mainly handled by his exuberant and great fun wife Pascale (who predominantly vinifies) and son Clément, the 8th generation, who does most of the work in the vineyard. They have 7 hectares of mainly very old vines (60-80 years of age) mainly spread over the Vosne side of Nuits-Saint-Georges.
New oak is kept to a minimum, about 20%, and this clear in the sculpted definition of the wines. They ably straddle the middle ground between impressively structured traditional Nuits-Saint-Georges and accessible modern, bright, and open fruit.
We're more than a little excited by this new arrival… It's also worth quickly mentioning the new look 2019 Nuits-Saint-Georges Papillon de Nuys Cuvée label. Never have the Vosne hills looked so good.

Domaine de la Douaix
Our final stop for the day is always a lovely, cosy visit. Wending your way into the hills of the Hautes Cotes on a chilly dark evening to be met by the cheerful Gilles Moustie at Domaine de la Douaix is such a peaceful departure from the relative hustle and bustle below. Gilles and his father Mark are Belgian and have always been big fans of Burgundy wine – they eventually progressed from renting a gite and touring the region to buying a house in the hills of Arcenant and small plots of vines.
This is a true micro-Domaine, and we taste in the family cellar, surrounded by their very eclectic selection of bottles (with an awful lot of Lea & Sandeman producers in evidence, without much prompting from us!). Gilles is relentlessly curious about the region's wine and forever tasting with neighbours. He'll frequently have a hot tip for us on what the next big thing might be.
He brings this enthusiasm to his own wine. It's a true passion project which is style (the bottles look great, with recent wax cap addition) and substance – so much substance, in fact, that these modestly priced wines are capable of aging for at least a decade.
Dinner that evening was at La Lune, a tiny restaurant where almost everyone just sits at a bar containing the little kitchen. The Japanese-French fusion is incredibly skilfully prepared and perfectly cooked, but for us just lacked seasoning. The wine we chose was a Mercurey from a producer totally unknown to both of us – pleasant at first, if slightly too obvious, after half an hour the slightly over-sweet fruit and oak began to shine through, making it challenging to really want that next glass (and thus it shall remain nameless).

Read on in Part 4 – Côte de Nuits (cont.).