Day 3 – Wednesday, 10th of November
The weather turned ugly. Or at least, had a poor night's sleep and didn't put on any makeup. The piercing blue sky turned the colour of iron and the low temperature (which hovered somewhere between freezing and 4 degrees) became very evident without the warmth of the sun.
Domaine Huguenot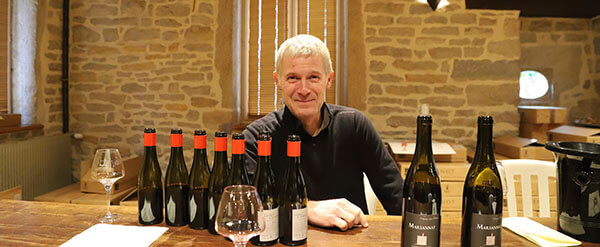 Fortunately, our first visit was to Huguenot, who has a large enough collection of terroirs to warm any cold soul. Able to trace their history amongst the vines back to 1789, Huguenot is anything but stuck in the past – a recent conversion to organics (which was broken in 2016 due to the challenging conditions, a good illustration of how easy it is to bypass this classification on a label, but how difficult it is to achieve in marginal climates) and a brand-new, tech heavy winery have shown how future-focused this domaine is.
The wines have always been very well-made expressions of their respective terroirs, but this year had that much extra concentration and energy. In the past, although never abundant, we are usually able to circle back to Huguenot and buy back vintages, but this year were told by Philippe that 2019 was all sold out and 2020 was fully on allocation. A sign of both the times and the development of this quality-conscious domaine.
Domaine Thierry Mortet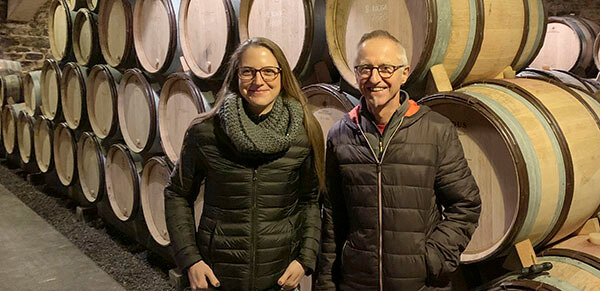 Thierry Mortet was our next stop, not far down the road in Gevrey. With just four hectares of vines, inherited when his father Charles split the domaine between Thierry and his (perhaps more famous) brother Denis Mortet. Unlike Denis, Thierry has no Grand Cru, and as a result, the price of his wine has remained incredibly affordable. His daughter, having just finished her studies in viticulture, joined him for the first time this year – whilst not yet a handover, it will be interesting to see how the influence of the next generation comes in.
Thierry is still making very pure, very classic Gevrey and small amounts of Chambolle, often more in vibrancy than lush fruit (and the 2020s are no exception) and even the village wines are capable to aging ten years.
Domaine Stéphane Magnien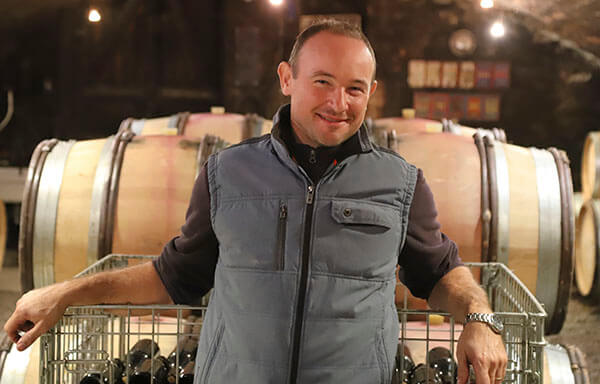 The weather thankfully became a bit more chipper as we headed to Stéphane Magnien, reflective perhaps of Stéphane's beaming smile and friendly demeanour. This is also a micro-domaine, just 4.5 hectares, but is blessed with two Grands Crus and an incredible number of old vines, some which will soon see their 120th birthday. Stéphane told us that he very much liked the quality of the vintage, but that he had made 40% less than normal. Given the concentration he decided to use no new wood at all – perhaps not that huge a move given that he has only ever used 20% on the Grands Crus. Whether it was the tiny yield or just the 2020 fruit, it was like he had sprinkled some magic into the wine.
The sheer energy, lift and concentration that makes top Burgundy the most exciting wine in the world was definitely here. There were all levels of haunting aromas exhibited, including rose petal, peony, cranberry, raspberry, strawberry, moving down to dark cherry. It's not often that I ended a tasting note with 'profound', but I did for his old vine Clos Saint Denis, which is right in the centre of the original 3.3 hectares of this Grand Cru, prior to its expansion to 6.6 hectares.
Domaine Joseph Colin
These experiences are hard to top, so after lunch it was good that we were able to side-step into white wine at Domaine Joseph Colin. Last year, with Covid and scheduling being a nightmare, we were sadly unable to see Joseph, so this was a new experience for me. Fortunately, it was also a rather unforgettable one.
Brother of Pierre-Yves Colin Morey and son of Marc Colin, you can imagine the reputation which preceded the arrival of Joseph's first wines onto the market from the 2017 vintage. Having been a key figure making with at Domaine Marc Colin for over a decade, he eventually struck out on his own with seven hectares of vines – and a fairly incredible 19 different cuvées.
Perhaps the most remarkable thing about his wine is low-level of SO2. Far from a 'natural wine-maker', (he's not interested in the funky and the cidery, and wants the wines to be capable of developing with age), Joseph believes that keeping sulphur dioxide to an absolute minimum during the élevage creates absolute purity in the wines. If you taste them, you'll agree. The first addition that these wines see is after a year in barrel, at their first racking, and he only adjusts again if the wine seems to need it before bottling. These wines are finished with very low levels of sulphur, yet remain incredibly incisive, precise and mineral expressions of his various sites.
I think with great white Burgundy, the thing which takes a producer from good to great is always the texture of their wine. The ability to make something with an electric energy, but which also has an exquisite velvety mouthfeel. It's quite a talent, and one that Joseph possesses.
Domaine Dureuil-Janthial
Speaking of remarkable texture, it seems a good time to move on to our last appointment if the day. Domaine Dureuil-Janthial is in our view one of the most exciting domaines in Burgundy. Vincent has removed himself from the En Primeur system, so instead of tasting 2020s, we were trying his 2019s from bottle. I can't express how impressive they are, especially for their supposedly lowly appellations, but I can say that his yields were 40-60% down in 2019. With 2021 also looking like a sombre story for volume, I'll spare column inches here, as we simply won't have enough to go around.
That evening ended with some more Japanese-French fusion at Maufoux. Some lovely close eating bean and duck stew was exactly what was needed and thankfully accompanied by a wine I can mention as it was rather good, a 2013 Chevillon Roncières. Still really on the young side, it was perfumed and had that piercing, powerful but delicate red fruit for which Chevillon have earned their reputation. To counter its youth, we requested a decanter, which turned up in the from of a rather natty Erlenmeyer flask. I've not felt so scientific since school.

Day 4 – Thursday, 11th of November
This time we were greeted by fog as we drove down the Routes des Grands Crus to our first appointment. Briefly, as if revealing a hidden world, the sun snapped through the parted cloud over the combe of Chambolle, showing us Burgundian limestone lit as bright as burnished gold. Then a second later, gone. Miserable pea soup descended once more.
Domaine Jean-Jacques Confuron

Fortunately, our first appointment was enough to buoy the spirits beyond any poor weather – pulling up in Premeaux outside Domaine Jean-Jacques Confuron. Those well versed in the Lea & Sandeman Burgundy producer portfolio may just have just stopped in consternation, wondering 'when did these appear'. We're very pleased to say that this is the first year we'll be able to offer the whole range from 'JJ' (although preceded last year by a limited quantity of 2019 and 2018), who not only have a raft of fantastic village and 1er Cru wines, but also a spellbinding Romanée-Saint-Vivant and Clos Vougeot from the top right-hand corner of the vineyard (just next to Leroy).
Bursting through the fog, like the two wine merchants of the apocalypse, we were greeted by young Louis Meunier. Now on his fourth vintage, Louis is slowly changing the approach at Jean-Jacques Confuron, from what he called a 'recipe' – more or less a prescriptive process of 'we always put the village in X% new oak, the 1er Cru in X… Maceration is done for X days for the village, X for the 1er Cru etc' (you get the idea) to something which involves touch, taste and feel for what is produced every year, adjusting every part of the process to suit the vintage.
Despite his age, Louis is totally at home and relaxed in the family winery. He decided at the age of 16 that this was his chosen path, eschewing traditional schooling to advance his wine studies – it really shows in both his confidence and the finished product. From the Bourgogne rouge to the Romanée-Saint-Vivant, the commonality here was the ability to produce a wine of power and density – an opaque ball of dark fruit and spice which gave the impression that these wines would last decades (even the Bourgogne rouge was very serious) and pair it with an incredible lifting acidity, which then drew the register up to bright red fruit and perfume. The 1er Cru Nuits-Saint-Georges were perhaps the biggest surprises, with striking bouquets of rose petal and red fruit perfume. As you can imagine, the Grand Crus were other worldly, my most prominent note on the RSV stating that it's like a 'black hole of velvet'.
Domaine Perrot-Minot

Onwards we went, wondering how on earth you could go upwards. The question was answered swiftly as we pulled into a driveway just below the Clos des Lambrays and were greeted by Christophe Perrot-Minot. I won't go into too much detail on the quality of Christophe's wine – they were utterly seamless, as they always are, and the 2020s bought with them a degree of structure and precision which will put them firmly in the company of the other great years – and greatest domaines. If you've never experienced them, he is somehow able to mesh together a glass of contradictions – sweet, hedonistic fruit with a soft velvety texture, lashed together with Burgundian acidity and a tannic structure which means they demand age (taking on a 1er Cru without five years in the cellar would be infanticide, at least ten for a Grand Cru) but is also so fine, that you struggle to notice it exists – the balance is exquisite.
Perhaps the more interesting part of the conversation was regarding pricing. It is not secret that, over the last decade, Perrot-Minot has bought up the price of his top wines substantially – it was very interesting to hear from Christophe how the price of Chambertin grapes has risen by four times, which turns into six times after they've been sorted and a proportion discarded.
Even more interestingly, the market has almost cleared of comparable back vintages.
As it was a French bank holiday, we took the afternoon off (mainly to catch up on some very belated emails) then headed to dinner at La Dilettante. A favourite haunt, Charles introduced me to it last year (I think we visited 3 times in our 10 day stay) and I rapidly found affection for the simple but delicious French/Japanese fusion menu which majors on wonderfully-dressed and huge salads, much-needed in a week of eating out in France (we know they have amazing vegetables, but why oh why are the restaurants so determined not to serve them?).
The wine list is always interesting if slightly over-centred around natural and low SO2 producers, I explored it with curiosity last year, but this time round, we both wanted something we knew wouldn't disappoint and ordered a 2013 Nuits Saint Georges 1er Cru Clos des Argillières from Domaine Dureuil-Janthial. Needless to say, in expected fashion, it blew our socks off, then proceeded to give us a metaphorical foot rub. A tonic for the wine weary traveller and I daresay provided a bit more fun than the Chevillon the night before.

Day 5 – Friday, 12th of November
I'll be passingly vague about the next Domaine we visited first, as although they were very friendly and had some nice plots, they sadly weren't quite getting it right, so a relationship wasn't formed.
Domaine Lignier Michelot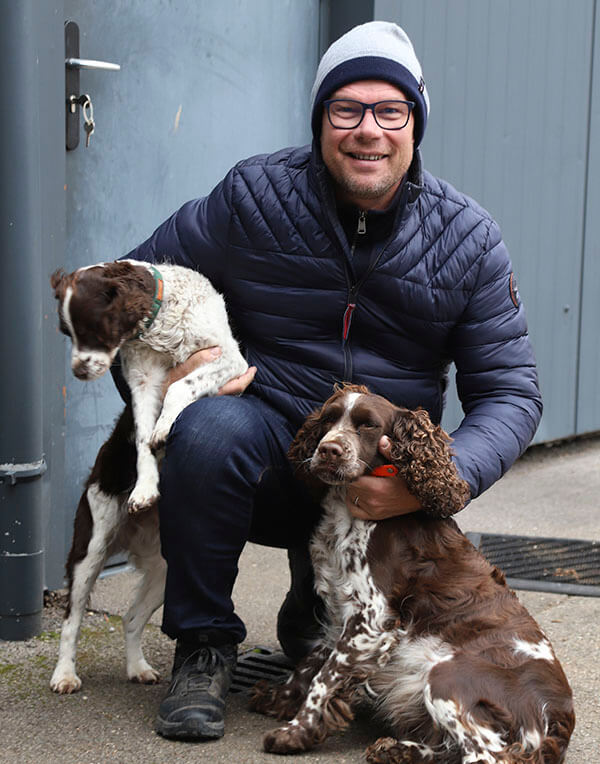 Lignier-Michelot was our next stop, a short hop to the other side of the village. Virgile, who is always incredibly friendly, seemed slightly distracted when we turned up – we quickly realised why, when Allen (Burghound.com) Meadows came up the cellar steps, having tasted through the wines before us. He was full of praise and he'd started early in the morning, so had given them a really thorough going over. As much as we look forward to hearing his words of wisdom, we drew our own conclusions pretty swiftly – Virgile's 20s are sensational.
I'm not sure this is something I should disclose from my personal tasting book, if I ever want to be taken seriously again, but under his Clos Saint Denis, my first entry is 'woof woof, so much perfume. Smells like a beautiful woman'. For the Clos de la Roche, I dispensed with my inner Lord Flashheart and instead attempted to draw a graph of the flavours and how they strung from cranberry at the top to cassis at the bottom.
Both seem utterly ridiculous looking back, but it does go some way to illustrate just how difficult to illustrate these wines were before they were so wonderfully profound. Virgile has been consciously moving back his percentage of new oak, and 2020 saw the lowest in all his cuvees (just 10%) – something which I think has given the aromatics even more of a jolt. The Grand Crus inevitably stole the show, but the Morey 1er Crus are outrageously good – 'sizzling with energy' is something I really overused, but it was too accurate to avoid.
After Burgundy EP, there always seems to be a producer or two I rush out to try and grab a back vintage of because I found them so thrilling. Last year was Dugat-Py, this year was Lignier-Michelot.
Domaine Mugneret-Gibourg
Our final two appointments for the day were more or less neighbours – Mugneret-Gibourg and Anne Gros, beginning with the former. There's something in the air as you enter Mugneret-Gibourg. It's not so much grand, in the way you might expect say a Bordeaux Château to be, but it is, in its own way, even more stately. It's that sort of feeling you get when you enter one of the very old clubs for the first time. A comforting grandeur.
At the risk of being hauled up on some grounds of positive discrimination, there's also a wonderfully caring, friendly vibe in Mugneret-Gibourg. I think, even if you weren't told, you could tell that it was run by a family of women, from how tastefully the tasting room is decorated and how lovely the lavatory is. It all speaks of a maternal grace!
That said, no one came here to read about Mugneret-Gibourg's air freshener, but fortunately the perfume in the wine is far more exciting. Ethereal grace this time – you'll be hard pressed to find anything quite like it the world over. If you're lucky enough to be able to get hold of any of this, treasure it.
Domaine Anne Gros
Just next door, we were greeted by Anne Gros. Attired in suede boots and a fur coat, Anne somehow managed to bring glamour to the relatively sterile surroundings of the vat room. As with Mugneret, however, the real magic was in the vats themselves.
The words which came up a lot here were 'delicate white flowers' and 'creamy'. The latter I'm not especially pleased with, because it makes you think the wine could be flaccid – it obviously wasn't, the bristling energy was immense, but a bit like Perrot-Minot, Anne had managed to combine a gorgeous glycerol texture with all the structural components necessary to keep the wine in balance. Everything was as exceptional as usual, but the Bourgogne Rouge is worth a quick mention. Perhaps for the first time ever, we tasted it after the Hautes-Côtes-de-Nuits, Chambolle-Musigny and Vosne-Romanée, such was its power in the 2020 vintage.
After the Burgundies, we took a quick trip down to the very smart tasting room to go through Anne's new vintage of Minervois, that she makes with her husband Jean-Paul Tollot. I'm surprised these haven't yet caught on in a huge way. Perhaps it's just because the project is still very young, so not many have heard of it. Perhaps Minervois just isn't trendy yet – either way, it's worth considering the winemakers behind these and then drawing the expected conclusions regarding their quality. There is a Burgundian elegance which I've never found before this far south.
That evening, we collapsed into some comfy seats at the (relatively) new 'Biz'trot' (try anything once). Whatever we were able to order off the list so unremarkable to the point I can't remember it, but the mountain of steak frites was the ideal way to round off an enormously enjoyable and successful trip.
2020 will be a vintage which finds itself in the company of some of the very best in Burgundy. It's one for the cellar, which will come alive in years and decades to come – all we can hope for is some relatively sensible pricing, but in the face of the tiny size of the 2021 vintage, we anticipate this to be one of the most in demand vintages of the decade.