Our day's trip to visit Albert Jané, winemaker on the northeast coast of Spain, comprised a whistlestop tour of his four different projects: Acústic in Montsant, Ritme in Priorat and Autòcton and Mas Vilella, both based around his family home in Tarragona.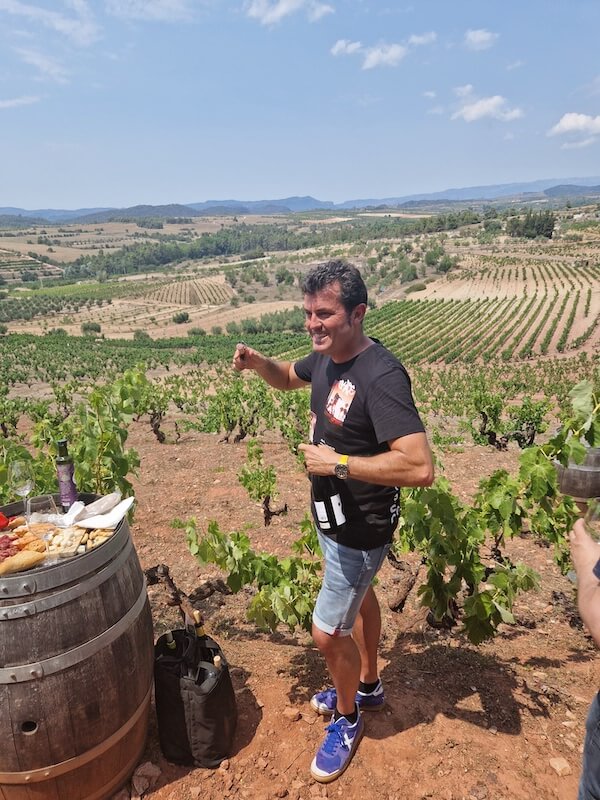 The tempo of our visit offers a reflection of how Albert approaches his winemaking: at an almost frantic pace, but with a laser focus on each of his projects in turn. 'Passion' is a term that is often bandied around in the wine industry, but with Albert it shines through as a boundless energy for his vines and the clarity with which he sets out to make his wines. It's a passion so strong that it led him to first leave veterinary studies to pursue winemaking instead and then to set up on his own, outside of the family winemaking business, so that he would have autonomy to bring his winemaking visions to life without compromise.
From humble beginnings
Acústic was Albert's first solo project, starting in 2003 when Albert fell in love with a patch of old vines in Montsant. Inspired by the 'amphitheatre of vines' that spread across the hillside, he set out to create a wine that brought to life this dramatic landscape – showing the harmony of terroir and vines. In Albert's words, his philosophy here is: "To take advantage of the knowledge of the old indigenous vines and the old farming traditions in order to convey the landscape, history and personality of the wonderful area of Montsant."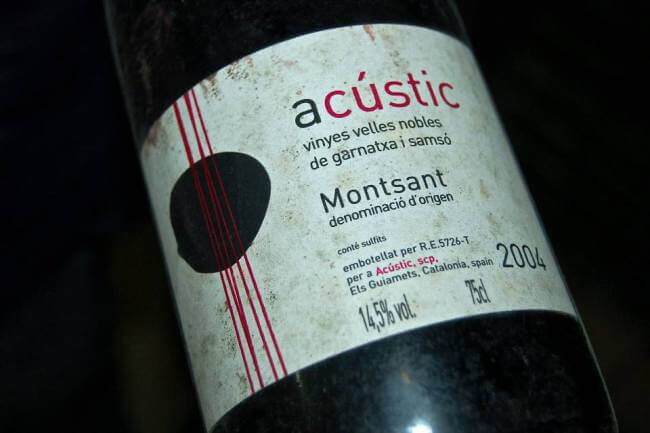 His first harvest in 2004 was a tiny production quantity, with a label designed by a friend and an idea that they could just drink what they produced if nothing came of it. Fast forward 20 years and we are walking into Albert's new winery space – bigger than all of his previous wineries combined. It has 40 temperature-controlled tanks for fermentation, a room of French oak barrels with 300 barrels (complete with sound system to play music to the wines- see below), four large wooden casks, two cement eggs and two amphorae, for various vinous experiments. The winery sits next to a warehouse with storage for over 30,000 bottles, however Albert points out where shelves are already emptying out, as people catch on to what excellent value his wines currently represent. As with all his winemaking endeavours, Albert is brimming with excitement about the new winery – its increased capacity opens blending and single-vineyard possibilities. As Albert says, this will allow him to "paint with a greater palette of winemaking colours" and create ever more precise expressions of his vineyards.
Translating terroir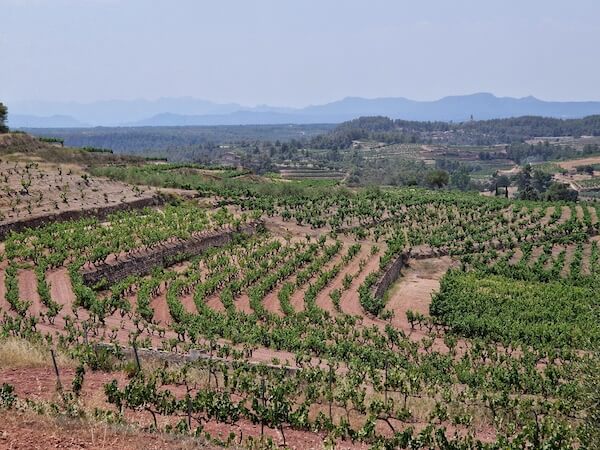 It is amazing what Albert has managed to conjure from the harsh landscapes across Montsant, Priorat and Tarragona where his vines grow. The vines, some dating back to the beginning of the last Century, struggle in the steep, rocky and dry conditions. This was bought to life for us during our visit, where we climbed to the top of one of Albert's Priorat vineyard sites in over 35-degree heat – some of the vines were visibly wilting, as were we – and this was in June, far from the hottest point of their summer.
You might imagine that the resulting wines would be equally harsh and unforgiving. However, Albert has cunningly harnessed all this intensity and energy, redirecting it into a powerful elegance. From this rugged landscape he has crafted wines with surprising clarity and freshness – so much so, that as we stood in his 'amphitheatre of vines' in Monsant, tasting the Acústic Red, he invited us all to simply close our eyes and smell at first: "You see, it is just like Riesling!" And in an aromatic, refreshing, orange-peel way, it was.
Lightness of touch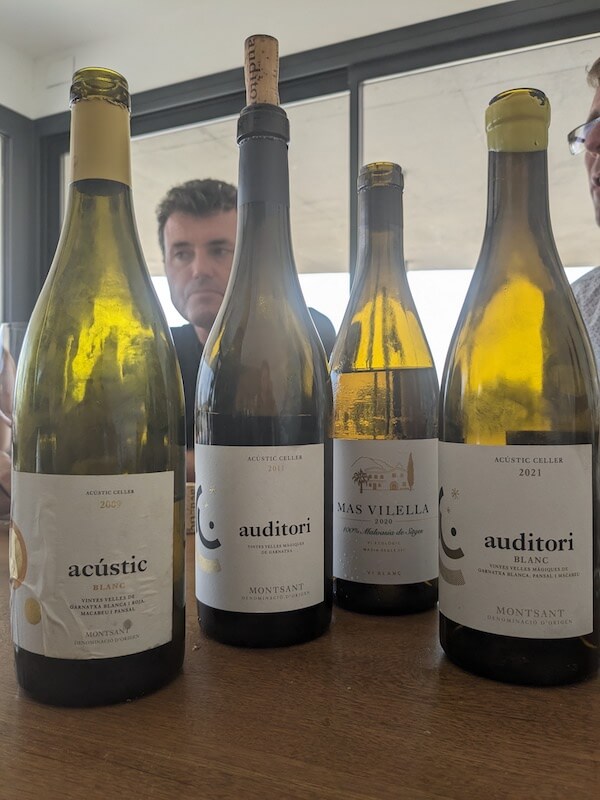 With the whites, it is the same story – the Auditori Blanc from the same amphitheatre of vines is a wave of uplifting freshness, with crystal-clear citrus notes coupled with a power and a creamy edge, giving it depth enough to open up a world of food-pairing possibilities. In Albert's 'Autòcton' range of wines, celebrating indigenous varieties, the white varieties he uses play a key role in capturing this freshness.
Xarel·lo and Malvasia de Sitges, more frequently found in cava and sweet wine production respectively, both contribute a strong backbone of racy acidity and a delicate aromatic profile to Albert's Autòcton whites – qualities that lend themselves to satisfying summer wines. His Autòcton Blanc is 100% Xarel·lo from some very old vines and is a masterclass in elegant, pithy and herbal white – ideal for warm summer days.
With all of Albert's wines, a lightness of touch is key, as summed up in his winemaking mantra; "the best barrel is the one that you do not know is there." Interestingly, every property that he owns is packed with clues as to Albert's winemaking influences, shelves bursting with empty bottles such as Léoville Barton, JJ Prum and Lopez de Heredia (amongst others), which make sense considering the calibre of the wines he is producing.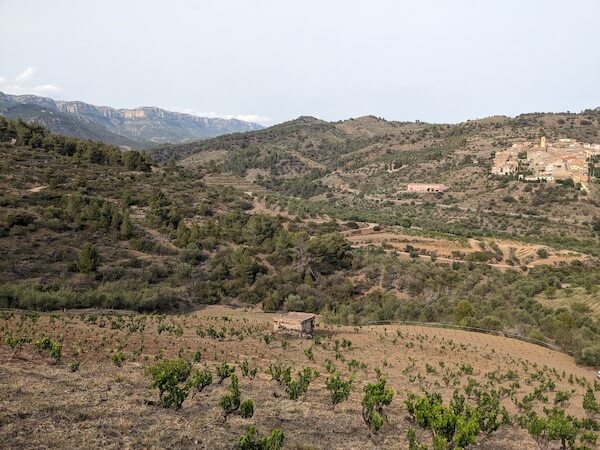 What next?
Judicious decisions are being made in the vineyards – Albert is gradually converting his vineyards to organics where it makes sense. He is not biodynamic, but he does plant according to the moon. Instead of signing up blindly to a particular system, Albert's emphasis is on using traditional techniques to manage his vines, continuing the legacy of many past generations, and reducing his impact on the landscape.
'What next?' is a question that Albert seems to be constantly asking himself – a tasting room here, a new half hectare of old vines to cultivate there, a new winery at Mas Vilella – the list goes on. It's hard to say which of his myriad projects will come to fruition first, but we're sure of one thing – it'll be worth staying around for the result.