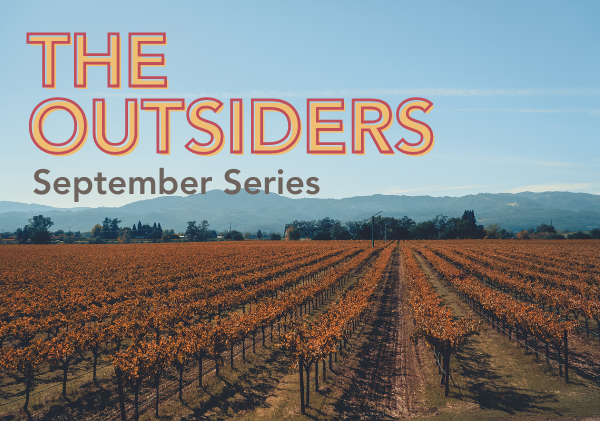 I have been fortunate enough this year to visit America twice – once North, once South, to visit some of the most iconic wineries both have to offer. A hardship undertaken in order to bring the most up to date insights on the so called 'September Series'. A collection of wine released via Bordeaux's La Place.
I have subdivided the below into 'direct experience' and 'indirect commentary' just to differentiate between what I have visited, tasted and discussed first-hand and those wines I merely wish to proffer an insight on.
I hope it is all useful. If you would like to know more, I welcome questions and I would urge you to sign up via our form for anything specific. As ever, the most desirable wines are the hardest for both you and I to get hold of.
Directly Visited
USA
2018 & 19 Opus One
I had to start here, because it feels like Opus One have defined the 2020 Napa Valley vintage. If you hadn't already heard, they have chosen not to release the vintage, a headline which, if read on its own, would likely prompt you into the same reaction I initially had: '2020 must have been a wipe out'. Fortunately I visited Napa Valley, and Opus, earlier this year and we discovered that they actually did make a 2020 and they were very pleased with the quality of it, there just simply wasn't enough of it that they were pleased with to satisfy the global market.
It may be released at a later date as a limited special bottling, but this year they will choose instead to put more of the 2018 and 2019 to the market. The '19, in particular is the one to watch, especially if offered at the same price as last year.
2019 Pym Rae
Pym Rae is a fascinating little project. Bought by the Tesseron family of Chateau Pontet Canet in 2016, it is just 20 acres of vines, sat proud on the slopes of Mt Veeder and just 500 metres above sea level. We visited and had a comprehensive tour of the estate, wherein I think it's fair to say they are just starting to catch their stride. Full conversion to biodynamics, especially of the extreme sort practiced here (there is zero vine pruning, they instead painstakingly tie the shoots together in order to minimise stress and hormonal change in the vine, alongside a host of other things) takes time.
Their release this year, the 2019, seems to be the payoff off that painstaking process. Whilst the 2016 was relatively harmonious, the '17 was structurally unintegrated and the 2018, moving in the correct direction, still had an awful lot of alcohol in the bottle. With the 2019, they seem to have cracked it and have been awarded their first major 100pts. We sadly didn't get to taste it at the Château, but will be doing so next week.
One to watch.
2020 Morlet Coeur du Vallée
If there's one word I would use to describe Luc Morlet, it's ambitious. Unlike many in Napa, he is a self-made man who found his fortune in the wine trade. His path lead him from his family vineyard in Champagne, through to working for Sir Peter Michael, to today, where he now has some of the top plots in the valley, from which he makes small quantities of his own estate wines.
It is easy to see this wine trade background in Luc. His attention to detail is meticulous, his passion boundless and his approach is, for want of a better word, nerdy. Whilst all the producers we visited gave us a tour, tasting and lunch, none were more thorough than Luc, who took time to show us through his entire vineyard (situated in a rather smart part of Oakville, just across the road from To Kalon) which they had just managed to afford to buy.
Our tasting, equally, was not just current vintages and perhaps the odd older wine thrown in. It was a full 20-vintage vertical, from latest release back to 2007. He is immensely and justifiably proud of what he has produced and whilst there is some Napa fruit, the wines are unmistakably French in style.
At time of writing, for exceptional, tiny production (under 300 cases) Napa Cab, this seems a bargain.
2020 Favia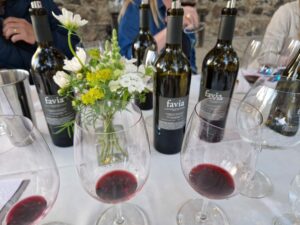 Favia was everything we wanted from our trip to Napa Valley. Annie and Andy Erickson are Napa Valley legends, counting Screaming Eagle, Harlan, Dalle Valle, Kongsgaard and Abreu amongst others on their illustrious oenological CVs. Annie is the viticulturalist, having honed her craft under the great Cathy Corison and Andy is the winemaker, having worked five vintages at Screaming Eagle.
Favia is tiny, several acres spread across Coombsville and Oakville, and after drinking a remarkably good glass of their Sauvignon Blanc (which at a decade old, was still electrically flesh), we were taken to their cave, which was really just an outbuilding at the back of their garden, to taste through barrel samples of the 2020s.
The wines were simply knockout and everything on a tiny scale – a true family operation. They captured that bright, appealing Napa fruit, then wrapped it all up in European structure, with a focus on freshness. The result was capturing the broadest possible characters of their grapes, drawing out the varietal to its maximum.
I always make a crap joke when I try and wine which is very 'typical', which is something along the lines of – 'this tastes like Cabernet Sauvignon, in the same way that if you asked a child to draw a car, they'd do a box with a curved roof and wheels, or if you asked them to draw a horse, it would have four legs, a shaggy tail and a snout. The most literal, received, and unmistakable interpretation'.
Well with Andy and Annie's wine, it was exactly the same, but that horse is a Stubbs and that car is an Aston Martin. They were devastatingly delicious and their move to La Place after 20 years is a declaration of intent – these will become future icon wines.
2020 Inglenook
Did you know that Philippe Bascaules, director of Chateau Margaux, first started working at Inglenook in 2011? In fact, his one stipulation, upon taking over from the late great Paul Pontallier, was that he was still allowed 6 weeks a year to come and help craft the wines of Inglenook.
I didn't, until visiting them in July. Did you also know that their vineyards encircle those of Scarecrow? I didn't, until we stood looking out over them from the door of their bunker-esq winery.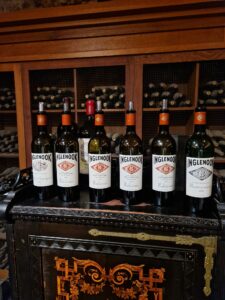 Did you know that they just spent a fortune updating their cave and winery, a project which only finished just before harvest last year?
I feel reading this, you may be thinking 'wow, he learned a lot when visiting Inglenook' or 'wow, he really knew nothing before visiting Inglenook' – you are right on both counts. One thing I did know, however, was that the wine is superb, somewhat overlooked and desperately underpriced. It's not much more than £100 a bottle. For peak, premium, 100pt scoring Napa – that's bargain basement.
You'd struggle to get a great vintage of Chateau Margaux of Scarecrow for under five times that amount.
2020 Beaulieu Vineyard Georges de Latour
The sheer knowledge and insight of Trevor Durling, BV's head winemaker, is quite staggering. As he showed us through their vat room, discussing every aspect of the technology at play, I quickly got the impression that Trevor had forgotten more about oenology than most hold in their repertoire.
We tasted back to the 1987, a wine still very much live and kicking and the 2019 was quite spectacular. My only reticence here was how forthright they were on price – the 2020 will be released higher than the 2019, was the message. Whilst BV is old school Napa at some still very old school prices, it will be a shame if this comes to pass.
2019 Chappellet
As the world has heated up and tastes have changed, the enthusiasm for the mountain wines of Napa has grown and grown, but Chappellet went up the hill (nearly 1,800 feet up) way before it was cool (if you'll excuse the pun, it is very much cool in both ways). They bought their vineyards in the 1960s and are now in the company of some of the valley's heaviest hitters – Ovid, Colgin IX and most recently Tim Mondavi's Continuum.
They have, up until now, had very little UK presence, hence the move to La Place de Bordeaux, and the wine, in comparison to some of its peers is quite affordable. In fact, Cyril Chappellet, with whom we had breakfast in a mock safari hut perched on the side of his mountain vineyard, said that the wine is 'too cheap' and made no bones about how they will strategically be raising the price for future vintages.
The scores perhaps warrant this. They have secured two 100pts with 2012 and 2016 and the '19 has flown very near the sun with a healthy 99. It will be interesting to see where they decide to position the price.
Chile
2021 Seña
I would like to open this by saying that, if you are an existing Seña fan or if you've ever considered buying it, get the 2021. It seems to have been an almost ubiquitously fine vintage across South America and is the finest Seña I've ever tasted.
I've been drinking, selling and buying Seña for years, but I can honestly say that I wasn't quite prepared for the sweeping view over the Aconcagua Valley. The vines begin on the flat, slowly undulating their way up the mountainside in a fashion which invites all sort of topographical nuances – very much like some of the top vineyards of Napa.
On a terrace, overlooking these vineyards, we were taken through a 10-vintage tasting going as far back as 1998. Amongst several great vintages, the 2021 shone, managing to effortlessly combine generosity and freshness. It has attracted two 100pt scores so far, and will no doubt elicit a couple more before it is released.
2021 Vinedo Chadwick
There were a few surprises with Vinedo Chadwick, the big (yet much smaller production) brother to Seña. Firstly, how small it actually is – Eduardo Chadwick really did plant vines in the polo field in his front garden – how unassuming it is – it wasn't stuck on some high peak in the midst of an area laden with vines, and finally, perhaps slightly contrary to my last point, how close to Almaviva it is. You can quite literally see the Almaviva winery over the wall of the family driveway.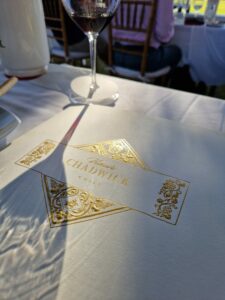 It's obviously a very special piece of terroir, to be able to produce wine of this gloss and intensity, but equally special, throughout the trip, was the sense of honesty we got from everyone involved in the growing, making and selling of the Chadwick's wine.
From the sheer depth and breadth of the tastings we were treated to, we came to realise how the wine had transitioned from something really quite wild in the 80s (some native grape, native training system and methods of viticulture) through to their 'Parkerisation' in the 90s and 00s through to what I'm calling 'self-actualisation' in the last decade.
These movements were not born of cynicism, trying to chase a palate and a market, but really more out of necessity. Parker wielded the power to make wine regions, or in this case, perhaps entire wine producing countries, live or die. As much as it wasn't done under duress, if you are an emerging talent in an emerging region and you want your wine recognised, you pander to the most powerful man in wine.
Fortunately, and slightly broadly speaking, post 2016 the wineries gained enough recognition in their own right to throw off these shackles and the resulting wines are now infinitely more exciting for it.
As with Seña, the 2021, I think, represents their greatest achievement so far.
Wines worthy of your attention who haven't yet invited me to visit them on my world tour…
2020 Cheval des Andes
With their 2020 release, Cheval des Andes seems to have created another wine to rival their finest. It's now moving beyond the 'everyday' to the 'special occasion' in terms of price, which is only fair given what is in the bottle, but we hope that this steady upward tick will be arrested with the 2020.
2020 Solaia
Solaia have, unsurprisingly, navigated the dry 2020 vintage with complete accuracy, producing a wine brimming with Tuscan herbs. The fact this is made from a specific 20 hectare plot within the Tignanello vineyard means quantities are completely finite. 2020 was low-yielding and this is fought over at the best of times, so please register your interest early.
2020 Masseto
I struggle to finds the words with Masseto, but I did drink a bottle of the 2000 a few months ago, in some excellent company, by which I mean both the people and the wines, which included '82 and '85 Mouton. I would have taken the Masseto home any day of the week.
Allocations are always impossible to get into and the 20 will sadly be no exception.
This will also be one of Axel Heinz' final full vintages before he heads to Bordeaux.
2021 Bibi Graetz Colore
Graetz by name, great by nature. I will confess I am yet to taste the 2021 Colore, but from all reports it is the best wine he has ever made, with Jane Anson even going so far as to award it the full 100pts. Pricing isn't shy, but compared to the other great super Tuscans, it will hopefully be a bit of a snip.
2019 Yjar
'I hope everyone followed my advice from the first vintage to get on board because it is more than living up to its potential, and its tiny quantities mean that first come are almost certainly first served,' reads the end of Jane Anson's review of the 2019 Yjar, a wine she awarded 100pts and put the top of her charts for all these releases. I echo this, it will be a very difficult allocation to get onto, if you haven't already bought in. If you're offered the opportunity, take it.
To find out about these, and other releases, please register your interest using the link below: