36 years ago this autumn, I went to the office where we both worked at the time determined that I was going to speak to Patrick Sandeman about our future. My French was shakier then, despite my claiming it was fluent at my job interview, and I liked to get the calls to France out of the way before the the sales team arrived, so I was on the telephone when Patrick arrived and came straight over and simply said 'we should have lunch today'. The lunch at the Café Delancey confirmed that we were thinking the same thing – and 'Sandeman & Lea' was decided upon before we returned to the office.
We always wanted to combine retail and wholesale. Our initial thought, that we were going to take over the former site of 'Les Caves de la Madeleine' at 301 Fulham Road, initially foundered on the premium being asked. Our first trading month was June 1988, and for the next six months we worked from my home at 1 Henning Street in Battersea, our office complete with two telephones, a couple of rolodexes and a golfball typewriter on which Patrick's wife Katie typed up the invoices and kept the books. Our wine was at a self-storage unit on the south side of Vauxhall bridge, and in the afternoons we took turns to jump into our van and do the deliveries.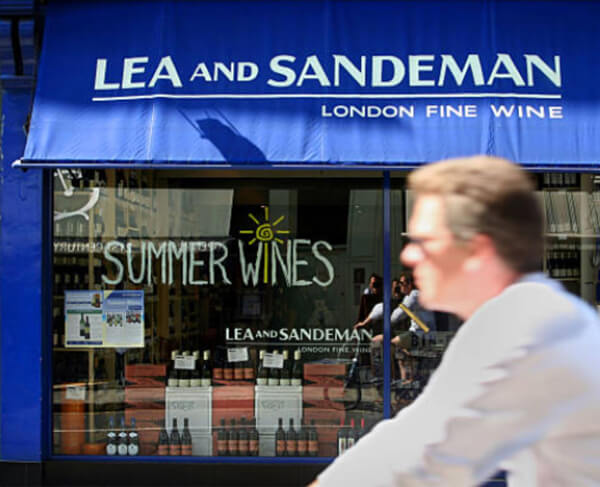 Eventually the negotiations over 301 Fulham Road bore fruit and after a very quick tosh-out (it had most of the shelving we needed already), we opened the shop six weeks before Christmas. I was near the door sweeping the floor for the opening party when our first shop customer tapped on it and asked if he could buy some wine. He left with three bottles each of Bollinger Vieilles Vignes Françaises and Domaine Ponsot Clos de la Roche. We thought this a very good start.
Since 1988, everything has changed and yet, as you may see from our initial 'mission statement', in some ways nothing has changed. When we started, we sold mostly to city institutions – banks, brokers, discount houses and so on – for their dining rooms, and to private customers who often came to our 'office' (occasional evening tastings which resulted in at least one marriage). Quite quickly the arrival of the American banks (we called Merrill Lynch 'Moral Lunch' because alcohol was famously banned from the building) rapidly changed the culture of the City which lost its importance as a market. We grew our sales to restaurants and to private customers, both through the shops and through primeur and in-bond sales, and the website gradually became an important window and another shop. The 'regular fine art exhibitions' had to end when we moved across the road from 301 Fulham Road to 170, for simple lack of wall space.
But – we still sell only wines we like. We still buy our French wines from small domaines or wine-farmers – but we have through growth been able to expand this sourcing to Italy, Spain, Portugal, Austria, Germany, Greece, Slovenia, Georgia, Australia, New Zealand, California, Oregon, South Africa, Argentina, Chile and more.
Patrick and I worked together for 25 years, but as we prepared to celebrate the 25th anniversary of the company, there came the devastating news of Patrick's death in a skydiving accident. Katie Sandeman was still very much involved as the bookkeeper, a role which she managed to continue with for another eighteen months even in the face of this shattering blow. Our team were incredibly supportive through this very difficult time, and it is very much thanks to Katie and to them that the company survived and continued to grow.
The business continues to thrive on long-term relationships between us and our customers, and between us and our suppliers. Trust and loyalty on both sides are crucial, and there are still some suppliers from our first list feature in the current selections.
It really was Vincent who Patrick and I first met at Domaine Vincent Delaporte in Sancerre. We continued to buy from his son Jean-Yves, and subsequently Vincent's grandson Mathieu came to work for us one summer, and it is now he who runs the domaine. At Domaine Comte Armand in Pommard we have bought wine from régisseurs Pascal Marchand, Benjamin Leroux and now Paul Zinetti. Domaine Charles Jobard in Meursault featured in our first list, and we continued through Domaine Charles & Rémi Jobard and on to the current Domaine Rémi Jobard.
Champagne R&L Legras has been on the list since we opened the first shop. Chablis from the Boudin family has also come from three generations, as we started buying from Adhémar, then his son Francis, and now Francis' daughters.
As we gradually expanded others have been added over the years, and we are still always looking for new things which offer exceptional value to our customers.