With a crisp chill in the morning air and fallen leaves underfoot, it's time to retreat from the garden for the comforting flavours of autumn in the kitchen. Squash, mushrooms, beetroot, celeriac, blackberries, apples and pears are all coming into season – beautiful earthy flavours that invite long, slow cooking and deep, satisfying red wine pairings.  
For this, we often turn to Bordeaux, renowned for producing some of the world's finest wines, the varieties found in Bordeaux (primarily Merlot, Cabernet Sauvignon, and Cabernet Franc for the reds) lend themselves well to these autumnal flavours, and at prices which offer great value for money.  
Here are a few of our favourite seasonal pairings to try:  
Traditional Roast Chicken & 2015 CHÂTEAU GOUBAU Côtes de Castillon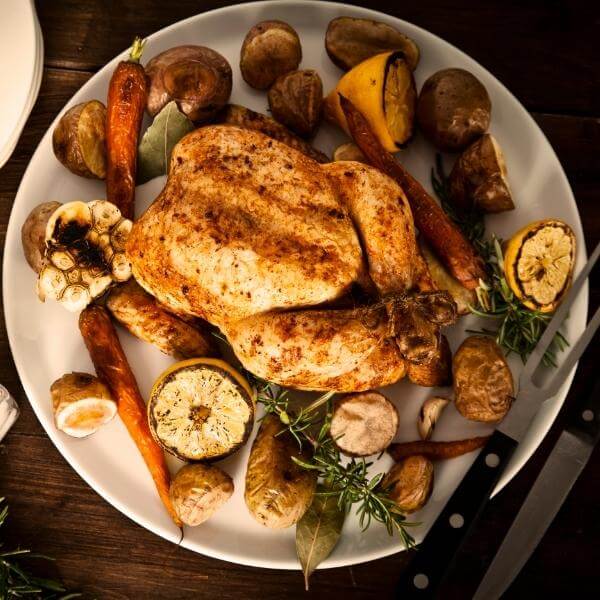 Merlot, known for its soft tannins and fruity character, is an ideal match for roast chicken, and the Château Goubau is a blend of a blend of 95% Merlot and 5% kick of Cabernet Franc. Here the palate is full of autumn fruits, gentle oak and spice, complementing the delicate meat without overwhelming any of the elements on the plate (as we know a roast is nothing without its accompaniments). A mineral freshness and attractive intensity keep you coming back for more.  
Find the wine here £23.95 – £21.95 (case price) 
Beef Stew & 2016 CHÂTEAU FOURCAS DUPRÉ Cru Bourgeois Haut Médoc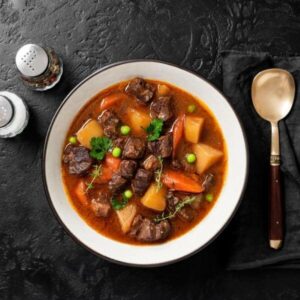 Burgundy might naturally spring to mind when you think of Boeuf Bourguignon, but a more robust red can work just as well. The Château Fourcas Dupré is a classic left-bank blend, with Cabernet Sauvignon playing the leading role. This stands up very well against the savoury, caramelised beef and onions, with textured tannins and delicious elegance. On the palate it is packed with blackberry, raspberry and light cassis flavours and complemented by cedarwood and clove notes.  
Find the wine here £20.95 – £19.50 (case price) 
Wild mushroom Risotto & 2018 CHÂTEAU AIMÉE Médoc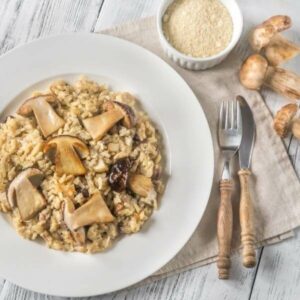 With this brilliant wine the balance between ripeness, weight and the fresher, more 'claretty' lines of classic Bordeaux is spot on. There is much to enjoy with the depth of ripe plum and sweet cherry flesh – but also a high line of fresh spices, some pepper and some delicious wood-spice. It's a great match to accentuate the earthy, bosky, umami flavours from the wild mushrooms – especially if you can throw in some powerful dried porcini and serve with generous shavings of parmesan. The result is a sophisticated veggie autumnal supper pairing.  
Find the wine here £13.95 – £12.50 (case price) 
Bangers & Mash & 2020 CHÂTEAU LES VIEUX MOULINS Cuvée Pirouette Côtes de Blaye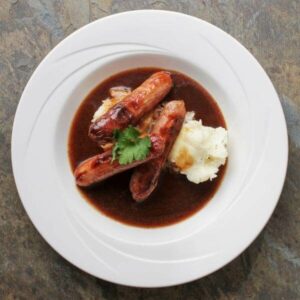 At a recent tasting, Jancis Robinson described this wine as 'crazily underpriced' – it does pack a flavourful punch for a bottle under £15, proving that there is value to be found in Bordeaux. It has balance in abundance, with lovely, lifted aromatics and a pure, red berry quality that can cut through the fat of both the sausage and the mash, plus a spicier edge of five spice and cedar box which adds layers of complexity and works well with a peppery sausage, or an accompanying gravy. 
Find the wine here £14.95 –£13.50 (case price) 
And for dessert?
Apple Tarte Fine & 2016 PETIT GUIRAUD Sauternes-Barsac Château Guiraud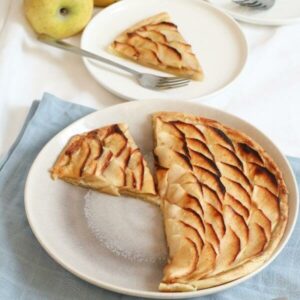 If you are looking to finish with a British classic, this could easily be a shortcrust apple pie, but the caramelised top to a tarte fine (or a tarte tatin for that matter) is a slightly better pairing here Bordeaux's celebrated sweet wine: Sauternes. The Petit Guiraud is produced without chaptalisation or any other form of enrichment, meeting the same standards as Château Guiraud (one of the Premier Grand Cru Classé of 1855). The 100% botrytised berries make an amazingly intense wine – refined, lively and luscious and bursting with marmalade, honeysuckle, and apricot flavours it's a beautiful match for an apple tart, bringing out the sweetness of the fruit while cutting through the richness of the pastry. 
Find the wine here – half bottles £16.95 – £15.25 (case price)