Closing the shop on Christmas Eve (we are open until five tomorrow) is always a challenge and I may have to see if I can sneak off a bit early to get to my favourite carol service.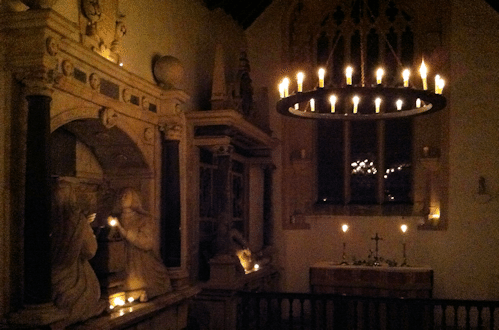 The charm is worth it – the tiny thirteenth century St Philip's church of Little Rollright has no electricity, and so the rare services here are entirely candle-lit. Mind you, a full eight lessons and carols does bring on a thirst, and the chill can seep in.
Back at the house we usually start with something a little warming – like a glass of MADEIRA Sercial 10 Year Old Barbeito. This year, with it being wet rather than cold, we may go straight to Champagne. Something gentle and rounded you can drink easily, perhaps – BARNAUT Blanc de Noirs Brut Grand Cru Bouzy.
Nothing too heavy for dinner, with the following day planned around Christmas lunch. So probably traditional fish, and white. Again something gentle, not too challenging, something that while fresh, has a warmth of ripe fruit and a slight fullness of flavour: 2010 POUILLY FUISSÉ Vieilles Vignes Les Crays Domaine Daniel Barraud would be perfect. My wife Helena is not a great white drinker, unless it's Riesling, so maybe we will put a bottle of the new favourite 2010 SERRIGER HERRENBERG Riesling Spätlese from Dr Siemens on standby. And there had better be some red so we can have some cheese. Maybe 2011 BARBERA D'ALBA Campass Cigliuti with its juicy fruit and velvet tannins. The boys in the shops are fascinated by the fact that the labels of this are not only lavender-coloured but lavender-scented, although Claudia (the winemaker) denies any intention here. That might be it, but I have packed a bottle of Springbank, just in case Richard feels like a little night-cap.
Christmas day. Stockings and the temptation to drink the miniature of Sloe Gin before breakfast is resisted, despite the need for more sleep which calls for almost any form of stimulant. Still, coffee is probably better. Breakfast will remain alcohol-free too, although if you were chez Michael Broadbent, you might find a glass of Buck's Fizz useful at this point. Don't be extravagant with champagne if you do – a spot of JEAN-LOUIS DENOIS Méthode Traditionelle Chardonnay-Pinot Noir Brut will do more than adequately.
Christmas day breakfast is always rather a hopping affair, sharing the kitchen with prepping of vegetables, the turkey safe in the Aga. Then everyone is off to Cornwell for the service there. Perhaps I will be allowed to stay behind on basting duty.
After church it's back to the house to prepare for the lunch and get the fires lit, with the usual amusement when the one in the dining room blows all its smoke back into the room. We are still trying to shoo it out when the rest of the family arrive for lunch.
My mother-in-law once stunned us all by producing pan-fried fois gras on brioche toast at this point, something I'd very much like to become a family tradition. In which case 2006 VIRÉ-CLESSÉ Sélection EJ Thévenet Domaine de la Bon Gran would be perfect. For those too squeamish for this treat, smoked salmon on brown bread with something lively and fresh to lift the taste buds – LARMANDIER-BERNIER Terre de Vertus will do that job beautifully.
Christmas lunch itself would be accompanied by a Burgundy if it was me choosing, but Sam having set a high bar a few years ago, I suspect Richard will want to – well not compete exactly, but show willing. Maybe 2010 CHÂTEAU HAUT PLANTEY Grand Cru Saint Emilion – the new property owned by Jacques 'Le Pin' Thienpont – or something even grander from the cellar.
I apparently have really odd tastes in that I still love Christmas pudding. Would I eat it without brandy butter? Possibly not. But I'd be the first to admit it does not really go with much. This might not necessarily preclude having one glass of 2004 COTEAUX DU LAYON BEAULIEU L'Anclaie Château de Pierre Bise with it – or perhaps more as a chaser.
Time for a quick walk to the Rollright Stones before dark, to see if the Whispering Knights have got anything to say about the solstice and the magic of the now lengthening days.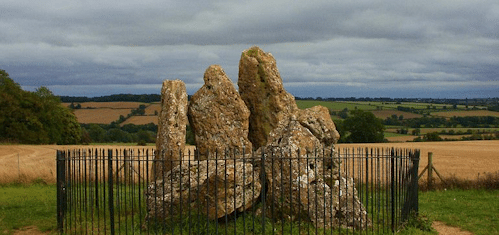 Dinner is so much more restrained, but no slacking on the vinous front please. Time for a sip of a treat Champagne like the perfectly mature and complex 1996 LEGRAS Cuvée Saint Vincent Brut Grand Cru to get one back on form. And after Claret for lunch, perhaps a contemplative Pinot for dinner. This could be one of the ethereally scented (and amazingly low-alcohol) wines from Piero Incisa della Rochetta's Chacra estate. The 2010 CHACRA '55' PINOT NOIR Bodega Chacra is showing quite beautifully now. Or a slightly earthier Burgundian classic like 2007 VOLNAY 1er Cru Chevrets Domaine Henri Boillot. And then of course there has to be Port somewhere on Christmas day:- a spot of 1970 DOW. If you are sensible you will avoid the Cognac, but who is by this stage? (Especially when it's MOYET Fine Champagne).
…
After a Boxing Day of wind and rain and being outdoors all the same, with perhaps nothing more than a pint of Hooky or a nip of SIPSMITH Sloe Gin, a glass of Valdespino's INOCENTE Fino will be welcome early evening, and allow you to settle down in front of the fire with a book. A glorious prospect of a dinner of Christmas day leftovers, washed down with something cheerfully fruity – 2010 MOULIN À VENT Vieilles Vignes Domaine Thibault Liger-Belair .
…
Cornwall for New Year, windy clifftop walks along the north coast, fugged-up in a house in sight of the beach. After a long cross-country drive, I know my nephews will want to take their uncles for a prupper jarb, so off to the pub to find it:-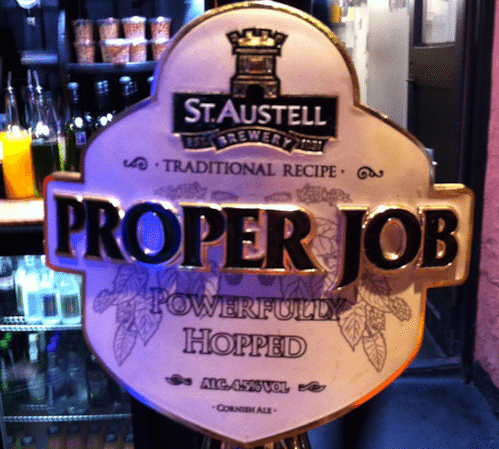 It usually proves to be just what it says on the pump.
The next morning there's surfing in Harlyn Bay. You think I'm kidding?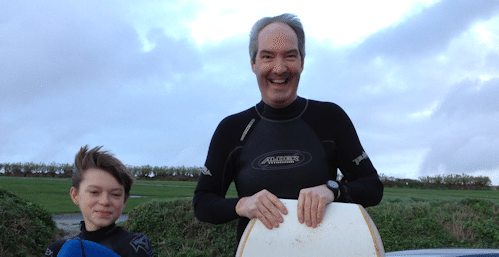 Back to the house and after all that a dinner of hot ham and Cumberland sauce is more than welcome, washed down a bottle or two of 2006 TASSINAIA Castello del Terriccio.
If the cellar or wine rack is a bit empty after all this, rest assured L&S will be open again on the second of January (and, if you really get caught short, on the 28th, 30th and 31st too!).
Wherever you are and however you are celebrating, have a very Merry Christmas and a happy New Year!