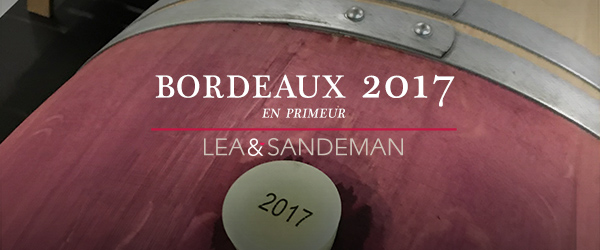 Yesterday began with a 9am tasting at Cheval Blanc (you have to start somewhere!). Sadly, it didn't begin well. First came the news that there would be no Yquem tasting in the Orangery this year (quel désastre!), next came the unwelcome revelation that the Château was quite badly hit by frost in 2017. The clay-rich parcels of Cabernet Franc at the edge of the estate were worst effected. Most of what survived found its way into a very polished grand vin but volumes are well down. Sadly it was a theme we were to return to at a few properties. The good news is that most of the damaged parcels seem to have been destined for second wines anyway, or that the situation could be rectified through careful selection and sorting.
Our next stop was with the amiable genius Denis Durantou. His wines almost always hit the value sweet-spot so we are very excited about Saintayme, La Chenade, Les Cruzelles and Montlandrie which were all excellent again in this vintage. Petite Eglise and L'Eglise Clinet were outstanding but the volume is down and Denis anounced, only somewhat tounge in cheek, that there would be "just enough grand vin for his friends…" Hopefully we are on his list!
(This is Denis Durantou of l'Eglise Clinet giving his haiku of the vintage. We put him on the spot and he delivered a no nonsense response. He is right all his wines are 'à point'.)
Canon was next. On the grapevine we'd heard that the cool, wet weather Bordeaux has been seeing a lot of recently (London is not alone in suffering a very drab early spring), meant that the grand vin was showing a little tight and closed. Thankfully that proved not to be the case. Sampling from two separate cooperages (Sylvain and Taransaud) as well as the final blend, we found plenty of the usual polish and verve in this superb Saint Emilion. We didn't taste the Croix Canon at the Château but what we found on Sunday showed plenty of promise.
We then hopped across the plateau to Vieux Château Certan (VCC) – always a highlight of primeurs week for us. Luckily we managed to talk at some length with Alexandre and Guillaume Thienpont. There was no frost here so the conversation could focus on the rest of the vintage. Guillaume described it as "précoce" for flowering, veraison and harvest. It was a year "without excesses" of either rain or heat and one that has produced wines with "lovely freshness and good acid balance." Guillaume added that the mid-palate has some of the softness of 2015, while there is plenty of "the tension of 2014". We had quite an amusing discussion about the perils of using the word "classique" to describe a vintage. After 2013, it seems to be a bit of a dirty word! We settled on "typical" as, after two big, opulent modern vintages, this was a return to wines that do have enough structure and tension to age but also have the refreshing ripeness to be drunk earlier than the 2015 or 2016.
From VCC to Le Pin (it really was a tricky morning…). Jacques Thienpont was in a typically ebullient mood. Asked how he found the vintage, he replied with a cheeky smile, "I think we will bring it to market…" Doubtless he'll find some buyers too! Jacques was actually there on the night of the frost and described the horrible sense of impending doom as he looked from the window to see crystals forming on the roof of his car. Luckily, some soft dawn light came up in the nick of time and the danger ebbed away – otherwise we might have had another 2013 when everything ended up down the drain.
Figeac and Conseillante were next. Both really impressed in their own style. As did the superb Vautier stable at Ausone (Moulin-Saint-Georges, La Clotte, La Chapelle d'Ausone and Ausone itself), probably the best collection of wines we tasted all day. It's just a shame the frost took Fonbel and Haut Simard.
Last but by no means least was Tertre Roteboeuf. This is one of the great Bordeaux tasting experiences. François Mitjavile is a legendary producer and a man that is never short of old-school charm! Nina (François's daughter) described the vintage as quite "up and down" with separate periods of sun and rain. She felt that the resulting wines are nicely "spicy and fresh". We certainly found plenty of that in the samples we tasted.
Dinner was with Mathieu Ternault at Château Montaiguillon in Montagne Saint Emilion. The sun came out right on cue and we enjoyed a superb tasting of the 2015, 2016 & 2017 gazing out over the plateau towards Cheval Blanc. The 2015, which is already in the shops en magnum, is definitely one to tuck away. If you can pair it with magret de canard half as good as Mathieu's, you're in for a real treat. Merci Mathieu!
Stay tuned for more right bank thoughts and our first impressions of Pessac today.
(we are writing this on an iPad in the car so please excuse the lack of proper punctuation)