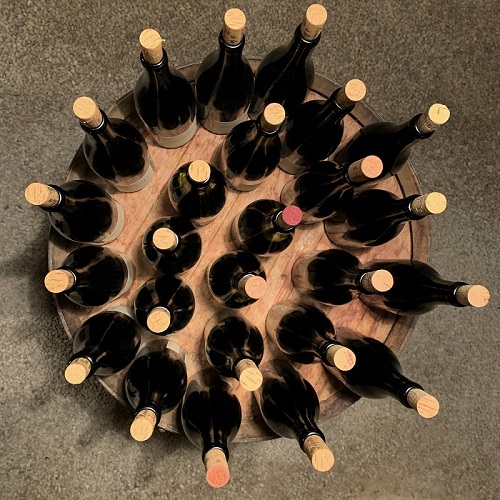 2018 was a very hot vintage – the growing season only beaten by 2003 for overall heat. However the wines are very different from 2003, for even where they are ripe there is much more freshness than one could have dreamed possible. The very wet winter of 2017-8 was one decisive factor, as it meant water reserves in the soil were good, and generally speaking the vines did not suffer from drought as they did in 2003.
The Whites
The whites, produced from a welcome large harvest, are good to very good, a vintage which will be welcome in the market as much for the volume as for the quality. The grapes were in perfect condition at the harvest and it was possible to press hard and long. The ripeness of the year may give a front-of-mouth opulence, but behind that there is quite good acidity and the wines lengthen out and finish on a refreshing pithy phenolic density supported by the acidity – this should develop well in bottle. They will be immensely attractive quite early, but may, a bit like 2009, prove better in the cellar than current expectations.
The Reds
For the mostly excellent reds, the lack of drought means the wines are inclined to be much more sumptuous than 2003, with high tannin levels – tannins that are sweetly ripe and completely enveloped in a feeling of silky generosity.
There was definitely a choice to be made between harvesting early to keep the potential alcohol down, or waiting for phenolic maturity (which came late) and dealing with high sugar levels. Pick too early and the wines, even at 13.5%, can be green-edged; pick at full ripeness and the alcohols can be over 15%, although most are somewhere in between. If picking early, it was not possible to do much extraction for fear of extracting green pip tannins, if picking later the ripe stalks could go into the vat too, bringing a bracing additional 'straightness'.
It was also possible to extract a lot from the very healthy harvest. The former made wines that are perhaps more like the modern pale and aromatic Burgundy we know; the latter could stray into a character that is still clearly Pinot, but more like wines from the Northern Rhône than we are all used to from the Côte de Nuits – but in this exotic style, hugely enjoyable and complete. Again, most wines from our growers are at neither extreme.
This is definitely a vintage to buy, and also one to try – so we look forward to seeing you at our
2018 Burgundy En Primeur Tasting at 67 Pall Mall
, Monday 13th January 2020.
Book your ticket
here
.