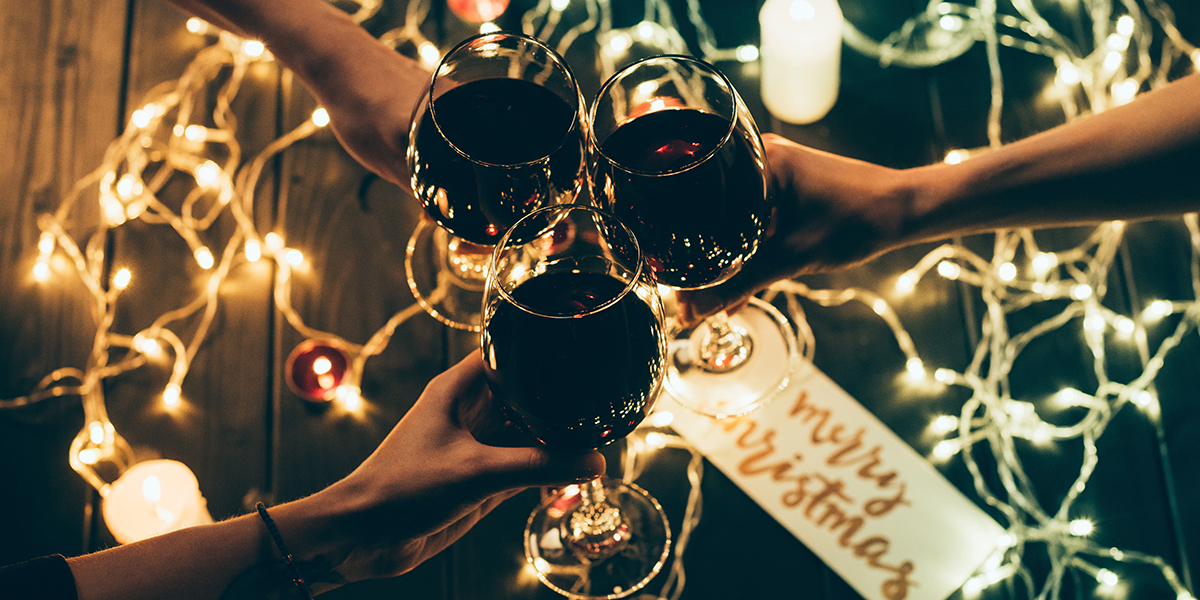 It's the busiest moment of the year for our team as we try to help everyone get the right wines into their glasses as well as the perfect presents into people's stockings for Christmas.
Yet we've managed to snatch a moment of their precious time to find out what they will all be drinking once the dust settles from five o'clock tomorrow! So if you are still in need of inspiration scroll down for some 'insider' festive ideas and pop into your local branch for a chat.
Merry Christmas from us all!
Festive Sparkles
FULHAM: LARMANDIER-BERNIER 'Longitude' Blanc de Blancs Extra Brut 1er Cru NV This is so refined and fresh, but with a lovely generosity of texture. Pure and intense this is perfect as an aperitif but will carry through beautifully to seafood starters. BARNES: 2009 WISTON ESTATE Cuvée Brut As we champion the best English Fizz, this is a fantastic new addition to the range. Delicious vintage stuff, with a creamy brioche character. We're big fans of Wiston in Barnes! CHELSEA: GONET-MÉDEVILLE Blanc de Noirs Brut 1er Cru NV or BOLLINGER Special Cuvée Brut NV Definitely a fuller style of fizz – which we adore at this time of year! With a dominance of Pinot Noir and that lovely brioche finish coming from the lees ageing, a delicious rich and very satisfying glass of bubbly..


A reviving aperitivo
FULHAM: DELICIOSA MANZANILLA Valdespino The most appetising of sherries, and thankfully also available in half-bottles, just in case the rest of the family haven't embraced the joys of sherry quite yet! CHELSEA: POTOCKI WODKA: Having it most likely on the rocks, as the creamy, long aftertaste is best enjoyed in all its pure, undiluted glory. And now relax!


Fresh whites
FULHAM: 2018 GRÜNER VELTLINER Hochterrassen Salomon Undhof Lovely minerality leading to bright fruit on the mid-palate, a crowd-pleaser that's got enough depth to please any serious wine lover too! CHELSEA: 2018 SOAVE CLASSICO Montesei Le Battistelle: a great aperitivo white, as lightish in body and nice and dry or perhaps the 2018 KRATOS Fiano Luigi Maffini which has a little more oomph, but is still light enough that it doesn't need food. Crisp, and perky with fine texture. Perfect!

Foodie Whites
CHELSEA: 2016 PULIGNY MONTRACHET 1er Cru Champ Canet Domaine Jean-Marc Boillot
It has to be Burgundy, the long, rich, buttery finish and zesty, citrus notes match any Christmas bird and all the trimmings so well! FULHAM: 2017 MÂCON VERGISSON La Roche Domaine Daniel Barraud An amazing value white Burgundy with plenty of acidity to stimulate the appetite and enough richness to support a hearty Christmas turkey. CHISWICK: 2014 MEURSAULT Narvaux Domaine Rémi Jobard A classic for Christmas, it has to be a rich but balanced Chardonnay by Rémi Jobard. Everything you expect, with notes of citrus and also hint of honey and nuts. This will work as a very classy aperitif on its own but will also match with a seafood starter thanks to his fresh minerality.

Easy Reds
CHELSEA: 2011 MERCUREY 1er Cru Champs Martin Domaine Bruno Lorenzon: More serious on the palate than the Kiwi Pinot below but a classic wine for Christmas, with a lovely complex finish. 2015 TONGUE IN GROOVE Pinot Noir Cabal Vineyard: a slightly a more "outside the box" choice. An explosion of cherries on the palate and full of flavour, but light enough to have with some pre-lunch nibbles. FULHAM: 2018 GARNACHA Bodegas y Viñedos Monfil Bursting with fruit and could hardly be better value. This bold Garnacha from Spain will handle any nibbles you'd care to throw at it.

Foodie Reds
CHELSEA: 2017 GIGONDAS Domaine la Bouïssière: The richness of the bramble fruit, the chalky tannins and smorgasbord of red and black fruit notes from the Grenache make this a hearty, foodie wine and that will perfectly pair with any rich meals over Christmas. Or 2004 CHÂTEAU LÉOVILLE BARTON 2ème Cru Classé Saint Julien: Bordeaux is perfect indulgence at this time of year? This classically shaped vintage is delicious right now. Joyous, refined and sophisticated and has an almost endless finish!
CHISWICK: 2014 BRUNELLO DI MONTALCINO Fuligni Sangiovese at its best. Supple and robust at the same time, this Brunello from Roberto Fuligni is an example of Italian elegance and "gourmandise". It shows spicy, red fruit aromas deftly wrapped in soft tannins, with a deep, long finish. A French 'Chapon' (Cockerel) will be on the menu for my Christmas lunch and I look forward to opening this! KENSINGTON: 2016 FIXIN Petits Crais Domaine Huguenot An excellent alternative to the more pricey Gevrey Chambertin. This has great texture with elegant fruit. Perfect with the Christmas meal or even on its own…! FULHAM: 2015 POGGIO BESTIALE Rosso della Maremma Fattoria di Magliano Packed with savoury notes and plenty of rounded, polished tannic structure, as well as all the ripe fruit needed to stand up to all the bold flavours of a traditional Christmas lunch.Yum!

Something sweet for cheese and Pudding
KENSINGTON: Christmas is definitely the time of the year to drink Port. The SANDEMAN 20 Year Old Tawny is perfect with pudding or cheese. This gorgeous, poised 20-year-old tawny remains a true 'in-house' fave, 'just' chilled from the fridge or cellar. CHELSEA: We'll be treating ourselves to a vintage port, so perhaps 1983 TAYLOR or 1977 GRAHAM which are both on song right now; beautifully evolved but still full of beans. BARNES: 2015 CHÂTEAU TIRECUL LA GRAVIÈRE Monbazillac The very best property in Monbazillac, something a little bit different, another L&S favourite for years, it is a fantastic alternative to Sauternes, and even has a seriously festive looking label. As Robert Parker says 'It is an understatement to say these are the greatest wines I have ever tasted from Monbazillac; in fact, they are among the greatest sweet wines I have tasted … from anywhere!' Say no more! FULHAM: 2011 TOKAJI ASZÚ 5 PUTTONYOS Disznókő Who needs actual pudding when this Tokaji is like pudding in a glass?! Don't worry though, this will go with anything sweet as well as blue cheese.

Our shops are all open :
23rd December – 10.00am – 8.00pm
24th December – 10.00am – 5.00pm
27th December – 10.00am – 8.00pm
28th December – 10.00am – 8.00pm
29th December – 10.00am – 5.00pm
30th December – 10.00am – 8.00pm
31st December – 10.00am – 5.00pm
Wishing you much Festive Cheer!