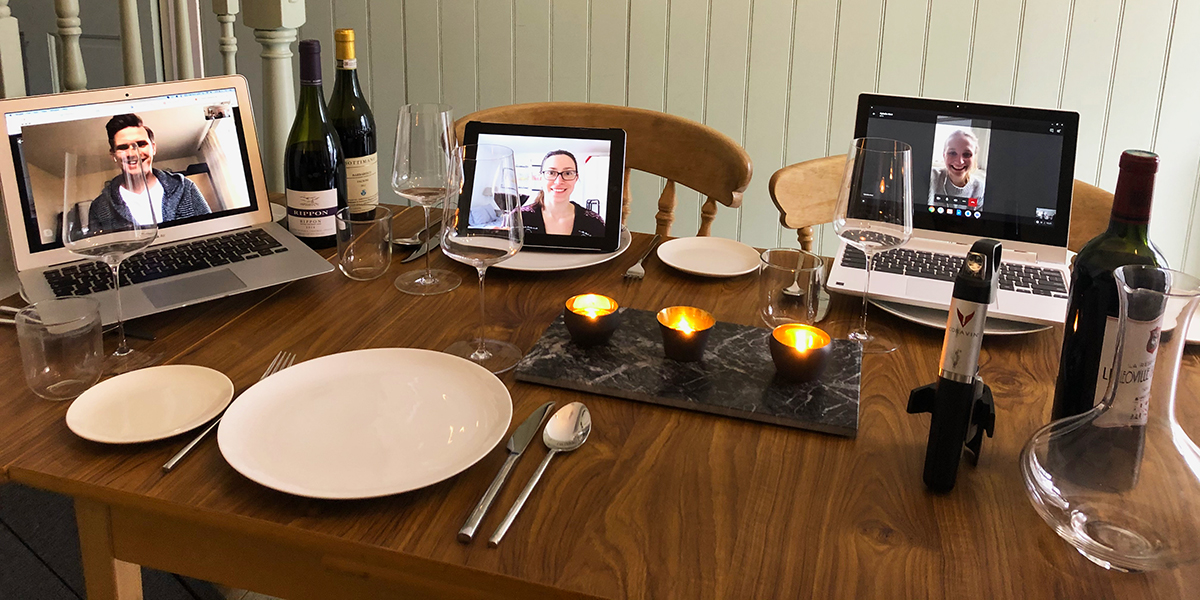 Is there anything that beats a good Dinner Party? Coming together to share delicious food, exciting wines, and lively conversation with friends now seems more essential than ever before – but how to have that experience now?
In recent weeks, technology has really stepped up to the plate, changing the way we work, play, and socialise. Enter: The Virtual Dinner Party. Peruse our guide below for the perfect wine and food pairings, get the wine delivered, the menu agreed, and settle down for a fun night with friends (over Skype). Even better – there's limited washing up.
Aperitif
As with any dinner party, guests can arrive in dribs and drabs. While the latecomer reboots his wifi, nothing whets the appetite and kick-starts the night like a glass of Champers. Raise a glass of crisp Blanc de Blancs to celebrate a hard day's work (from home), like LARMANDIER-BERNIER's 'Longitude' 1er Cru. 100% Chardonnay, with very little dosage (added sugar) offering up flavours of lemon rind, hazelnuts and crisp apple, this is a perfect sharpener.

If you prefer something a little softer, a little riper to settle in for the evening, BARNAUT's Blanc de Noirs Grand Cru is a more rounded style, made entirely from Pinot Noir, with a delicious apple crumble character – the perfect relaxing start to any dinner party.

First course


Traditionally speaking, this course would be vegetable based, or soup. This could be some crudites, or a can of Heinz – either way, a light, zesty white wine is just the ticket. A Sauvignon Blanc from the Loire Valley with some fresh veg is perfect, such as Lionel Gosseaume's TOURAINE LES SAUTERELLES. A lovely, balanced style of Sauvignon Blanc with a touch of herbaceousness but in no way overpowering.

For something a little 'outré' impress with a Vermentino from Tuscany: the PAGLIATURA from Fattoria di Magliano is a little stunner. Gorgeous intensity of pear and wild herbs, with a lovely texture that will happily stand up to bolder flavoured starters.

Fish
Fish screams for white Burgundy. If we're all trapped indoors, we may as well have a little treat. The complexity that a fine Chardonnay offers compliment just about any way you can cook fish. It doesn't all have to be at an eye-watering price either – take for example 2018 MÂCON VILLAGES Clos Saint Pancras Domaine Frantz Chagnoleau – from the traditionally great value Maconnais region, in the hands of a master winemaker. Ripe peach, a hint of tropical fruit, held together with Chardonnay's fine lines of acidity and freshness.

If you're looking to push the boat out slightly, why not treat yourself to a classic white Burgundy, such as 2017 MEURSAULT Sous la Velle Domaine Rémi Jobard. This is quintessential Burgundy from a very particular Meursault 'lieu-dit' ('special spot') – concentrated flavours of lemon and apple with a lovely buttery texture. Try this with firmer, meatier white fish – you will never look back.

Second course

As we come into the warmer months (finally), lighter mains, such as chicken or vegetable dishes, will appreciate a fresher, lighter bodied red. Cabernet Franc from the Loire Valley is an amazing pairing with veggie-based bakes. 2018 BOURGUEIL Cote 50 Domaine Yannick Amirault is stunning with a dish like ratatouille – the peppery, herbaceous character of the wine sings with tomato and veg. Put it in the fridge for ten minutes before serving to really keep things lively.

For chicken and poultry dishes, a higher-toned red Burgundy or Pinot Noir is a great bet. 2015 VOLNAY Domaine Fernand & Laurent Pillot has great lift and elegance, with bags of redcurrant, cherry and spice aromatics. Ideal with a smoky paprika Chicken Cacciatore.

Meat

A hearty red will never let you down with a grand meat main course. Bordeaux is the perfect partner for lamb, beef, game – you name it. 2015 CHÂTEAU TOUR DU MOULIN is a fabulous example from lesser known Fronsac on the Right Bank. Its elegant, silky texture will pair effortlessly with roast meats, while its ripe cassis flavours and complex touches of tobacco demand a moment to savour. Made by an extremely talented consultant who's worked with all the biggest and best names in Pomerol – we'll let you guess which…

If resorting to making never-ending quantities of stews and ragus that will become a recurring theme at your dinner parties, fear not, you can keep this fresh with some superb wine pairings. Italian reds, such as those from Tuscany, have a fantastic structural backbone that complement soft, slow cooked meats. 2016 VINO NOBILE DI MONTEPULCIANO Cantine Dei with its fresh acidity and warm, fragrant spicy, berry notes and a touch of a balsamic, savoury character, makes for a perfect partner to any slow cooked meat dish.

Pudding

A good dessert wine at the end of a meal can be something of a revelation. If you don't have a hugely sweet tooth, there are plenty of richer wines that make great partners for both sweet desserts and savoury cheese boards alike. The wines of Monbazillac are refreshing, lip-smacking sweeties, and a great match for creamy or fruity puddings. Try the 2016 LES PINS Monbazillac Château Tirecul la Gravière with Eton Mess, trifle, or even soft cheeses – the notes of apricot, fresh honey and marmalade pair marvellously.

Look to the Loire Valley for another excellent option – Chenin Blanc can make some of the greatest sweet wines in the world. 2014 COTEAUX DU LAYON BEAULIEU L'Anclaie Château de Pierre Bise is one such wine, with notes of baked apples and spice, with amazing natural acidity. This with a tart tatin is a match made in heaven, and should see you through to a coffee or digestif on the sofa before – happy and full of food, wine, and good cheer it is time to call it a night and shutdown your computer!

A note on responsible drinking – while it may be tempting to open up six bottles of wine in times like these, a little moderation is advised. It might be a good time to invest in a CORAVIN Wine Access system – a nifty gadget which enables you to pour a couple of glasses from any bottle and perfectly preserve the rest for later.
Words & Ideas by Ophelia Hirst and Sophie Picheta, Lea & Sandeman