Great old, grand old Pauillac. The most revered appellation in the Médoc felt more like it had gone back in time than perhaps any other area. The wines were generally very lean and precise – Merlot, again, suffered a fair bit up here and, with the wines usually Cabernet focussed anyway, it meant that these high percentages were pushed even higher. Taken with a general yardstick, yields were about the same as 2020 (which it's now so easy to forget, was also a difficult vintage, just for very different reasons). Much like the rest of the Médoc, Pauillac was successful when the Châteaux held their nerve and harvested into October, making the most of the late summer.
Unsurprisingly, terroir played a huge part on how successful Châteaux were at ripening their grapes. There's been a bit of a 'mix up' in recent years, with hotter vintages allowing some reputedly lesser Châteaux to produce great wine, but 2021 felt like it was almost a return to established order – with just a few notable exceptions.
Château Haut-Bages-Libéral
Château Haut-Bages-Libéral was both our first stop and one of the exceptions. We've touted the quality of this Chateau for a few vintages now and, whilst it exists outside of the established order, to say that the terroir is anything other than exceptional is wrong. Positioned between some of the big boys of Pauillac (Pichon Baron, Latour and Lynch), Claire Villars-Lurton transformed the property when she bought it in 2000, taking it fully biodynamic by 2007. Whilst this didn't initially yield absolute success, it paved the way for it, and the last few vintages have been some of the best value wines in Pauillac. We loved the fleshy, fuller style of the 2021 – everything you want from the AOC, and at a guilt free price (they even managed to keep their yields from plummeting, down 25% on last year – an impressive feat with organics/biodynamics). Galloni has given it a 94-96 (you can tell I wrote this bit after scores had been published) and we think it's well deserved.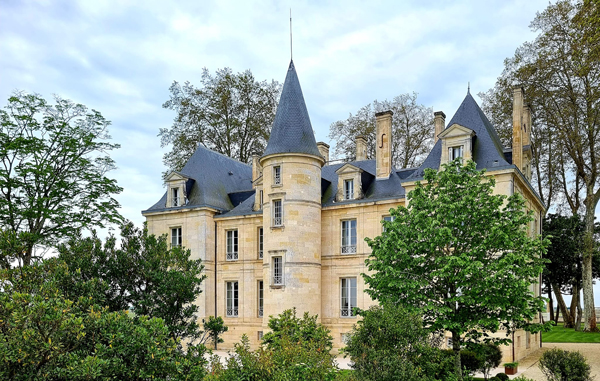 Château Pichon Baron & Château Pichon Longueville
We always love going for a tasting at the brace of Pichons. The wine is always fantastic, and you're transported to a land of spired castles… The walk is short too, which we like.
This year, the wines are best described as athletic. Baron, more like a gymnast – deceptively powerful, but with grace and elegance. Lalande, like a sprinter – lean, zippy and slightly too quick to the finish. The biggest sadness is that yields for Pichon Lalande were just 15hl/h, an enormous drop, so there won't be much to go around.
Château Mouton Rothschild
Here's some weird advice – buy white wine from Mouton Rothschild. The red was good… Classic even, in the way that a car or piece of clothing is classic. It was slightly tricky to taste En Primeur because it felt like it had its tie done up tightly, collar starched and off to its first job interview – we hope and expect (like many critics) that it might relax after it gets the job and goes to the pub afterwards. Back to the white. Aile d'Argent was a bit of a surprise contender for white wine of the vintage. La Mission, Haut-Brion and Margaux all made fantastic white wines, but you'd predict that, but Aile d'Argent was more of a surprise. With the witheringly small amounts of white Burgundy to come, you'll be glad to have a bit of this around, and in the scheme of top white wine (from Bordeaux of Burgundy), it's really quite affordable.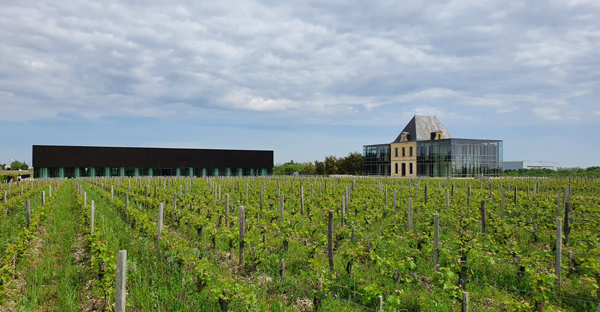 Château Pédesclaux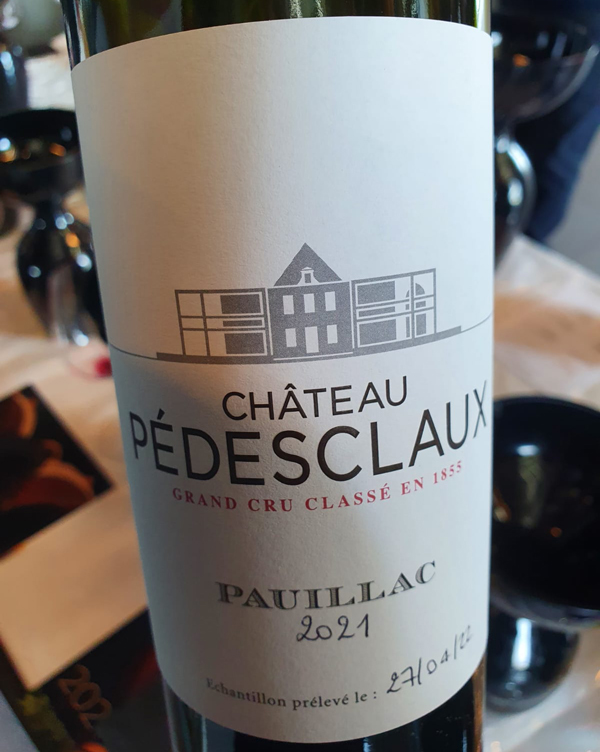 Yet another surprise, or sort of surprise, greeted us pulling into the winery of the Château with glass wings. Pedesclaux, depending on your architectural leanings, is either a wonderful combination of old and new, or a goldfish bowl – a strange post-modern twist on 'how Château might look in the future' after everything has gone apocalyptic and the odd very wealthy person is able to hermetically seal themselves away for preservation.
Whatever you think of the Château, the wine bowled us over. The winery itself is a corridor of gleaming vats, equipped with all the latest in tech and Vincent Bache-Gabrielsen has deployed it very well. The wine has generosity, something which was missing a bit in Pauillac, whilst not missing out on the style of the vintage. Like Haut-Bages-Libéral, it's usually a steal and we'll be backing it to the hilt.
Château Pontet-Canet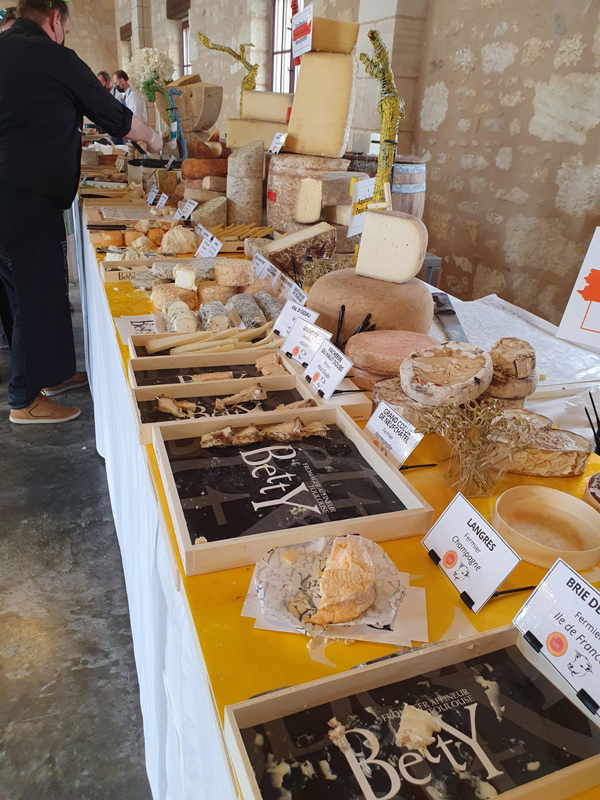 Pontet Canet is a rambling Château. Sometimes you're in France, other times you feel like you've stumbled into ancient Persia. I heard many years ago, when they were rising to fame, that there was a bit of a joke amongst the lesser Châteaux of the Médoc – if you wanted the latest in winery technology, just wait for Pontet Canet to buy it, then sell it a year later.
This demonstrates how far they've come. A humble 5th growth, defying convention. We barely had time to say hello to the horses before being taken through Persia and up to the tasting room overlooking the vineyards. It's a wonderful, bucolic sort of spot for one of Pauillac's most touted wineries – looking out the window into their 'back garden' of amazing vineyards, stretching far as you can see. The most striking thing about 2021 Pontet are the aromatics – it smells Chambolle-esque, with a heady mix of iris, rose petal and lavender. Quite a departure from the norm.
We had lunch in the courtyard after trying the 2021 and were given a glass of the 2017 to drink, which was in a really nice spot. We also bid a welcome return to the Pontet Canet cheese table – possibly (I may get fired after this comment) the most exciting thing about Bordeaux En Primeurs. A huge trestle, laden with every cheese you can imagine (and more), with two cheese experts on hand to help you pick. I could have spent hours there.
Château Lafite Rothschild 
Taking a trip up to Lafite is always alright. 'Hello mate, what are you up to today' – 'well I'm just off to Lafite actually' is a nice thing to be able to say… Sometimes you have to stop yourself on these tours and just appreciate where you are and how lucky you are to be there. A sentence I'm using in part to refer to the Pontet Canet cheese table, but mainly to be visiting Lafite! In a vintage which terroir was king, the most hallowed and consistent terroir of the Médoc didn't disappoint. For once, every noteworthy critic also seems to have agreed – it is universally regarded as a 95-97pt wine (Anson just went straight in with a 97), which is a really, really nice Lafite. We're talking 2005, 2009, 2000, maybe even 1996. It might not quite hit that 100 point bell, but the joy of the 2021 was how different it was to what we've grown accustomed to tasting the last half decade. It's just 12.6% alcohol and is a return to the Lafite of the 1990s, or perhaps even 80s. Forget 'contextualising this within the current market', you just can't. In modern context, it's unique, and you'll want it in your cellar.
Château Duhart Milon
A special mention here to Duhart Milon. It's already been released and whilst the price doesn't peg it as a 'must buy', this carries through. It's very proper and rather wonderful – precise, sculpted aristocratic Pauillac. It'll be entirely different to any other recent vintage in your cellar and I daresay puts itself in contention as the qualitative 'second wine' of Lafite. This was their first year or fully organics conversion, and just the second wine made in the new premises.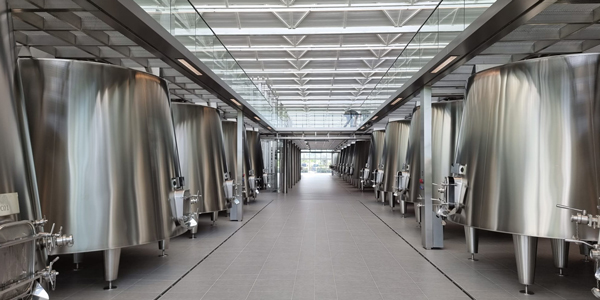 Château Lynch-Bages
The day began to draw to an end on a high. Please, Lynch Bages, forgive me this – I hope it doesn't get our allocation cut, but I can't help myself (it's like architectural tourettes syndrome). Have you ever caught the train from Paddington to Reading (or beyond)? There are a couple of big business parks here, all a bit 90s – glass fronted, nondescript. You know the sort. Picture these and you've more or less got what Lynch Bages' new winery looks like. Sort of… Office blocky.
Now before the scandal totally hits, I want to say that I admire this. Firstly, with the village of Bages, we know that Lynch aren't unsympathetic to architecture or the old ways, but what they've built here is an amazing and amazingly practical space for getting the job done. It's a big, airy, easy to clean, purpose-built glass box where they haven't dumped loads of cash into having flashing lights, stone columns, vaulted ceilings… They've focussed on making it work and removed the focus entirely from glitz and glamour.
This is why we love their wine, and we really loved the 2021. It was imbued with such fruit intensity and dense structure, that you could easily mistake it for a warmer vintage and it seemed fit to compete with any of their greats, albeit with a slightly more old school bent. Bravo to Lynch-Bages and their very practical winery.
Château Haut Batailley & Château Grand Puy-Lacoste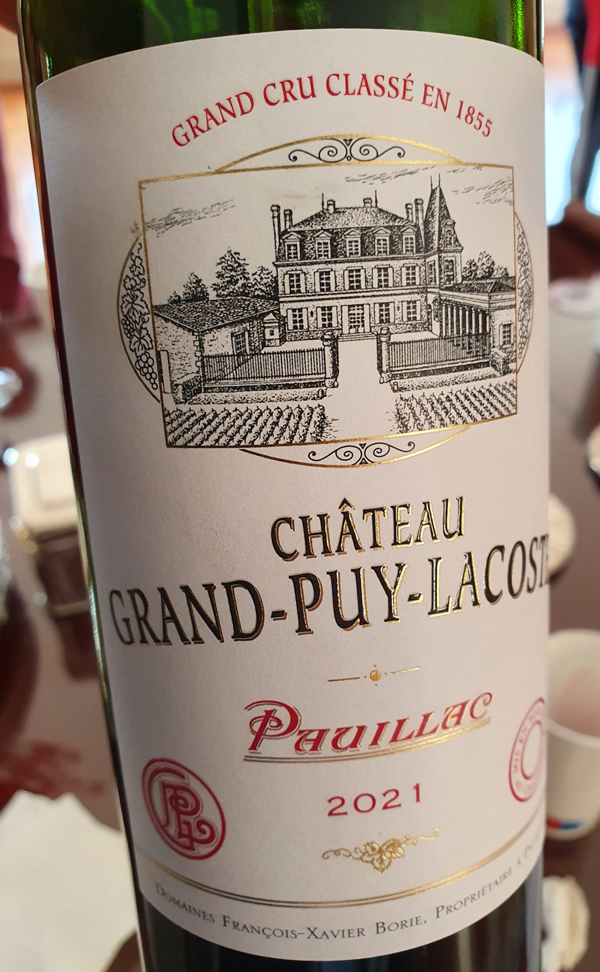 To further this, it felt like Haut Batailley had also really come of age.
You know you're always in safe hands at Grand Puy Lacoste. Which is more than they could say for my hands, which were very tempted to lift a very fun ornament they had in the hallway of a military Mr Hare. Once I'd dragged myself away from that and entered their tasting room, we were warmly greeted by the injured Emeline Borie, who had slipped off a chair whilst trying to change a light bulb (proving how salt of the earth she is!). The wine was a brooding giant. Like Lynch, it had plenty of stuffing, despite a more old-school leaning. Depending on which critic you consult, this is either a Grand Puy to rival their very best, or simply one that is good – if you ask me, I fall into the former camp. Everything was there, but some of the expansiveness had been swapped for aromatics and poise. It's exactly what we look for in Pauillac.