Pessac-Leognan is a slightly peculiar place. You start in the city – Carmes Haut Brion, it's fair to say, is quite literally an 'urban winery', such is its proximity to the hustle and bustle of Bordeaux. Slowly you start to drift out, Haut-Brion & La Mission, two absolutely stunning Châteaux, appear almost out of nowhere, cutting through the tower blocks and urban sprawl. Then you break out into what you could be forgiven for saying looks like wonderful English countryside. Château Smith Haut Lafitte, Haut-Bailly and Domaine de Chevalier are all very much in the rural part of the commune, their own little bucolic idyll.
This makes it even more challenging to make sweeping statements about how the appellation performed, but here goes. Generally, the wines from Pessac were really very good – the growing season really suited the style and once again, whilst they perhaps lacked the density of some past years, the high tone of the fruit, freshness and elegance are worth writing home about. At the top of the tree, pedigree shone through.
Sadly, it wasn't a fairy-tale yields wise, with it seemingly worse hit than most of the other appellations, especially the further you got out from the city.
Château Les Carmes Haut-Brion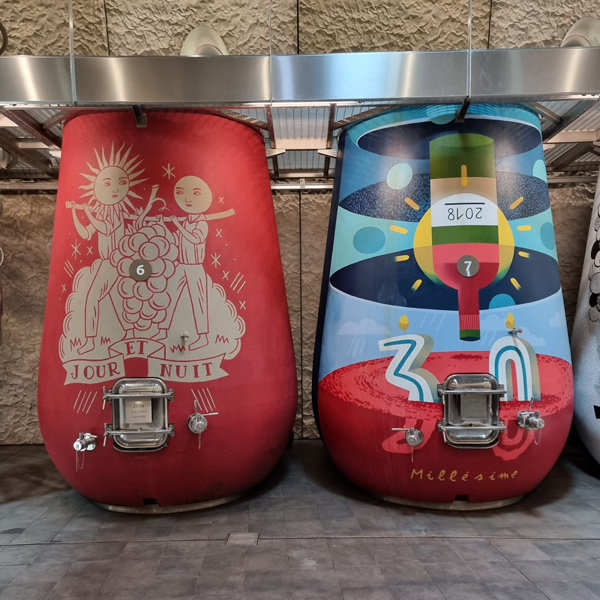 We started our tour, after nipping quickly into a local Canadian joint for a burger and a beer (when in Rome…) at Les Carmes Haut-Brion. This amazing little enclave, just off a main road in Pessac, transports you straight into the vines with a huge glass viewing window at the back of their tasting room. Vines, it's worth adding which looked incredibly healthy and much further developed than the rest in Bordeaux (no doubt all the heat from the burger bar). They're in such a phenomenally fortunate position as to have been not struck much at all by the 2021 frosts – work was put in to prevent this from happening, but their proximity to the urban sprawl also playing a big part.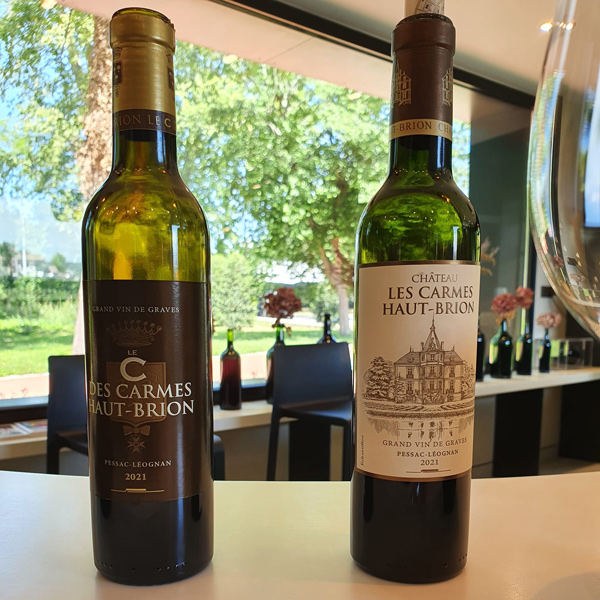 We met the ever charming Guillaume Pouthier on the bridge going into their winery (it's quite a sight, if you've a minute to google it) who was full of greetings, jokes and smiles – as he deserved to be. Alice, their brand ambassador, took us through the wines and there was frankly no evidence that this had been anything but a casual, walk in the park great vintage for them. It was up there with the best we've tasted En Primeur. Also worth noting is their fantastic their C des Carmes (not a second wine, but a blend of much higher Cabernet Sauvignon from an entirely different part of the appellation). For a shade over £20 a bottle, it's one of the bargains of Bordeaux.
Château Haut-Brion & Château La Mission Haut-Brion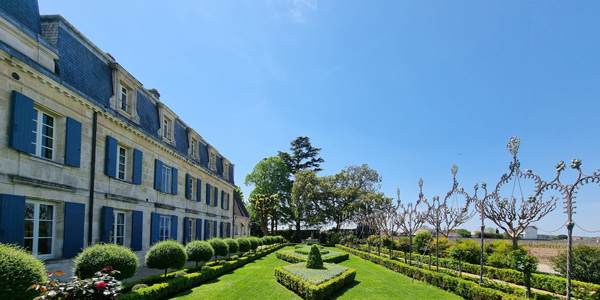 Onto the twin towers of Haut-Brion and La Mission Haut-Brion. The courtyard at La Mission, where the tasting was held, could be mistaken for Saint-Émilion, or perhaps even the cloister of a monastery. We were ushered into a wood panelled room a group of international wine merchants and sat in a horseshoe shape, to be poured one of the best selections of wine at a single tasting in Bordeaux. I've not touched on the whites so far, they make up less than 1% of Bordeaux's wine production, but here it's worth touching on how good they were in 2021. To those with a penchant for Sémillion / Sauvignon blends, this is a white vintage for the ages – perhaps it might replace some of the enormous shortfall in Burgundy 2021. That said, the yields were as bad. A few reported figures as dire as 4hl per hectare!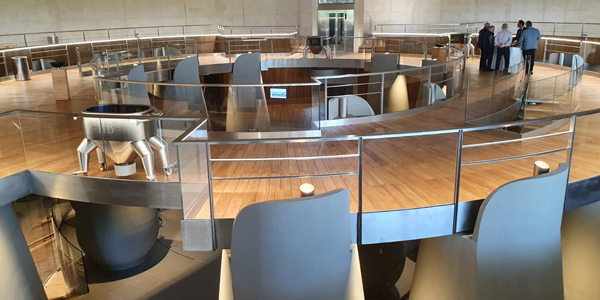 I would rather not answer this question, but if you really pressed me, I'd have picked La Mission over Haut-Brion, purely for purity – there was that much more red fruit freshness, which is to my taste. Both, however, were hugely powerful, structured wine. Somewhat unlike what we would experience further up the Médoc. Chapelle de la Mission also particularly impressed.
Château Smith Haut-Lafitte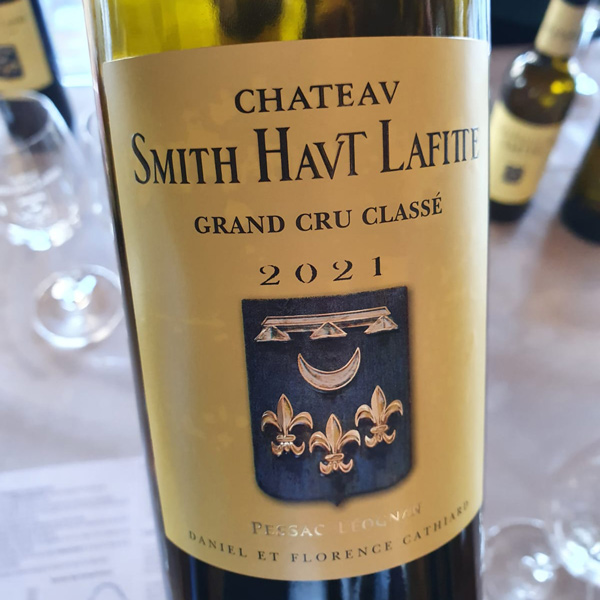 From the city straight into the countryside. We enjoyed the leafy drive down to what I think is one of the most beautiful Chateau in Bordeaux. Smith Haut Lafitte is so different, a Tudor palace of a building with wonderful exposed oak beams, it's set miles apart from everything else and feels like you're entering a fairy tale land.
Sadly, being this far out had its downfalls, as SHL had some of the lowest yields we came across, their crop more than cut in half by frost. To keep the quality high, the team were also ruthless with the selection of berries and barrels used for the Grand Vin. The quality fortunately speak for itself, we're just not sure how much we'll be able to get and at what price…
Château Haut-Bailly
Our final visit in the depths of Pessac was Haut Bailly and another brand new winery. This state of the art facility was cleverly designed to be incorporated into the environment, a modern structure more or less covered in greenery. You could tell how proud they were of it and the tour lead is through the new 'drive in, drive out' gravity fed loading bay, to the spotless fermentation room (complete with enough vessels to vinify all their plots separately) and then down into the perfectly spherical barrel cellar. A freak of the design here (which they apparently didn't intention) means you can stand right in the middle and hear a perfect echo of your voice – a slightly unnerving, if rather cool experience.
Stop talking about architecture and tell us about the wine. A fair comment. It was elegant, savoury, well extracted and harmonious. No peaks or troughs and not a great deal of evidence of the impact of the vintage – obviously the new winery had done a lot of good. The downside? Only 19hl/h. Under half of what you'd expect in a good harvest.
Domaine de Chevalier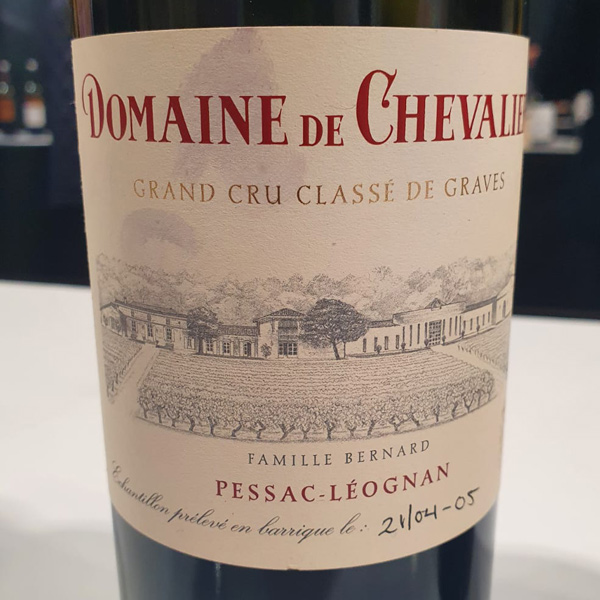 I have to make one final mention as we sadly couldn't find time to visit them, but tried their 2021 on several occasions – Domaine de Chevalier. They made both an outstanding red and white wine this year. I know we already have a very loyal following for their wine, but why more people aren't buying stacks of it, I just don't know. On one of our rare quiet nights, David & I, over a pizza in Pauillac, shared a bottle of the 2014. It was so pleasurable and batting miles above its price tag – just get over the idea that it's 'Pessac' written on the label, rather than 'Pauillac'