Did Merlot suffer in Saint Émilion? Yes, is the short answer, but it was quite terroir dependent and also seemed less impacted than their left bank cousins. The running theme of the 2021 Bordeaux vintage was hard work – sometimes you question a bit of rhetoric, arching an eyebrow toward a statement which seems to particularly favour a Château (we have a unique terroir which meant our merlot was the only one which ripened early, has perfect balance and will make you infinitely more virile if you buy 6 cases), but one thing we cannot doubt (and perhaps should be the marketing slogan for the vintage, although it's not especially Bordelaise) is that this was the year of hard work.
Perhaps the year of the sleepless night (which I'm sure sounds much sexier in French) would work, as it seemed that all the better performing producers were up at every hour. First, to battle two weeks of frost as temperature plummeted across April, second to fight the mildew which exploded on the vines (you really have to treat after every rain, especially if you're organic and there was a lot of rain) and third, to try everything you could (exposing bunches, green harvesting, prayer, voodoo…) to persuade your grapes to ripen with the absence of sunshine. Those who fought, who had that extra wrinkle or more noticeable eye bag, were the ones who produced good merlot.
Château Figeac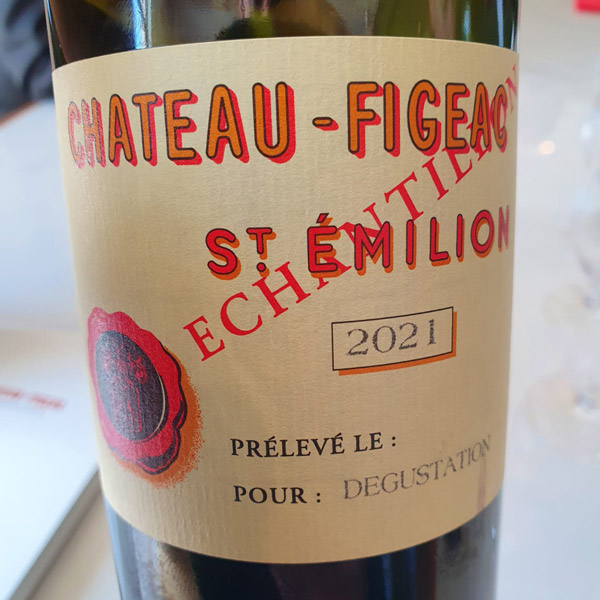 As with Pomerol, we started on a high. In the wine trade, it's quite easy to become jaded. We're treated to an awful lot of wonderful food, wine and in this instance, buildings. Pulling up to Château Figeac, who have been talking about their 'new' winery for what seems like millennia, it was hard to see what all the fuss was about. The sympathetically crafted wing was stuck onto the Château and no doubt, to the casual observer, would have looked like it had been there since the get go. That was, until you set foot inside…
The glass tasting room overlooking this new behemoth was our first taste that we were no longer in Pomerol. The lids to the vats stood open over griddles which you could easily make you feel like you'd just wandered into a giant's BBQ. The downstairs was a maze (a very orderly maze) or pristine stainless steel and wooden vats, illuminated in such a way that you thought at any moment dry ice would start pouring in and a DJ would rise out of the floor. It sounds a bit gauche but had been put together so skilfully that it really was overwhelmingly impressive.
Château Troplong Mondont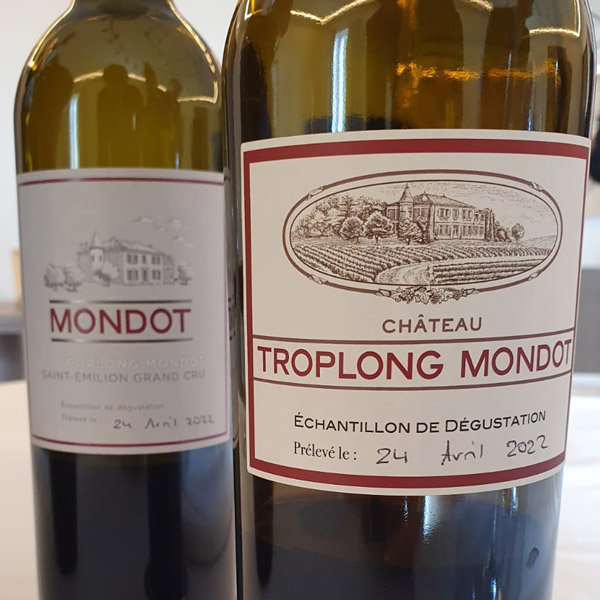 The wine itself was full of super succulent red berries. This new winery allows them to now conduct full plot by plot micro vinification, the result of this process is a blend of total precision – it still had the Figeac elegance, but was somehow fuller, more supple… All without losing anything. It's easy to be sceptical when someone throws this much money at a project, but the results were remarkable.
After this, we went roving up the hill. Troplong Mondot is easy to find as it's the highest point in St Émilion – you just look for the water tower (apparently not secretly a fermentation vessel). Troplong are great fun (they had a course set up for racing a little electric land rover to win a double magnum of their 2018. Sadly, David and I were distinctly mid table) and since the new team came in, they have done a huge amount to refine the wine. In fact, so much so that this was the first Troplong below 14% alcohol since 1999. It's exciting to see this very special terroir start shining through.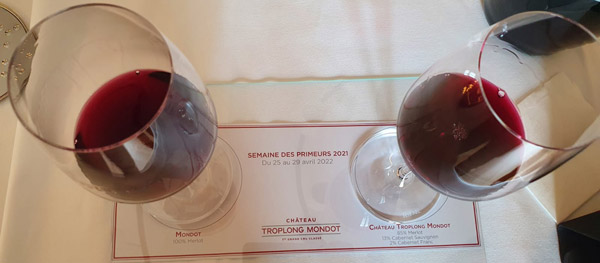 Château Pavie-Macquin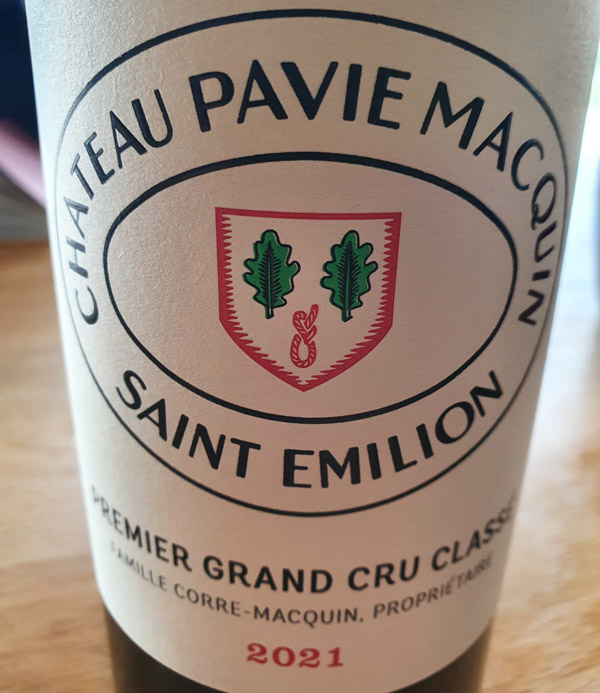 A slightly perilous drive through the town of Saint Émilion and down the winding tracks carved between the limestone bought us up the driveway to Château Pavie-Macquin (one of those that elegantly folds back on itself, but we found impossible to negotiate the corners without quite a lot of reversing and dry steering – again, sorry hire car). I've long been an advocate for the leaps forward in quality that are being made here by the Thienponts. The terroir is fantastic, neighbouring big players like Ausone and they completed substantial renovations to the winery, tasting room and vat house in 2012. The 2021 is a very tensile wine which will doubtless benefit from age, but already has so much to enjoy. It's easy to forget that Nicolas Thienpont and Stéphane Derenoncourt pioneered biodynamics here in the 1990s, and so much has changed since then – more Cabernet Franc, gentler extraction, lighter use of oak. I will continue to wave the flag of this marvellous and frankly undervalued winery.
Château Laroque
Our next visit was somewhere new and, for the left bank, even Saint Émilion, really rather grand. Château Laroque appeared for the first time on La Place de Bordeaux in 2020, we tasted it well and then and it keeps attracting some great scores. We're always really impressed by its elegance, and this didn't change in 2021. The beautiful Château is rather dramatically perched on a plateau of solid limestone (makes Laroque, or 'la rock' make a lot of sense) and is part 18th century Château, part Medieval castle.
2021 took that red fruit elegance to ever greater extremes. It was one of the lowest PH wines we tried and was incredibly fine and zesty. We've a sneaking suspicion it will flesh out very nicely in years to come (winemaker David Suire used to work on Pavie-Macquin and Larcis Ducasse, so knows what he is doing), but it'll be for fans of the more fine-boned style of Saint Émilion.
I'm really not sure what game is being played with the Saint Emilion classifications at the moment.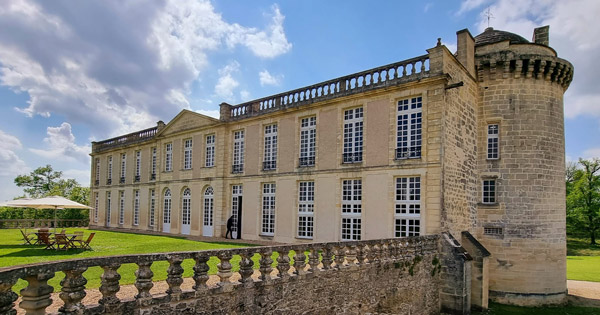 Château Cheval Blanc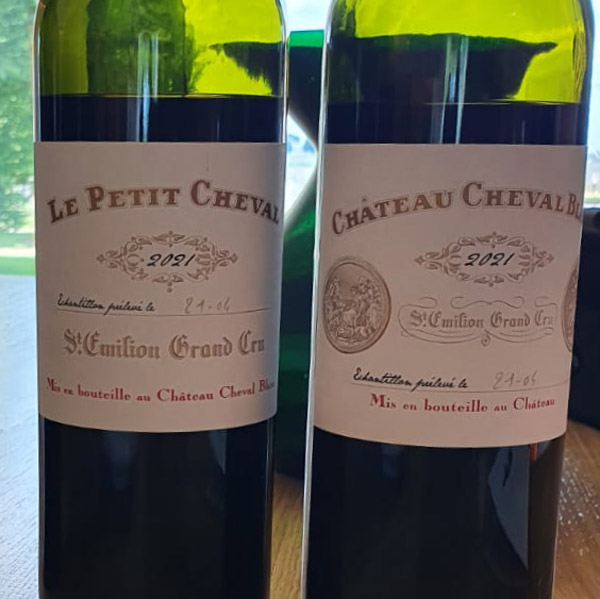 It's a bit toy soldiers. The next trio of wines, however, showed why it's really not especially meaningful which letter you have by your name. Château Cheval Blanc have the magic formula, but recently have seemingly added more to their spell book. Yes, it's predictable – one of the two best wines in Saint Émilion is absolutely great, thanks Jack for reporting the obvious. But I think we need to give them credit. Not only have they got the pricing absolutely spot on the last two vintages, they've also made a stunning 2021. It's fascinating to look at their vines and see the work going into creating a biodiverse environment (in some areas they even had small trees between the rows to go with the wild flowers and other fauna). The attention to detail here goes beyond anything you'd imagine and the results speak for themselves. It's a cabernet dominant wine in 2021, so has something of a serious edge, but they somehow still managed to make it so incredibly friendly and drinkable. So I'll admit, it's boring to report that the old Class A is a great wine, but at least you know you're buying something which is a true step up on the rest.
Château Ausone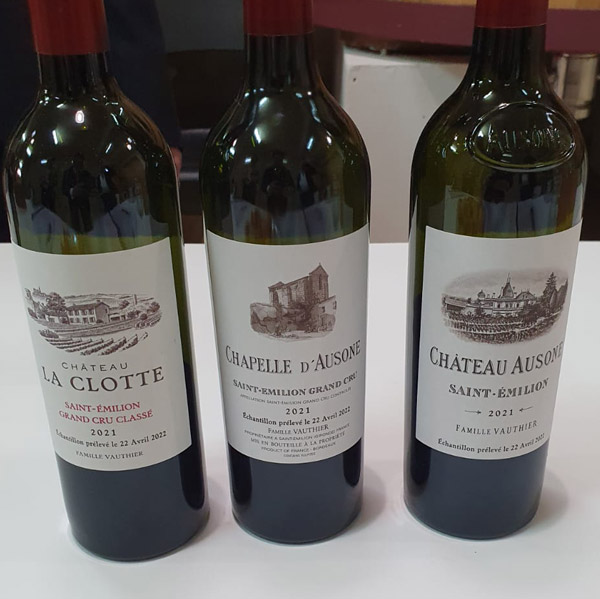 Speaking of stepping up, we took to playing a silly game over dinner and extended it to other merchants, negociants and unassuming guests. What would you buy every year from Bordeaux if money were no object? I'll admit first that we excluded the super Pomerols from this (Petrus, Le Pin) because not enough people had tried them, but, an overwhelming number of people said Ausone, and I'm on board. Of scores published so far, the only potential 100 point wine of the vintage, Ausone's yields were absolutely devastated this year, so much so that they only made the grand vin, Chapelle and La Clotte, which is a real shame, but what was left…
Ausone is the only barrel sample which every year, without fail, you would happily sit there and drink. It's so remarkably sensual and delicious – multifaceted, layered, glycerol and charming, but sleek, elegant and complex. It's a wine which defies hyperbole. 2021 was no different, but perhaps the biggest surprise was Chapelle. For the first time ever, the blend was all Cabernet, both Franc and Sauvignon. A peculiarity of the harvest, but it made a riveting and very serious second wine, which we think will be stunning in years to come.
Château Tertre Roteboeuf
The third and final 'we don't care what the classification is' wine from Saint Émilion might come as a surprise for some. Walking into the small gravel courtyard on a sunny evening at Tertre Roteboeuf felt like such a peaceful departure from some of the glamour we'd already experienced. François, upon marrying into the family who own Tertre Roteboeuf in the early 70s, decided he needed some training and took himself to Château Figeac for two years to learn the ropes. Since, he has guided Roteboeuf via nothing more than his own intuition and creates a wine – miles apart from the rest of the appellation. He's never had any interest in being classified, and stood in that gravel courtyard, drinking the 2021s from a little glass decanter which looked a bit like a potion bottle, we understood exactly why he didn't need to chase acclaim or approval. It already found him.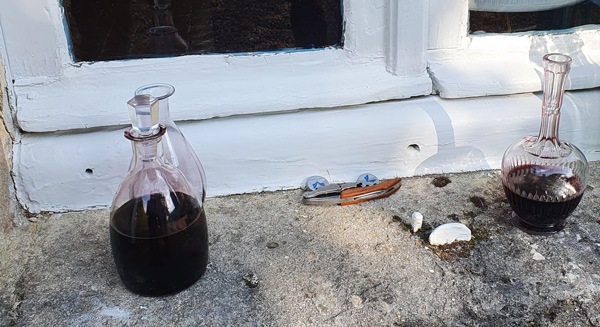 David was actually the one to use the 'B word', saying how this small family home was much more like being in Burgundy, with the 2021 even taking a leaf from that particular playbook. François has a bit of a reputation for being on form in years others find challenging, and this was no departure. The 2021s – Domaine des Cambes, Roc des Cambes and Tertre Roteboeuf, were all stunningly good. There's a misconception that these wines can't age, probably because they're so deeply pleasing on release, but the opposite is really true. He was kind enough to open a bottle of the 2003 Roc des Cambes while we were there – a vintage where so many, even top left bank producers, have gone to soup.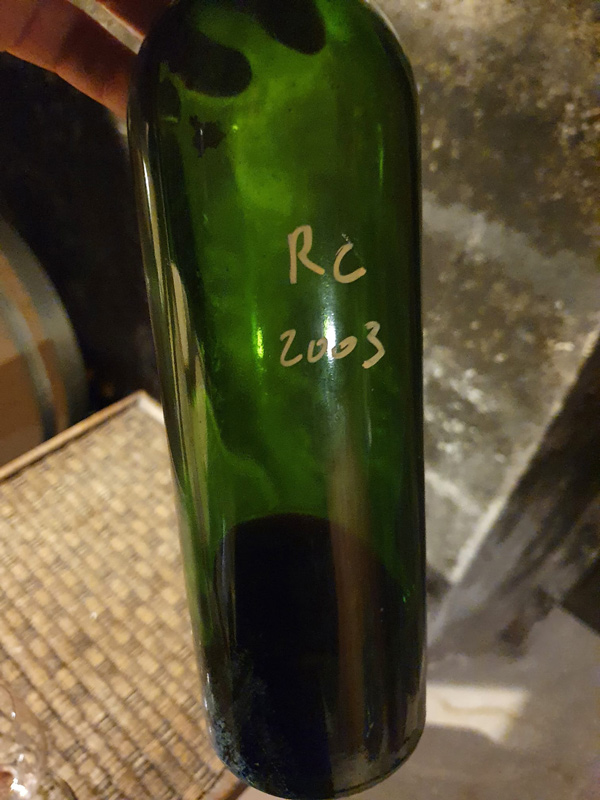 This was still wonderfully fresh and vivacious. We can't recommend these enough in 2021.
Speaking of restraint and how some people worked better with it than others in 2021 is an easy segue onto the wines from the Comte von Niepperg cellar. I must admit that I am more endeared to the charming Comte than ever as we both turned up to a party in Bordeaux wearing the same green velvet smoking jacket (he cutting far more of a dash) and he was very sporting about it (neither of us obviously showing the prescience that women do when planning their dresses). That said, we tasted the wine before this happened and can say without any degree of fashion bias that the 2021 vintage really benefitted his style.
Clos de l'Oratoire
Another producer who I've been a long-time fan of (I promise I won't pretend this about everyone), one of my seminal early wine moments was with a case of 2005 Clos de l'Oratoire, that myself and some friends bought for a Christmas bash after reading Parker's note saying 'it tastes so good, it may be declared a 'banned substance' by neo-traditionalists. We loved it, but the style was perhaps not for everyone. What 2021 endowed these wines with was greater freshness. By the time we left Bordeaux, we got the sense that some of the typically hedonistic, quite rich styles had just had that extra degree of temperance. Something we all rather liked.
The Comte was generous enough to have donated an imperial of his 1952 Clos de l'Oratoire to the party, a bottle which had aged as well as himself.Our final visit in Saint Émilion continued the high we'd experienced. 'One of the classiest and most complete wines of the Right Bank this vintage' is the perfect summary from William Kelley. In a year which seemed to create a divergence of opinion amongst many tasters, one thing we all universally agreed on was that Canon was excellent. I need say no more than that.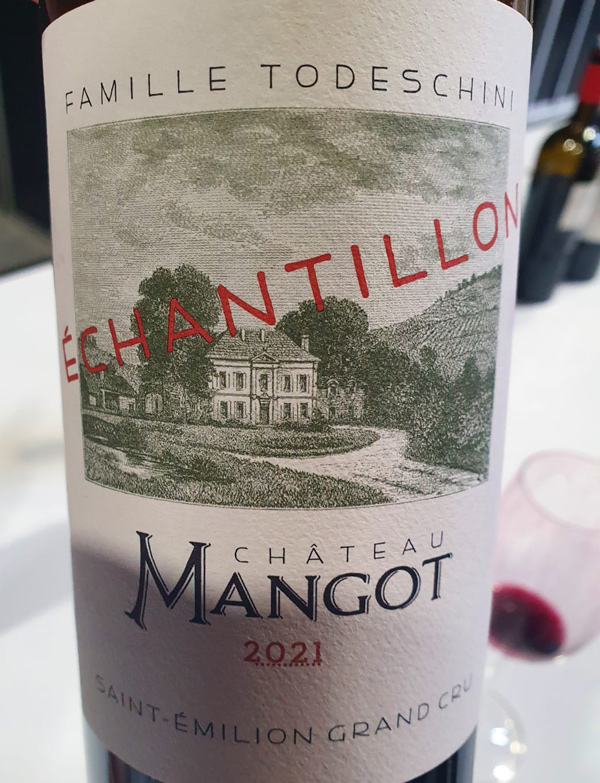 Other notable mentions were:
– Château Mangot
– Château Sansonnet
– Château La Gaffelière
– Château Fonplegade
– Clos Fourtet