How on earth to summarise a vintage by appellation, which more or totally defied homogeneity? I'm going to try my best, almost solely using our own meandering experience and stack of tasting notes.
Luckily Pomerol, which is where we began, makes is rather easier than most. If someone were to ask me to fill in the blank '2021 is a _____ vintage', I'd stick the word Pomerol in there. We arrived with a lot of daft preconceptions, the first of which was that 2021 was going to be a screamingly awful year (it wasn't) but the second and less general was that Merlot had an awful time – a notion which checks out when you consider the severity of the mildew.
What that really should have read though, is that Merlot had an awful time on the left bank. Whilst it wasn't all smooth sailing on the right, and Cabernet Franc was the most in evidence it perhaps has ever been (hurrah!) Merlot faired reasonably well. The biggest fear with Merlot falling to bits is the lack of sensuality to a wine – it loses fleshiness and sometimes even an entire mid-palate, something we very rarely found in evidence in Pomerol. Instead, what had perhaps in the past been something that many would frown upon and type as 'a bit new world' or 'overly generous' was tempered expertly, creating refreshing, harmonious and supremely elegant Pomerol. The aromatic intensity of which were sometimes astounding.
As travelling companions, David and I shared a lot of time in our lovely hire car together (sorry Fiat, your clutch may never be the same again…) and he got more and more very politely nauseated with me comparing 2021 Pomerol to Burgundy. Production parallels are always easy to make (which excites me in itself, as you feel like there's still plenty to explore) but, as William Kelley so eloquently put it when describing the 2021 Conseillante, there was a 'rare structural elegance and almost Burgundian aromatic range'. If that doesn't make me tediously rabbit on about an appellation, nothing will…
Denis Durantou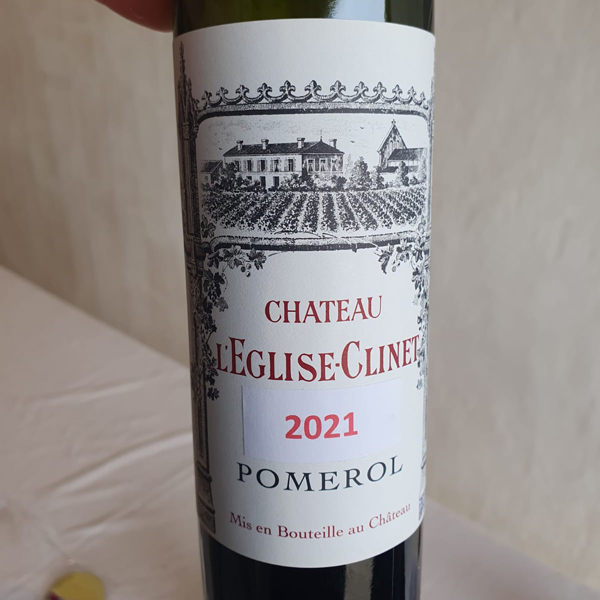 Our tour began, as they so frequently seem to, at an enormous highpoint. With the fog settling over Pomerol, we were welcomed at the cellar door of the late Denis Durantou, by his daughters Constance and Noémie. There was such a wonderful, hospitable atmosphere in the tiny winery, with both seemingly very eager to prove that they were capable of seizing the reins going forward – any degree of nervousness exhibited was utterly unnecessary. We've always been huge supporters of the 'petite' wines from the Durantou family and this year is no exception – they showed wonderfully, supplying the depth and elegance you'd expect from far higher priced wine. Montlandrie was a particular favourite, but each should be (and I'm sure will be) sought after.
Château L'Eglise Clinet
L'Eglise Clinet had shifted up a register from what you might expect in this vintage. There's still dark chocolate and a concentrated rich core, but accented by violets and lots of red berry. We thoroughly enjoyed it.
Château Clinet
Onwards to Château Clinet, where they always quite literally roll out the red carpet. Monique was on hand to take us through the wine and explain the challenges of the vintage. As a baseline for success in 2021, it seemed essential to have a good poker face and play the meteorological odds. With the saving grace of an Indian summer, the best producers picked really late (mid-October for some) to maximise their ripeness. A move which no doubt lost yield but was necessary to create a higher quality product. Clinet did a fine job here, and the most marked character of the wine is its lancing freshness (it has the highest proportion of Cabernet in the blend that they've used since 2003 – but please don't take that as a valid comparison, it isn't). Whilst retaining the depth and charm you would expect, this acidity pulled the whole thing perfectly into line, balancing on a razor edge. I wouldn't be surprised if in ten years' time, it's a wine everyone opens and wonders why they didn't buy more.
Château Feytit-Clinet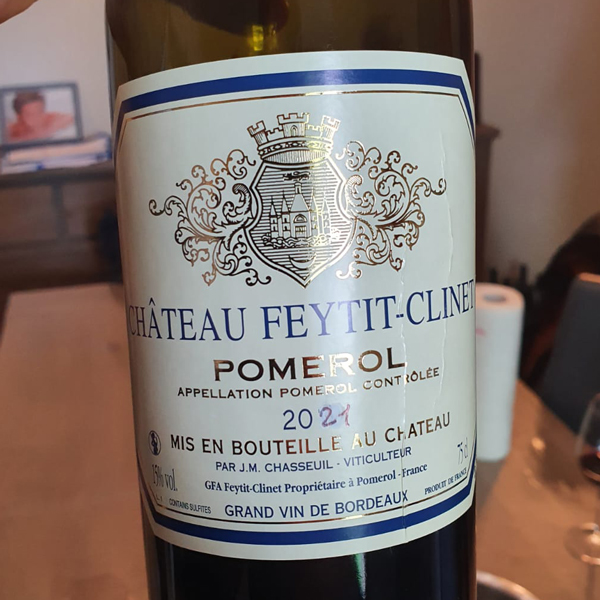 So here it comes again. 'Don't you think this is so much like Burgundy', I bleated to David as we pulled into the driveway of Feytit-Clinet. As much as he was tiring of the comparison, it really was. Jeremy had just finished pulling up some of his smudge pots (we got stuck behind their little tractor earlier) and the garden was replete with a football goal, a stack of these frost candles and an old fermentation tank. It all felt very proper. What's more, we were welcomed, not into a grand salon, a beautiful barrel cellar nor a purpose-built space, but just into his little dining room. Family pictures were on the wall and the table had been covered with a plastic sheet to stop clumsy English wine merchants from dribbling on it.
The wine was fantastic. One that I daresay had what one might refer to as Pomerol 'typicity'. It didn't defy the vintage in any unpleasant way, but pushed toward richness and muscularity, with generosity of dark fruit backed up by a touch of pleasing oak. We enjoyed it very much.
Vieux Château Certain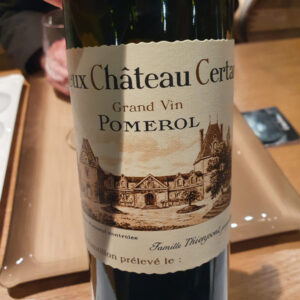 Speaking of enjoying things, we were then whisked up the road to stand for 10 minutes looking at what is perhaps Pomerol's greatest wisteria plant. Lord knows how old the thing draped over Vieux Château Certain is, but it's a very beautiful vine on one of the prettiest Château in Pomerol. Moving on from a horticultural blog I perhaps needs to engage with in my own time, I daresay this was the wine of the vintage. The perfume was spectacular and, upon entering I started looking for a spittoon (cannily hidden behind a pillar in the cellar) but after my first mouthful, I didn't care about its location. The wine struck that rare chord where everything aligns perfectly – sapid fruit, fresh acids and wonderfully savoury tannins that turn 'I'll just have a glass' into drinking the whole bottle. This will be a wine that you'll be desperate to get your hands on and drink.
Château L'Evangile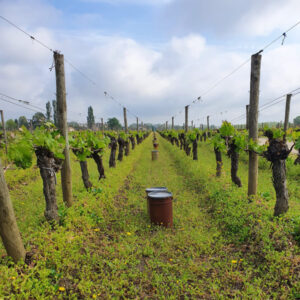 Continuing our low-key adventure, Château L'Evangile was next on the list. It was difficult here to deduce who had more energy, the wine of Juliette Couderc, their new technical director. Having worked all over the world (most recently three years exploring the terroirs of China) Juliette only joined l'Evangile just before the 2020 harvest, but it's obvious why Saskia de Rothschild hired her. 'I talk too much' she said to us, as one of her colleagues popped her head around the door of the tasting room like a TV producer trying to wrap things up (then carried on!). Some of the top wineries, when asked what their plans for the future, give a more nonchalant shrug as if almost to say 'why re-write the perfect recipe'. Here, there's a sense of pioneering spirit, driven by Juliette, to make something remarkable even more so. The most poignant descriptors for 2021 L'Evangile are velvety and fine. The texture of the tannins, fine satin beads, wash through the wine, which packs ample concentration, especially given the vintage.
Château La Conseillante
It's easy, at the end of the day, to lose focus. You've tasted a lot of wine, had a lot of conversations and travelled quite a few meandering miles (perhaps even had a nice lunch, if you're lucky – David and I ended up grabbing something in what we thought was the equivalent of a French trucker's café, so naturally was probably a shade better than a British gastro pub). It was, with such fatigue and in slight haste to finish the tour, that we entered Conseillante. Sometimes you flit through these last appointments, taste what you expect to taste, then disappear, but when handed a glass of this absolutely remarkable Pomerol, we were no longer concerned whether we'd be late for our dinner. A few days down the line, when you're bumping into other wine merchants or being asked by other producers 'what have you had which was really good', Conseillante was always the first to come to my mind. Not just because it was very finely made, but the aromatic intensity and spectrum were something totally unique – not replicated by any other wine we tasted and quite possibly something I'd never experienced from a Pomerol before. Lavender and violet shot their way out of the glass. It was so elegant; I was momentarily transported to the Côtes de Nuits. They're now using less new oak and lower toasts whilst cooling the chai, all to emphasise this prettiness. The palate still packed a hit of sensual fruit, but this is a vintage which will haunt you for its elegance.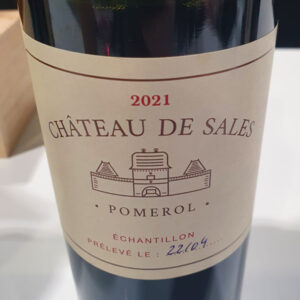 Alongside these visits, we also tasted many other Pomerol at larger appellation or négociant tastings (although by no means an exhaustive list). Of note were:
– Château Clos l'Eglise
– Château Beauregard
– Château Petit-Village
– Château de Sales
– Château La Pointe