I am often asked why I have such a strong attachment to the wines of the Northern Rhône and in particular those of Côte-Rôtie.
It is never an easy question to answer without a long preamble, but after close to 25 years of visiting the Rhône and the many stylistic changes we have seen over the years both north and south, the appellation that has probably remained truer to it's identity in a red sense are the wines of Côte-Rôtie.
Fashions come and go, and by no means has Côte-Rôtie dodged them, there are only a handful of producers who can lay hand on heart and say they were not seduced by Parker and his scores, thankfully not in the way Châteauneuf-du-Pape embraced him, but there are plenty that did.
As tastes change, you find the wines have almost returned to an 80's feel but with more style and polish, and with greater knowledge comes more refinement and elegance, and I think in essence, in a nut shell, you have it, refined elegance.
If the Syrah from the new world is the pumped guy in the gym, all weights and muscle, then the wines of the Northern Rhône are the Roger Federer wines, graceful, balanced & charming. Côte-Rôtie is probably the best expression of Syrah anywhere in the world, if like me, you appreciate that balance, purity & elegance.
What's all the fuss about?
As you drive along the Rhône, it is very easy for the casual observer to wonder just what all the fuss is about. You head south from Lyon toward Vienne and there are no real clues, but then as you cross the mighty Rhône river on the absurdly small bridge over the ridiculously deep hydro-electric damn (well deep that is to a man with a phobia of bridges and heights) it suddenly hits you as you are driving directly toward the famous slopes of Côte-Rôtie. The sheer vertical exposure is suddenly brought into view, and no matter how many to times I've crossed that bridge, I still get a huge rush of excitement. The hills tower, sweep and dominate the landscape, Saint-Cyr-sur-le-Rhône in the North, Ampuis in the centre down to the southern end in Tupin-et-Semons, you can not escape the brutally steep escarpments. My constant thought is pure admiration for these hillside growers, most of whom are winemaker, dry stone wall repairers, vineyard managers and sales people too, a tougher job in the wine world is harder to find. There are surely easier and less strenuous ways to make a living.
In terms of area under vine you are looking at a minuscule 325 odd hectares spread across the 3 communes, to give that some context, there are Bordeaux properties with 300 hectares, so we really are talking small scale farming.
Photographs give no idea of vertiginous depth, and it can only really be appreciated by hiking or climbing from the roadside to the summit, as we did on a cold clear morning this January with Benjamin Duclaux.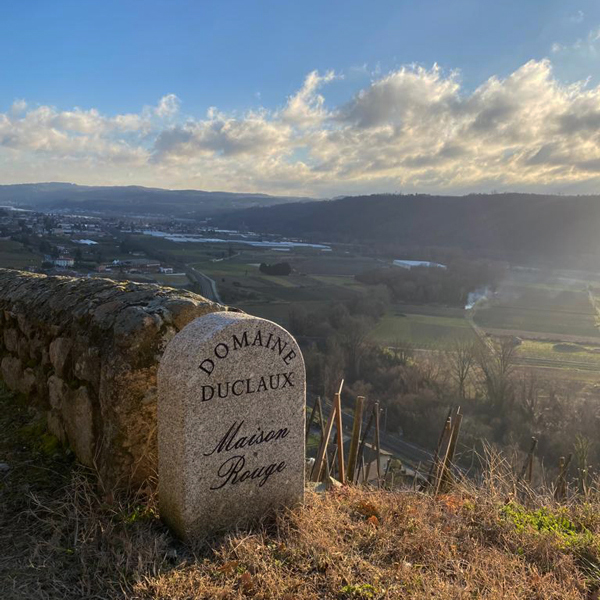 We set off at a brisk pace, but I don't mind admitting the climb left me blowing a bit and gasping for more oxygen and a slower pace within a short time. Benjamin, hands in pockets, leaped around like a mountain goat giving a running commentary without pause for breath, guiding us through the immaculately maintained stone terraces all the way to the top of the Maison Rouge 'lieu dit'. Not great for ones vertigo! but the panoramic view across the Rhône is worth every step, a must do walk for any visitor to the region.
With small plots and holdings, different wine making styles and philosophies, different soils from North to South and different approaches to blends, there really is so much to discover and a weekend at the Marché aux vins d'Ampuis is the perfect starting point to discover who is doing what and to taste all the great Côte-Rôtie wines under one roof. Chuck in a few garlic snails, a plate of fromage and I don't think there is anywhere better in the world for a fan of Syrah.
We have a brilliant selection of producers, all with subtle differences, Duclaux for my money are the most elegant precise and pure, Bonnefond a great blend of extraction balance and power, Clos de la Bonnette for sheer exuberance, Niero for beautiful approachability and perfumed silky wines and Clusel-Roch for precision and elegance, long lived wines that will pay dividends to the patient. Whoever you pick, whatever the cuvée, you can be sure of one thing, the price quality ratio is one of the highest in all of France. It is no longer just those in the know that snap these bargains up, I think Côte-Rôties turn in the spotlight is upon us. Is there a better wine match than Côte-Rôtie and Steak Frites?