Our tour de Saint-Julien started on a lovely sunny morning, with both of us slightly the worse for wear from the night before, having briefly gone our separate ways (David for a dinner at Château Lafite, myself for a far more oikish, if exceptionally fun do in Bordeaux Town Hall). Leoville Poyferré was our first call of the day and provided a superb introduction into what we should expect from the best of Saint-Julien wines. Saint-Julien, for me, is the best representation of 'good claret'. Although there are immensely high-quality estates, they don't have a single first growth, and this lack of 'flash' seems to filter throughout the appellation. Wine here, at its best, gives you a bit of the finesse of Pauillac, some of the structure of Saint-Estèphe and a touch of the perfume of Margaux, but critically, brings its very own polish and generosity.
Château Léoville Poyferré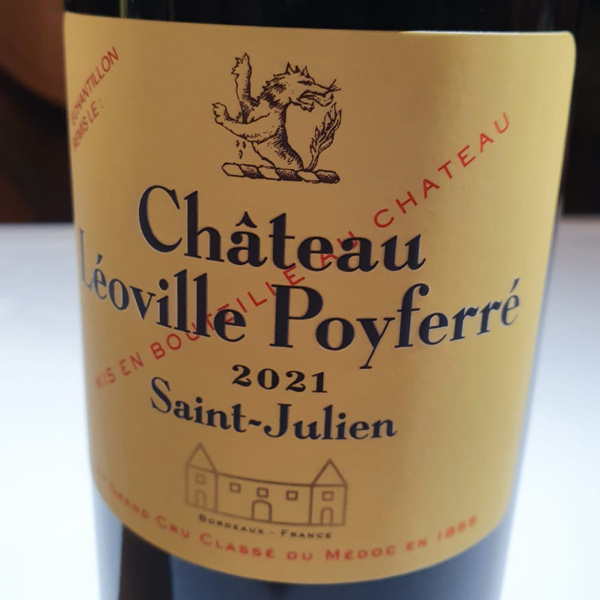 Poyferré typified this. The most merlot heavy of the Léovilles and easily the most accessible off the bat, it was wonderfully expressive – with 80% new oak being applied, there is a touch of creamy oak that hasn't shown its face much in the 2021 vintage. Fortunately, the wine had the depth and stuffing to take to it extremely well and it hasn't been applied in any way at the expense of structure nor prettiness. With its pencil shavings and rose petal nose, this will delight anyone with even a vague interest in Bordeaux. Poyferré didn't chaptalise at all, always a refreshing thing to know, and they still managed to reach 13% alcohol. The sad other side of that coin is they only got 26hl/HL, a significant drop in yield.
Château Ducru-Beaucaillou
The monolithic Château of Ducru-Beaucaillou was our next stop. This year, this was almost a pathetic fallacy as the Grand Vin was an uncommon 98% Cabernet Sauvignon – a big departure from the norm and something which suited it very well. Before we go right to the top of the scale though, it is worth mentioning Ducru's second and even third wine. With the unique conditions of the vintage, Ducru were judicious in their 'declassification' into these two bottlings… Much of the merlot, especially, which would previously have ended up Château Ducru-Beaucaillou itself made its way down into Croix and Le Petit Ducru, which mostly comes from its own 25ha plot, these were both exceptionally well put together.
It's always tricky to quantify when a winery really overperforms in a vintage like this, but to attach a number to it, it's worth noting that Ducru took on an extra 35 employees from the beginning of the growing season in order to try and deal with the climactic impact of such an obscure cycle. Going back to the Grand Vin, it's a complete triumph. The huge percentage of Cabernet, you would assume, might make this too serious, but it's not lost any of its St Julien charm, and the 100% new oak applied is almost unnoticeable. At 12.5% alcohol, it's a heady mix of classic and modern, which we liked a lot.
Château Talbot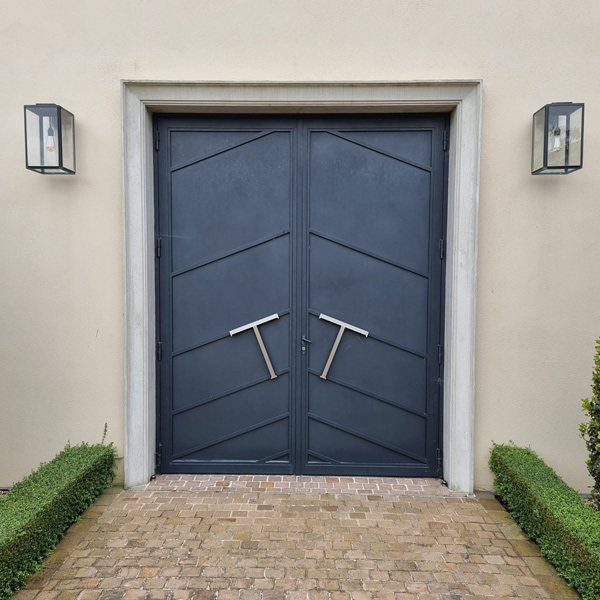 Talbot looks unassuming from the outside. The winery could be described as a large L shaped stable block, but behind the huge double doors (with metal handles crafted subtly to look like the letter T) is what can only be described as a forest of barrels. Anyone who has read too much pre-press and taken a dim view of the vintage will hopefully change their tune upon hearing that this has been given one of the highest scores Talbot has ever achieved by RobertParker.com. Jean-Michel Laporte, ex Director of La Conseillante, is almost certainly the entire reason why. Taking over for the 2018 vintage, he's evolved, rather than completely transformed Talbot, into a far sleeker beast. All the rough edges have been shaved off, any previous bret (Brettanomyces) character which haunted some vintages here, has been completely wiped out and the result is charming. Fleshy red fruit, cigar box and sweet spices in a multifaceted, layered, velvety palate. It's exactly what you want from a Château Talbot.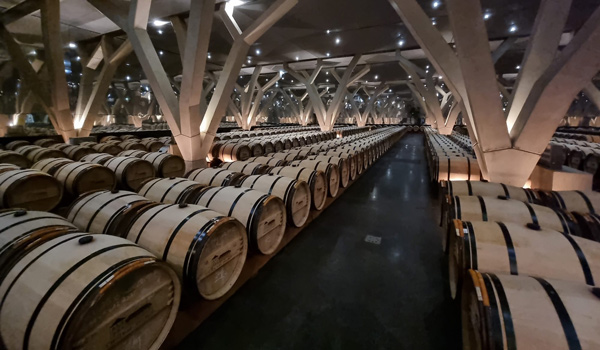 I'm not sure where to include a confessions section in this set of blogs, but I want to admit here that upon tasting the first wine we were poured, I walked away and said 'well they've not made a half bad job of Talbot this year'. This turned out to be Senejac, so if you're looking for a lovely Haut-Médoc…
Château Lagrange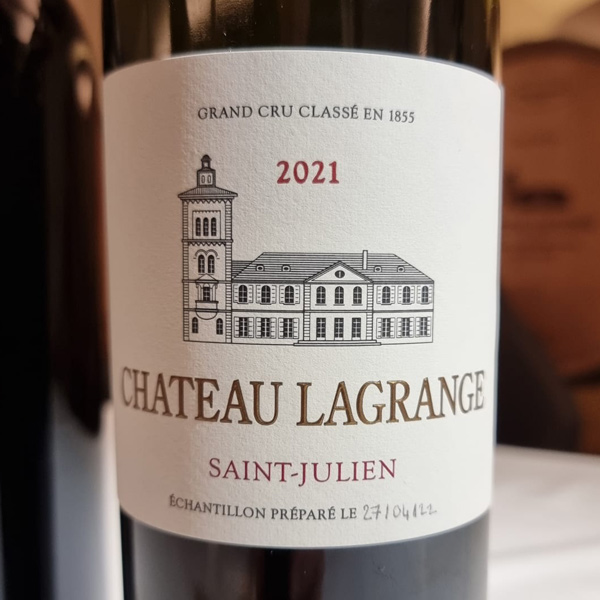 'A Lagrange that transcends the limitations of the vintage' is a great chip in from William Kelley to begin what we thought of our tasting at the Château. Dare I say, it's a Saint-Julien that is 'very Lea & Sandeman'. It lacks somewhat the generosity of aforementioned, but that sleek polish is replaced in spades by drive, energy and tension. 84% Cabernet, again more than is usual, and a very late picking, have pushed this wine to be full of crunchy wild berries, more on the red fruit spectrum than dark, with a beautiful floral perfume. Its structure was also markedly fine, a milieu of tiny beads culminating in something which felt simultaneously highly age worthy, but totally unobtrusive. Serially underrated, it's another triumph.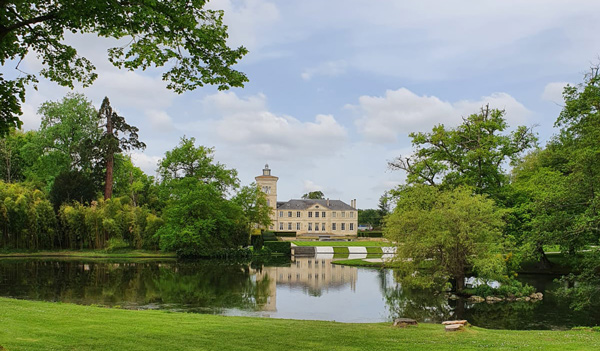 Château Gruaud Larose
It was incredibly frustrating to be denied samples of Gruaud Larose for the 2019 and 2020 vintages. Anyone reading this who I spoke to during my first couple of months at L&S who bought the 2019 on near blind faith after I talked up the changes that had been made, firstly thank you and secondly, you will be happy you did. It's always an annoyance when an estate builds a smart new visitor centre and brands it 'a new era' for their wine, but with Gruaud, the immense number of changes made actually justify this tag and the 2019 has been recorded by both Vinous and RobertParker.com as their best ever wine.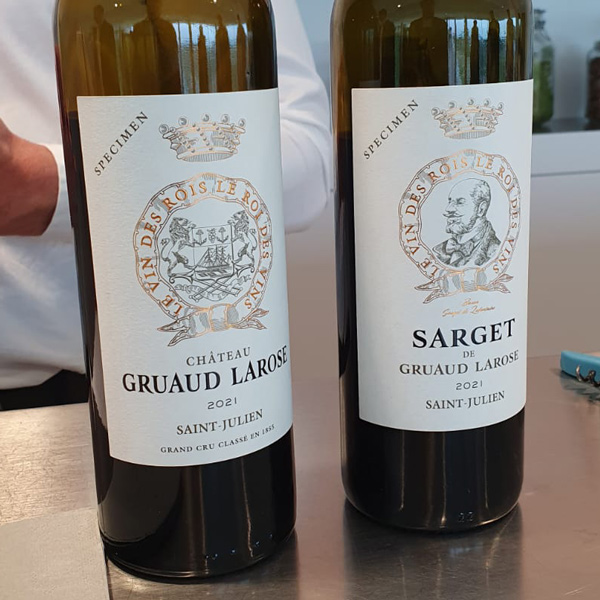 Or perhaps, their second best, as the 2021 is snapping at its heels. We didn't know what to expect when we went to taste (admittedly, in their flash new visitor centre…) but were very keen to find out, after being denied samples since they turned the estate fully biodynamic (they were reticent to send anything as they were unaware of the stability at that time and how the tank samples might travel). It was worth the wait. The most marked characteristic was the sheer purity of the wine, which weighed in at a very modest 12.5% alcohol. We assume that part of the renovations were to install a crystal ball at the Château because Gruaud started replacing the merlot they had on a deep gravel bed with Cabernet Sauvignon a while ago – something which is already paying dividends.
The 2021 shows how well it can now walk the line. A generous friend opened a bottle of the 1978 at the weekend, one of the powerful, muscular examples from the Cordier era, which had aged far better than any critic seemed to have expected. Following this, Gruaud seemed to go through an era in which they erred on the lighter side and couldn't live to such grand old ages. We're very happy to say that this recent development seems to be a seamless marriage of the two. There is no longer any rusticity, it doesn't suffer from being under powered and there's certainly not bret in the cellars. It's something that has just come of age and you'll be glad to hide away.
Château Mauvesin Barton, Langoa-Barton & Léoville Barton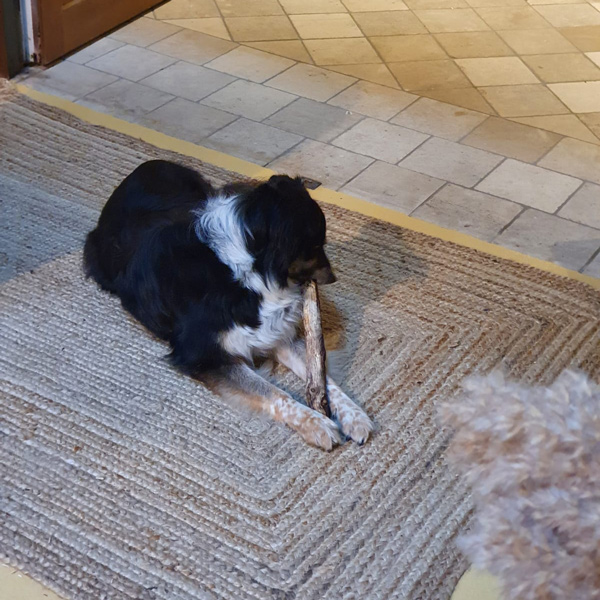 Our last visit of the day, and one we were so excited to welcome back after a two absence, was to the Barton household – this year, hosted at Château Mauvesin Barton, because the cellars are being renovated at Langoa. Greeted by the ever charming and incredibly hospitable Lilian Barton upon arrival, along with her lovely sheep dog 'Fly' (who took up as much of my attention with her stick as did the wine). We were ushered through the house into the small winery and run through the family's three 2021s, and the Mauvesin 2020 too. Having the latter was a great experience as it illustrated just how well they had harnessed the conditions in 2021.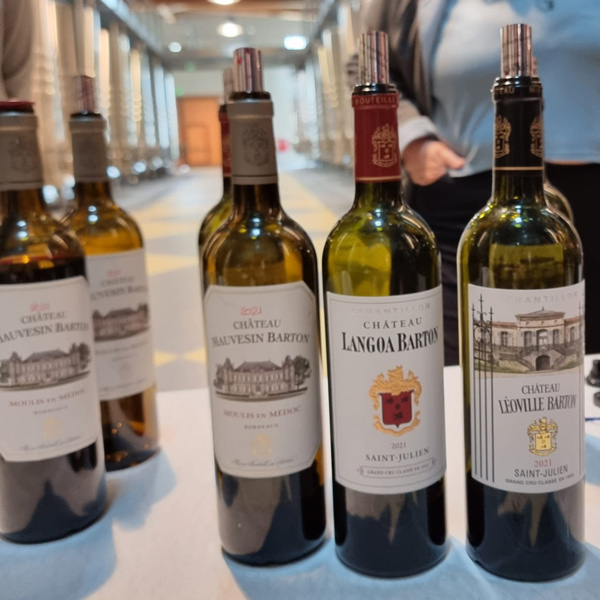 In a vintage which benefitted the more generous spectrum of wine in Bordeaux, there is a fear that something like the Barton stable might be too tempered and too hard, but this wasn't evident in any of the trio. In fact, Mauvesin Barton, which can often be described as a very serious wine given its price category, was wonderfully open for business.
This was the first vintage made in the Barton's newest winery, a facility we sadly didn't get to see, but it obviously provided the necessary technology to make 2021 a complete success.
Château Branaire-Ducru
I have to put this as an addendum, because we very sadly didn't have time to visit this Château this year but tasted the wine on a few occasions. Branaire-Ducru was on top form – one of the best from an estate we always love. Fortunately, already reflected by William Kelly's 93-94+ score, their best yet.
Other Saint-Julien wines which are well worth your attention are:
– Château Saint-Pierre
– Château Moulin de la Rose