'Simply put 2015 is a tremendous vintage for Bolgheri.' Antonio Galloni, www.vinous.com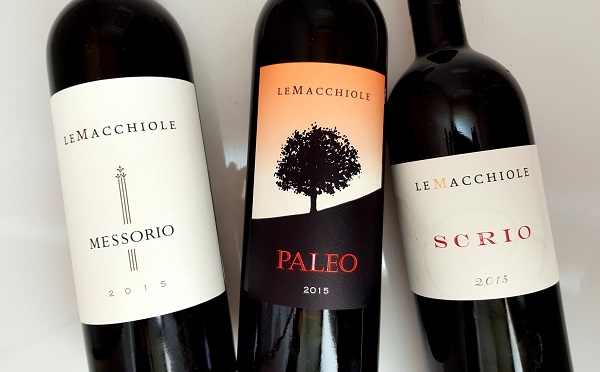 Le Macchiole is one of the jewels in the crown of Bolgheri, undoubtedly one of the most exciting regions in the world for wine-lovers. Maverick winemakers started a quiet revolution here in the 1980s, led by Sassicaia's Marchese Mario Incisa who's first commercial release of Sassicaia hit the market in 1971– and the Super Tuscan was born. Brilliant wines made from 'controversial' international varieties that immediately began to win the hearts and minds of wine-lovers. It is staggering that not until 1994 were the DOC rules revised to encompass and recognise wines made with these international grapes.
In pursuit of 'Super'
Eugenio Campolmi was one of the very early pioneers here, breaking the rules to fashion the best wines he felt the land could produce. He founded the Le Macchiole estate in 1983 and it has been run by his wife Cinzia since his untimely death in 2002.
This bold attitude continues throughout the region. With the freedom to experiment in the vineyards and to tweak blends, practices are constantly evolving and improving the quality of the region year by year. Le Macchiole leads the way in this dynamic approach – as Cinzia says 'Our working philosophy is based on our ongoing need to question ourselves, experiment and learn new things, which is what has allowed us, in the past few years, to produce increasingly focused and elegant wines.'
'The finest 2015s are sumptuous and racy, but they are not at all overblown or flabby. These are wines born with extraordinary balance and harmony, with soft curves, fully ripe tannins, racy fruit and tons of sheer allure.' Antonio Galloni, www.vinous.com
The Le Macchiole releases in 2015 are the cream of the crop, without doubt some of the stand-outs for the region in a vintage where, although more straightforward than 2014 – was not a breeze. Top producers have made sensational wines, none more so than Le Macchiole.
The Growing Season
'..there's a subtleness to the top 2015s that make them irresistible..' www.jamessuckling.com
2015 was a near perfect season, with a good, cool start and a perfect Spring. Perhaps the team would have preferred slightly lower temperatures in June – when summer got off to an early charge with some higher than normal temperatures. Thankfully an upside to the cooler, damper vintage in 2014 was that water reserves in the ground were good. So, thankfully this early heat caused no real problems for the vines, especially with the intense work done in the vineyards by the team to ensure a cool canopy protected the fruit with shading and ventilation maximised.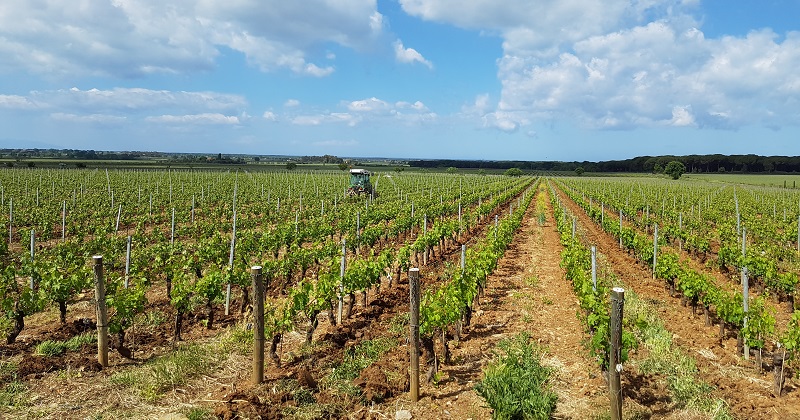 In July and August things settled down and except for a useful spell of rain in early August, normal conditions resumed with steady summer warmth and broad night/day temperature swings. This diurnal difference is so important in gently ripening the grapes – building complexity and depth to the fruit – essential for making great wines.
September's conditions were also ideal. Bright, dry and warm allowing the harvest to be dictated by fruit ripeness rather than the weather. Perfect Merlot for the Messorio was brought in over two separate harvests in the 2nd and 3rd week of September. The harvest was completed with the final Cabernet Franc grapes coming in on the 25th of September.
Wines
With nature onside and the highly skilled team here it is no surprise the results are very impressive, Le Macchiole has made a spectacular trio of wines in 2015.
The Cabernet Franc achieved perfect ripeness and Paleo 2015 is a fantastic new release. With more weight than the 2014 and a charming gloss to the mouthfeel already – this is going to be hard to resist in its youth. In the mouth an aromatic complexity opens up – with deep, red-fruit pulp and notes of Mediterranean dried herbs, some ground red peppercorn and an almost oriental spice kick. This is indulgent and joyful wine that will be approachable in its youth – but will also repay mid-term ageing in the cellar to allow that density to unravel and those many layers of flavour to come more into focus.
The 2015 Scrio is without doubt the best they have made here. James Suckling has been quick to give this the perfect score of 100 points – and the wine really is impressive. A fabulous example of what is possible here from this still young DOC and a great reward for the team's faith in planting this noble variety in Bolgheri, where Bordeaux varieties tend to steal the headlines. (Quantities here are very limited and purchases will be on strict allocation and tied to other wines.)
This year's Messorio is again very successful. Deep and dark Merlot juice, but with such superb focus and drive. The core is intense and loaded with firmish black fruit-flesh and a savoury sinew. Dark and brooding for now with seasoning twists of pepper and some lovely leafy, crunchy notes. Serious stuff and with great presence. Well framed by impressive, firm tannins that point to a good, mid-to-long term future for this well-proportioned, pure Merlot.
 'We highly recommend buying 2015 and 2016 Tuscan wines, particularly after the relatively meagre 2014s. These are wines to marvel at in their frankness and true character. They reflect a maturity in the vineyard and wine making that translates into real Tuscan wines.' www.jamessuckling.com
These exciting new releases will be available in March 2019 – please get in touch your usual L&S contact or send a message to privateclients@leaandsandeman.co.uk to express your interest.