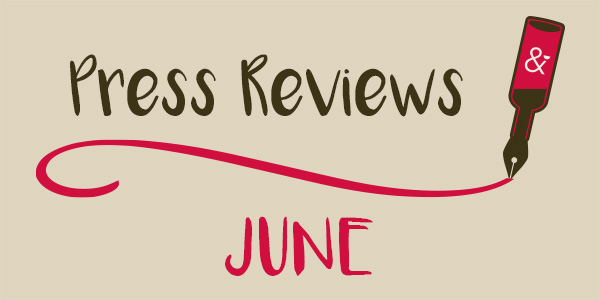 Our latest press reviews: The Guardian, The Sunday Times, Matching food and wine.
Benefit from our case price discount in red by buying any 12 bottles from this selection – in a mixed case of your design or simply by the dozen.
The Times, The best wine deals and bargains for summer, Will Lyons, 30/06/2021:

2020 LES PETITS DIABLES ROSÉ Côtes de Provence Domaine des Diables
£13.95 | £12.50
Review: 'You may know the hugely popular MiP* range — this comes from the same Provençal producer and is a little cheaper. A blend of syrah, cinsault and grenache, it's pale, fresh and tangy, boosted by tropical notes.'
The Guardian, The magic of vintage fortified wines, David Williams, 06/06/2021:


SOLERA 1842 Oloroso VOS Valdespino
£37.50 | £35.50
Review: 'There is a tendency to fetishise old wines, as if the mere fact of age were proof of quality. In reality, very few wines made today are built to last, and even those that are sometimes taste much better in youth. As ever, it depends on your taste: some of us lean towards the more savoury, leathery, woody and earthy flavours that come with keeping a wine for years or decades, while some of us might find more pleasure in the fresh fruit and flowers, the livelier, sharper feel, of wines in the first year or two after vintage. As with the Taylor's 1896, what those purely sensual descriptions don't account for is the emotional component of drinking older wines – I don't think I'm the only one who gets a little dreamy and contemplative at the thought of drinking a wine from the 19th century – or, in the case of Valdespino's magnificently intense, nutty, sherry, drawn from a solera (a continuously replenished set of barrels) that was started in 1842.'
You Magazine, Tom Parker Bowles & Olly Smith: a classic country pub lunch and rocking rosé, Olly Smith, 06/06/2021:


2020 MIP* Classic Rosé Made in Provence
£14.95 | £13.50
Review: 'Peachy and fragrant. I've ordered multiple cases of this to rock the summer. Sensational.'
MoneyWeek Wine Club, Six Summer Beauties, Matthew Jukes, 04/06/2021:

2019 RIOJA ALAVESA Sierra de Toloño
£15.95 | £14.50
Review: 'This is another brand-new find and it goes straight onto my 'wine list' this month because it is so modern and generous. Grown with some of the highest altitude vineyards in Rioja in the foothills of the Sierra de Toloño, it is a far cry from the sweaty old Riojas of old. This is a spicy, bright and involving wine with a combative palate and lashing of black fruit. This is my char-grilled meat wine for 2021 because we all deserve a superb summer of celebration this year!'

2019 CROZES HERMITAGE Cuvée Papillon Domaine Gilles Robin
£20.50 | £18.50
Review: 'I bought oodles of this wine from L&S back in the Nineties and early Noughties, but I don't think I have ever tasted a vintage as lusty and complete at this spectacular 2019. This is stunningly deep and brooding with a lovely purple hue and a pepper and spice nose over a blackberry compote palate. Sappy tannins and superb depth of flavour complete the picture, making this a heroic and yet incredibly friendly wine!'

2020 LES PETITS DIABLES ROSÉ Côtes de Provence Domaine des Diables
£13.95 | £12.50
Review: 'This wine is part of the Made In Provence family and while MiP* itself might be a more famous rosé, this little devil has a lower price and it is also a brighter and feistier wine! Made from 60% Syrah, 20% Cinsault and 20% Grenache, it has a super-clean, refreshing, cranberry-imbued palate and these tangy notes are augmented with hints of cantaloupe melon and silky rhubarb fool. This is your bargain-priced, restaurant quality rosé for the season!'
2020 GRÜNER VELTLINER Hochterrassen Salomon Undhof
£14.50 | £12.50
Review: 'This is the brand new vintage of Bert Salomon's tremendously racy, super-dry Grüner. I am in awe of wines with this much tension and drama and the green apple fruit is spiked with white pepper and skin tannins which give it an extraordinary bite. This superbly energetic white wine puts every Sauvignon Blanc in the shade with its attack on the senses and it is an extraordinary aperitif white for every posh canapé under the sun.'


2019 PAZO DA MAGA Karma do Sil
£13.95 | £12.75 – SOLD OUT
Review: 'This is an elite Godello made by mastercraftsman Antonio Lombardia and it balances tremendous fruit complexity, ranging from rhubarb stalks to marian plums and alongside this fleeting exoticism, there is seashell freshness and unnerving bitterness which snaps the palate back to order. This is such a gastronomic treat you can drink it with all manner of seafood and crustacea as well as hefty levels of spicing, too!'

2019 MÂCON VILLAGES Clos Saint Pancras Domaine Frantz Chagnoleau
£18.75 | £16.95
Review: 'While this wine has a fair whack of acidity, like the other whites, it is also the proud possessor of unusually delicate Chardonnay fruit. My favourite restaurant wines use acidity to anchor the wine to the palate and cut through any fat or juiciness and then calmness and magical nuances to charm the senses while allowing the food to shine through. This delightful Mâcon dances across the palate and caresses your senses.'
matchingfoodandwine.com, Best buys WINE OF THE WEEK: MONFIL GARNACHA 2020, Fiona Becketts, 04/06/2021:


2020 GARNACHA Bodegas y Viñedos Monfil
£8.95 | £8.25
Review: 'I came across this exuberant garnacha when I was tasting wine at Lea & Sandeman in Notting Hill the other day and it struck me as the most incredible bargain at £8.95 (or £8.25 if you're buying a case).
It's packed with super-ripe black cherry fruit but not overjammy or alcoholic (garnacha – or grenache as it's called in France and elsewhere – often tops 14.5% but this is only 13.5%). And it has a surprisingly dry finish.
It comes from the Cariñena region of Spain which is one of the country's oldest wine regions but is made very much in the modern Spanish style.
It would be brilliant with a barbecue, especially with pork ribs and also with chorizo – anything meaty, basically. I'd also be inclined to pop it in the fridge for half an hour before drinking it.'
The Sunday Times, Your ultimate guide to summer wine, Will Lyons, 02/06/2021:


2020 MIP* Classic Rosé Made in Provence
£14.95 | £13.50
Review: 'The hugely popular MiP from Lea & Sandeman, produced by Guillaume and Virginie Philip, is on top form with the onion-skin-coloured 2020 vintage. There's plenty of depth here, with succulent strawberry, white peach and a full finish.'