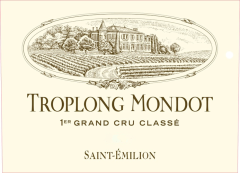 CHÂTEAU TROPLONG MONDOT
2011 Grand Cru Saint Emilion
| | |
| --- | --- |
| Colour | Red |
| Origin | France, Bordeaux |
| Sub-district | Saint Emilion & Satellites |
| Village | Saint Emilion |
| Classification | Grand Cru Classé |
Very dark and dense, something like burnt fruitcake. There are tarry, caramel notes along with the curranty flavour. Heavy fruitcake density. Very concentrated and very long. Not sure what to make of this but it's certainly got personality and style. Rating: 92+ L&S (Apr 2012)
Currently out of stock in our warehouse.
Alternatively, we may well have some bottles in one of our shops - why not give us a call on 0207 244 0522 or send an email to: sales@leaandsandeman.co.uk.
Or, check the RELATED PRODUCTS below for different vintages or wines of a similar style.
Violet, blackcurrant and cedar on the complex nose. The palate is rich, supple, sweet and seductive. A big, powerful wine with big structure and tannins, but with the fruite to match it for a good future. Drinking range: 2016 - 2035 Rating: 90+ Decanter Magazine(Oct 2014)
The wine boasts a dense blue/purple color as well as aromas of black raspberries, blackberries, acacia flowers, espresso, toasty oak, and a sweet, mossy, foresty character that ranges from an autumnal, vegetative smell to minerality. Opulent, dense and strikingly rich and extracted with moderately high tannins, this is one of the bigger, richer wines of the vintage. Give it 4-5 years of cellaring and drink it over the following 20-25. Christine Valette has turned in another impressive performance, although despite its obvious success, the 2011 will never be compared with what she achieved in the three previous vintages, 2008, 2009 and 2010, not to mention the monumental 2005. Yields were 41 hectoliters per hectare, and the final blend of 85% Merlot and 15% Cabernet Franc hit 14.5% natural alcohol. 2016 - 2041 Rating: 91-93+ Robert Parker, The Wine Advocate, www.RobertParker.com(Apr 2012)
A blend of 85% Merlot, 10% Cabernet Sauvignon and 5% Cabernet Franc picked from 16th September with the Merlot until 5th October with the Cabernet. The nose on the 2011 is tightly wound with reluctant blackberry and cassis notes, the alcohol more contained than last year. The palate is full-bodied with ripe, furry tannins and layers of toasty, quite spicy black fruit laced with liquorice. The finish is a little dry and mealy and comparing it directly to the sample of Chateau Canon...well, the difference cannot be disguised. Rating: 87-89 Neal Martin, www.robertparker.com(Apr 2012)
This has some rich, very concentrated fruit on the nose, with a rich and ripe plum skin. Quite intense in style, with a slightly dried-fruit edge to it. Creamy, slightly baked. The fruit character on the palate is the same, intense and dried. A really massive wall of tannins here, huge and enveloping the fruit of the wine. Slightly creamy fruit, a bold style trying to impress. I can sense the alcohol through the middle; this sample is about 15%, but the finished wine will be somewhere between 14.5 and 15.4%. It doesn't have the character of an over-worked wine, but the alcohol is certainly there, all grainy and warm. And some more massive, dried tannin on the finish. Brawny and lacking charm. Rating: 14-15 Chris Kissack, www.thewinedoctor.com(Apr 2012)
Deep black cherry colour, black core. Sweet but not overripe damson and plum. A touch floral and toasty/tarry too. Bags of black fruit, chocolate texture and flavour on the palate. 2017-2027 Rating: 16.5 Julia Harding MW, www.JancisRobinson.com(Apr 2012)
Dark and modern but the power commensurate with the vintage. Intense, spicy and rich but a little less force and more finesse. Drink 2020-2030. Rating: 17.5 www.decanter.com(Apr 2012)
A gorgeous red, offering ganache and fig notes melded nicely together, with ample heft, but good freshness, with a long, dark, richly layered finish. This goes for power—and pulls it off. Rating: 91-94 James Molesworth, The Wine Spectator(Apr 2012)
Producing a wine with 15% alcohol wasn't easy in 2011, but if anyone was going to, this was the château to do it, given its predilection for super ripe flavours. This is very much a New World style, whose flavours wouldn't look out of place in the Napa Valley. Bold, tannic and slightly raisiny, it's a style that may appeal to some. 8+ years. Rating: 92 Tim Atkin MW, www.timatkin.com(Apr 2012)
I love the aromas of blackberries with hints of minerals and flowers. Hints of subtle sandalwood. Full body, with a beautiful balance of juicy fruit and bright acidity. Long and spicy with intense character. 85% Merlot, 10% Cabernet Sauvignon and 5% Cabernet Franc. Rating: 93-94 James Suckling, www.jamessuckling.com(Apr 2012)
This wine isn't currently part of a mixed case, but you can always browse our full selection of mixed cases
here.
For full delivery details Delivery page.
see our
We offer free nationwide* delivery for all orders over £100 with our own vans. For orders under £100 or guaranteed express deliveries (for an additional charge) please call 020 7244 0522 or email admin@leaandsandeman.co.uk.
Order & Collect from any of our 4 London shops. Order by Midnight for collection the next working day from 11am.
Private wine storage: we offer a full In Bond and Duty Paid private wine storage service - find out more here.
ORDER COLLECT
ORDER ONLINE AND COLLECT FROM ONE OF OUR SHOPS