Back to wine list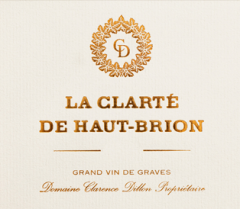 LA CLARTÉ DE HAUT BRION
2013 Graves
| | |
| --- | --- |
| Colour | White |
| Origin | France, Bordeaux |
Definite acidulous edge which feels of cold metal, but the mid-palate has some good spice. May always be pretty 'lively'. Rating: 89 L&S (Apr 2014)
Alternatively, we may well have some bottles in one of our shops - why not give us a call on 0207 244 0522 or send an email to: sales@leaandsandeman.co.uk.
Or, check the RELATED PRODUCTS below for different vintages or wines of a similar style.
(61% semillon and 39% sauvignon): Very bright yellow. Candied lemon peel and pear nectar on the slightly subdued nose. Ripe flavors of grapefruit, beeswax and pear are fresh, pure and accessible, with a terrific spine of acidity providing lift. I'd guzzle this without restraint. It's also a very good example of how high-quality semillon can add an extra dimension to a wine. Rating: 88-90 Ian d'Agata - Stephen Tanzer website (May 2014)
Sauvignon Blanc 39% Sémillon 61% The nose has floral fresh fruited charm the start of the palate is gooseberry crisp. It feels sweeter in the middle more of a pineapple character with the citrus at the back refreshing the finish. 2015-19 Rating: 90-92 Derek Smedley MW, www.dereksmedleymw.co.uk (May 2014)
If you can't afford Haut-Brion Blanc (and at £6,000+ a case, that's a stretch for most of us) this is a more than acceptable substitute. Leesy, waxy and textured, it shows good oak integration, a mineral core and notes of fresh bread and wet stones. 2014-20 Rating: 92 Tim Atkin MW, www.timatkin.com (May 2014)
Château Haut Brion
1855 classification - Premier Grand Cru Classé Château Haut Brion is famously the only estate in Graves to have featured in the 1855 classification reflecting a long established reputation, even if, at the time, the crown was beginning to slip. During the 16th Century, Haut-Brion was briefly owned by Jean de Ségur of the Ségur family who at various times owned both Lafite and Latour. Jean de Pontac inherited Haut Brion as a wedding dowry in 1525 and, apart from a brief period during the French Revolution, his descendents owned the estate until 1801. The Pontacs were an interesting lot, including in their number a very pious Bishop, a politician, and François-Auguste Pontac who started a London inn called l'Enseigne de Pontac where Samuel Pepys enjoyed "a sort of French wine called Ho Bryan", finding it "hath a good and most particular taste". Jonathon Swift, however, thought the wine "dear at seven shillings a flagon" - 35p a bottle, if only! Haut Brion was the first Bordeaux wine known to have been imported into the USA when Thomas Jefferson had six cases shipped home to Virginia. Eventually, in the earlier years of the 19th Century, Haut Brion found its way into the hands of the Larrieu family. Preceding reputation was enough to get Haut Brion classified as a Premier Grand Cru Classé in 1855, and a string of copy cat estates appended "Haut Brion" to their names (a source of some litigation in the 1920's) but in reality the 19th and early 20th Centuries were not great times for the wines of Haut Brion. When the bank seized the assets of Milleret Larrieu after WWI, the estate fell into the hands of the Société des Glacières under who's unenlightened guidance much of the gardens were sold off the make way for expanding city of Bordeaux. They then offered Château Haut Brion to the City of Bordeaux, who turned it down, allowing American financier Clarence Dillon to realise his dream of owning a Bordeaux château, buying the estate in 1935. His descendents own Haut Brion to this day. The gravel soils of Haut Brion are planted with 45% Cabernet Sauvignon, 40% Merlot and 15% Cabernet Franc for reds, and a more or less 50/50 split of Sauvignon Blanc and Semillon for the whites. There are around 45ha under vine. Haut Brion were one of the first estates to ferment in stainless steel. After fermentation, red wines spend up to two years in oak, previoulsy 100% new for the grand vin but, now, more like 35%. The second wine of the estate was known for many years as Bahans Haut Brion, but was renamed recently as Le Clarence de Haut Brion in honour of Clarence Dillon.
This wine isn't currently part of a mixed case, but you can always browse our full selection of mixed cases
here.
For full delivery details see our Delivery page.
We offer free nationwide* delivery for all orders over £150 with our own vans. For guaranteed express deliveries (for an additional charge) please call 020 7244 0522 or email admin@leaandsandeman.co.uk.
Order & Collect from any of our 5 London shops. Order by Midnight for collection the next working day from 11am.
Private wine storage: we offer a full In Bond and Duty Paid private wine storage service - find out more here.
ORDER COLLECT
ORDER ONLINE AND COLLECT FROM ONE OF OUR SHOPS