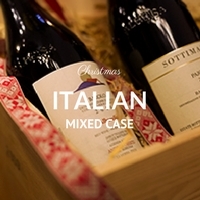 O la bella Italia! 'Land of Vines' the Ancient Greeks called it - and what a selection we have got together here for you. Whether it's an all out swank of a dinner or a simple supper in the kitchen, or even a plate of left-overs in front of the telly, this incredible Italian selection will bring some festive gusto to the moment. Fabulous Fizz, crisp whites and joyous reds from Piedmont and Tuscany. #Golazzo!
L&S
We offer free nationwide* delivery for all orders over £100. For orders under £100 please call 020 7244 0522
Order & Collect from any of our 4 London shops. Order by Midnight for collection the next day from 11am
For full delivery details see our Delivery page.
CONTENT