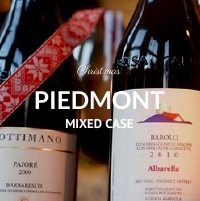 This case makes a fantastic present for wine-lovers - and also the perfect selection to help you navigate the holiday season. For those in the know, Piedmont is somewhat of a holy grail when it comes to food and wine. It can take years to get to know the specific styles of wine and the esoteric grapes that thrive here - but when the penny drops, when you open your mind to these great wines - the rewards are limitless. This fantastic selection will get you straight into the Piedmont groove, a fast-track course in great Northern Italian wines. - with gorgeous wines from top producers that share the full range of styles and incredible quality that can only be found in this hilly corner of Italy. Tanti Auguri!
L&S
We offer free nationwide* delivery for all orders over £100. For orders under £100 please call 020 7244 0522
Order & Collect from any of our 4 London shops. Order by Midnight for collection the next day from 11am
For full delivery details see our Delivery page.
CONTENT