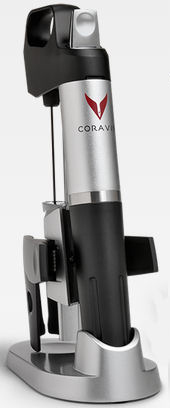 CORAVIN MODEL 8
Wine Access System Includes Base, Sleeve, Needle & 2 Gas Capsules
Inventiveness has yielded up the Coravin – truly something you didn't know you needed until you found out you needed one – far far more than mere wine gadget, this is a real game changer, very different from the array of innovative corkscrews, aerators, devices for pouring, storing and cataloguing wines, all terribly clever but rarely entirely necessary. L&S (Dec 2014)
Alternatively, we may well have some bottles in one of our shops - why not give us a call on 0207 244 0522 or send an email to: sales@leaandsandeman.co.uk.
Or, check the RELATED PRODUCTS below for different vintages or wines of a similar style.
Invented by a wine lover who specialises in surgical implants for his day job, the Coravin is the gadget that has made fine wine lovers happy because it allows you to remove a glassful of wine from a bottle without pulling the cork. The Coravin works by sliding a fine needle through the cork, the wine comes out, unreactive argon gas goes in to replace it, and when the needle is removed, the cork closes back around the gap. No wonder cellar enthusiasts are excited. Make sure you buy enough argon refill capsules, though.Victoria Moore, The Daily Telegraph (Jan 2015)
As profiled in the August 2014 issue, two bottles of Lynch-Bages 2006, 2000 and 1996, two Shafer Cabernets from the same years, and two Warre's 1983 Ports were tasted using the Coravin system, in which a sample of wine is drawn from the bottle via a needle through the cork; argon gas is then injected under pressure so the wine left in the bottle remains unspoiled. Back then, a few samples - especially the Ports - showed bottle variation, but all tasted true to type. This time, any changes were for the better, my notes being virtually identical, with the younger vintages showing a hint more openness, and the older ones as vigorous as before. Coravin can take into account the state of the taster but the wines were as unchanged as they could be.
Look out for our next test in January.Steven Spurrier (Dec 2014)
A transformational device for the preservation of wine.Robert Parker, The Wine Advocate, www.RobertParker.com
Coravin
Robert Parker loves it and the wine world is abuzz. So what's with this new 'wine access system'?
www.wine-searcher.com By Diana Goodman | Posted Wednesday, 31-Jul-2013
A Massachusetts company this week launched a new wine-opening device that could signal an end to the frustration known by wine lovers around the globe. You open a bottle, it doesn't get finished, and within a couple of days it's vinegar. Cue Greg Lambrecht, a nuclear physicist whose business until now has been developing high-tech medical devices. As a confirmed wine buff (he has an estimated 1,500 bottles in his cellar) he was moved to take action when his wife became pregnant with their second child in 1999 and stopped drinking. "I still wanted to enjoy great glasses of wine, but didn't want to commit to whole bottles," Lambrecht says. He didn't believe that standard preservation systems worked. "Each time, once the cork was pulled, oxidation started and I was locked into that bottle."
After years of experimentation, Lambrecht believes he has come up with the answer: the Coravin Wine Access System. Made from stainless steel and aluminum, the device does not open the bottle. Instead, a thin, hollow, Teflon-coated needle pierces the cork (and foil). When the thirsty drinker lifts the bottle, the wine travels down the needle and out to a waiting glass, but no oxygen gets in. At the same time, the device injects argon into the bottle – an inert gas that displaces the wine that is taken out. When the needle is removed, the cork reseals itself, allowing the remaining wine to stay in pristine condition.
Testing time: Over the last two years, Coravin has been road-tested by a host of volunteers: wine aficionados, wineries, retail stores and restaurants – including New York's Del Posto and Eleven Madison Park. In a marketing man's dream, Robert Parker – who stresses that he has no financial interest in the company – has declared the Coravin to be a "transformational" new product for wine lovers. He calls it "a killer device." The wine critic's enthusiasm for the device is evident in an interview with Lambrecht on erobertparker.com: "I can't tell you how impressed I am with this – with the technology and how well it works," says Parker.
This wine isn't currently part of a mixed case, but you can always browse our full selection of mixed cases
here.
For full delivery details see our Delivery page.
We offer free nationwide* delivery for all orders over £150 with our own vans. We also offer an express delivery service for an additional charge.
Order & Collect from any of our 5 London shops. Order by Midnight for collection the next working day from 11am.
Private wine storage: we offer a full In Bond and Duty Paid private wine storage service - find out more here.
ORDER COLLECT
ORDER ONLINE AND COLLECT FROM ONE OF OUR SHOPS