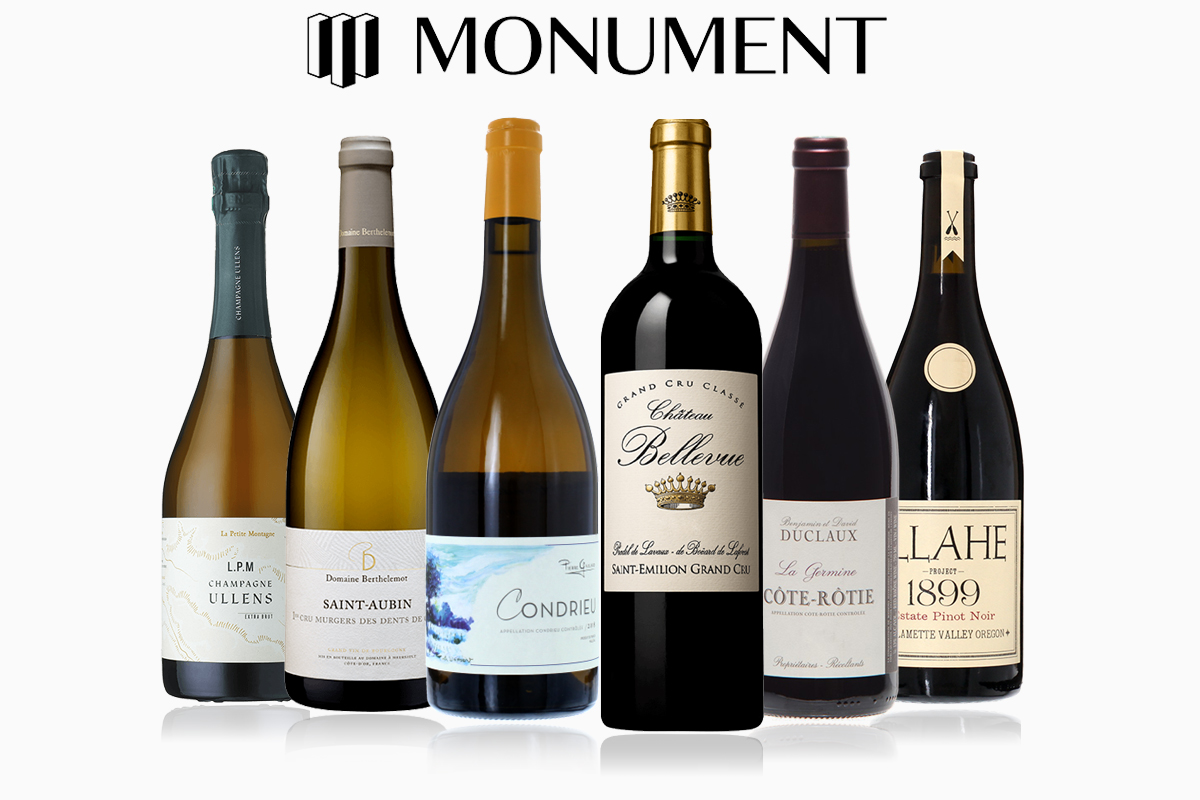 A wonderful treat!



Containing some rare and exciting bottles of wine, this cade begins with Champagne Ullen's 'LPM' extra Brut. We often find that some of the most exciting wine we stumble across is made by people who have been so captivated, they leave a previous profession and buy a vineyard, but for Max Ullens, the story is slightly different. Working as an architect, he discovered the run down Chateau de Marzilly in the most northerly part of Champagne. Falling in love with the building, Max & his father purchased it and he began to make wine. These are their first few bottlings, such is the care and attention that has been given to the wine making process – renting a winery and chalk cellar from Ayala until Max can finish building his own. This 100% Meunier is wonderfully unusual, made from one single vineyard and aged for 11 months in oak. There is energy and brightness from the ultra low dosage, expanse and body from the Meunier grape as well as an intriguing spice imparted from the barrels. This is a vinous and complete side to Champagne that most people will have never tasted – it will be very hard to not be converted once you have.
Food pairing: The density, freshness and spice all match the components of sushi so well. There's even a touch of salinity to flow with the nori.

2019 Saint Aubin Premier Cru 'Les Murgers des Dents de Chien' from Domaine Berthelemot

is quite a name. The vineyard from which it comes from translates quite literally as 'the wall of dog's teeth', referring to the many jagged stone walls which criss-cross the region (rather than anything more sinister…). The high altitude of this vineyard, as well as its calcareous soils of 'dog's teeth' rocks, create a supremely elegant style of Chardonnay. It is only the second vintage for Domaine Berthelemot, who have begun purchasing vineyards in some of the most desirable parts of Burgundy. Very much a family run endeavour, set up by Brigitte Berthelemot, it is her son Thomas who is beginning to take charge of the wine making, learning the ropes for three years as an apprentice. This is wonderfully balanced, floral perfume, some rich fruit and a touch of vanilla, pulled up with a fresh citrus acidity.
Food pairing: As this is our Special Occasion case, it deserves a special pairing – grilled lobster with a butter sauce is a wonderful pairing.

We should all drink more Viognier. It's got the most amazing fruit – think dense flavours of fresh apricot, peach, mandarin, perhaps even some mango and plum. It's complex and rarely needs bottle age to develop. Condrieu is the king of Vigonier, a tiny appellation in the northern Rhone Valley, where the grape has its home and the 2019 from Domaine Pierre Gaillard is a gorgeous example. Pierre discovered his passion for wine whilst helping drive a plough horse through a vineyard at the age of 12, many years and an oenology degree later, he begun purchasing plots in the Rhone, including the 'Clos de Cuminaille', an ancient vineyard dating back to Roman times. This Conrdieu has every aforementioned fruit stuffed into it, and more. It's a real delight.
Food pairing: A surprisingly good match for Asian cuisine, try it with Pad Thai or other lighter south east Asian dishes.

Chateau Angelus, who sell their wine for upwards of £250 a bottle, bought a 50% stake in their neighbour, Chateau Bellevue in 2007, undertaking the huge project of renovating the winery and changing the vineyard management system. 2012 Chateau Bellevue Grand Cru Classe marked the true start to this new era, as the first vintage made by Hubert's daughter, Stephanie, and demonstrates just how quickly they have turned the fortunes of this Chateau around. This is a seriously sophisticated St Emilion, mocha, black cherries leather and spice all pour forth from a wine which has been dubbed 'the Petrus of St Emilion' due to its very high merlot content. Perched on the prestigious limestone plateau, where all the finest wines in the area are made, and with the pedigree of the family now behind it, this is absolutely remarkable value.
Food pairing: Get a whole Cotes de Boeuf. You don't even have to share it if you don't want to…

Cote Rotie is an almost impossible vineyard. Set over a leg achingly steep slope, which hits over 60 degrees in places, you first wonder why on earth people planted vines here. Then, you taste the wine and recognise the second impossibility – how on earth is it possible to combine such elegance with such seductive, silky fruit? Suddenly the slopes don't seem so daunting, and you'd hike to the top just to get a glass of the stuff. The 2016 La Germine from Benjamin & David Duclaux is just such a wine, one we would be willing to do laps of the hillside for. One of the 'old guard' of Cote Rotie, appellation which only really rose to fame in the 60s, the Duclaux's Domaine was founded in 1928. Here you will find pretty aromas of violet, blossom, cherries, redcurrants, blackcurrants, plum, Asian spice… There is seemingly endless complexity. We couldn't help but include it in this case.
Food pairing: We've used this one before, but it's too good not to put in again. With your Sunday roast beef, this will make it an extra special occasion.

All of our producers are intensely quality focussed, but Illahe's 1899 Pinot Noir takes the notion to a whole different level. Their commitment to creating a fascinating and authentic product has lead beyond everything we almost take for granted – low intervention viticulture, organic management, even being a member of the 'Deep Roots Coalition', to something totally unique. Drawing on historical wine making techniques, winemaker Brad Ford has bought in horses to draw the plough (thus compacting the earth less and allowing more microbial activity), crafted his own amphorae in a home-made kiln and most recently, created the '1899' project. The aim here is to make a wine entirely without electrical intervention or fossil fuels, doing everything entirely manually, including taking the finished product to Portland on a canoe. This could easily be dismissed as a marketing gimmick (we're fairly sure the canoe ride is just for fun…) until you taste the wine.
Food pairing: This is immensely food friendly, but really fun to have with something like a beet wellington or nut roast.
L&S
For full delivery details see our Delivery page.
We offer free nationwide* delivery for all orders over £150 with our own vans. We also offer an express delivery service for an additional charge.
Order & Collect from any of our 5 London shops. Order by Midnight for collection the next working day from 11am.
Private wine storage: we offer a full In Bond and Duty Paid private wine storage service - find out more here.
CONTENT