Back to wine list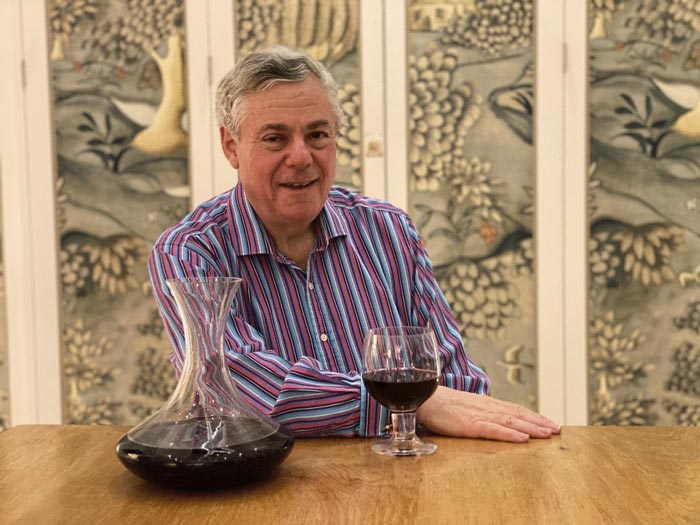 WILLIE LEBUS CHRISTMAS MIXED DOZEN 2021
Alternatively, we may well have some bottles in one of our shops - why not give us a call on 0207 244 0522 or send an email to: sales@leaandsandeman.co.uk.
Or, check the RELATED PRODUCTS below for different vintages or wines of a similar style.
Other reviews and comments
Willie's Christmas Tasting Case

A fabulous mixed case (1 bottle of each except where it says 2) that takes care of all your drinking needs for Christmas Day with another red and white for Boxing Day. All delivered nationwide free of charge. YUM!

GONET-MÉDEVILLE Tradition Brut 1er Cru NV
I've been a massive fan of 'Grower's Champagne since the 90s before most people were born... The argument that an artisan domaine can bring more individuality and expression holds equally well for Champagne as it does for Burgundy!
This magnificent blend of 70% Chardonnay with Pinots Noir and Meunier and 10% of the blend aged in old oak foudres gives the assemblage a gorgeous intensity whilst retaining its innate elegance. Bravo!

CHABLIS 2019 Domaine Adhémar et Francis Boudin (2 bottles)
I think I might change my name to Adhémar!! Sadly this extremely charismatic man of Chablis is no longer, but his son Francis carries on their tradition of producing uncompromising wine from old vines and no barrel ageing! This lovely fleshy Chablis from a very successful vintage. But with its refreshingly zippy acidity, it will be more than a match for most fishy dishies!

SAINT VÉRAN 2018 En Crèches Domaine Daniel Barraud (2 bottles)
Much as I like the sound of my own voice, William Kelley is possibly the greatest commentator on Burgundy right now. This is what he thinks of the wine!
'Notes of honeysuckle, Anjou pear and lemon oil introduce the 2018 Saint-Véran En Crèches, a medium to full-bodied, bright and racy wine with a pretty core of fruit, lively acids and a nicely defined finish. Given that this is a warm, southeast-exposed site, Barraud appears to have judged the harvest date very well, as it's one of the more tensile wines in this year's portfolio.' I've never had an Anjou Pear before, but I think you'll love this bottle on Boxing Day!

BROUILLY 2018 Les Mines Domaine Chevalier-Métrat (2 bottles)
I am a massive fan of Cru Beaujolais wines. At their best they offer a combination of gorgeous aromatics, sustained elegance, concentration and freshness. All these qualities are perfect for combining with the panoply of Christmas flavour be they, Goose, Turkey, Stuffing and the rest!
There are loads of Métrats all over the villages of Beaujolais, but Sylvain et Marie-Noëlle Métrat are masters of Brouilly. I love this incredibly expressive, scented gem. It's incredibly versatile, and I can't wait to match it with Roast Goose and red cabbage! Yummmm!

PINOT NOIR 2018 Spätburgunder Weingut Braunewell (2 bottles)
I can honestly say that I never thought I'd been drinking 'German' Pinot Noir for Christmas. I'm bonkers about Mosel Riesling, but Rheinhessen Pinot... Well this cracking Pinot Noir has it all! Stefan and brother Christian Braunewell are descended from French Huguenots, the Breinivilles. So this is clearly honorary red Burgundy. The aromas are farmyard worthy, covered with hints of wild strawberries and wild funghi. Nice mid palate weight, with plenty of zippy acidity. I've got this targeted at my home baked Boxing Day Gammon with a celeriac Gratin!

COTEAUX DU LAYON BEAULIEU 2014 L'Anclaie Château de Pierre Bise
Claude Papin is one of the fathers of Loire Biodynamists! This can be risky in the damp Loire climate. But it enables him to take risks when others would not. The results are crazy, individual wines full of botrytis and complexity. This is what Jancis Robinson thinks of the wine:
'An old favourite from Anjou. Deep, bright, bronzey-gold. Toasty, pungent nose that is more expressive of Chenin than of sweet wine. Then on the palate there is a lovely satin-swoosh of very sweet buttery tarte-Tatin juice and just enough acidity. Really quite vibrant and beautifully composed. You could happily sit and sip this on its own as it finishes reasonably dry but it could also go very happily with fruit and creamy desserts. Very well done.' I love the citrus botrytis intensity with Mince Pies and Christmas Pud. But if you fancy some Cheddar or Stilton, you'd find this a perfect match.

TIO PEPE FINO 2021 RELEASE En Rama Gonzalez Byass
Like many fellow wine 'professionals' I am nutty about Sherry. This En Rama Fino is the purest example of Fino. It's umaminess at its best. Salty, nutty, fresh, sea breeze but full of complexity. if you like opening presents after Church, tuck into this fantastic wine!

QUINTA DA ROMANEIRA 10 Year Old Tawny
Whilst I have been a great fan of vintage port over the years, I now prefer the rounder, subtler charms of aged tawny. The major difference between the two is that Tawny begins its life in a large 640 litre wood barrel, and continues to mature for at least 10 years. When different aged tawnies are blended, the result is a smoother easy drinking beauty, that combines all the goodies that one can tuck into over the Christmas season:- Nuts, citrus peel, chocolate cherries, toasted berries, wood smoke. This Tawny will transport you on a magical mystery tour of unbridled pleasure!!


Willie Lebus
For full delivery details see our Delivery page.
We offer free nationwide* delivery for all orders over £150 with our own vans. We also offer an express delivery service for an additional charge.
Order & Collect from any of our 5 London shops. Order by Midnight for collection the next working day from 11am.
Private wine storage: we offer a full In Bond and Duty Paid private wine storage service - find out more here.
CONTENT