Côte Rôtie
With a surface area under vine of 323 hectares, most of which clings precariously from ridiculously steep terraced slopes, to say this is a small appellation is an understatement from every angle. But nowhere is Syrah more revered, nowhere is it as perfumed and elegant and, astonishingly, nowhere is it so under the radar than in Côte Rôtie.
The slightly drab town of Ampuis is the commercial centre, but it is the majestic slopes that rise from behind the town that catch the eye, full of famous names using the terraced walls as advertising hoardings. The two slopes of Blonde and Brune are certainly impressive - from here it stretches south following the mighty Rhone river until it hits the southern slopes which brings you up to Condrieu.
---
Clos de la Bonnette
A new (ish) find, having tasted at trade shows and fairs in France, it was a recent write up in Decanter by Matt Walls that drew our attention back to the domaine. He went so far as to list it as his top Condrieu from the 2019 vintage - a strong field with some fairly serious contenders! Husband and wife team Isabelle & Henri are fully certified organic, they had been farming fruit and vegetables in the region since the 1970s but since 2009 have focused solely on the vine. They make some very compelling wines from a tiny 5 hectare estate, split between Condrieu and two sites in Côte Rôtie. Tasting these in London turned us into wide-eyed children – the wines are truly magical and surpassed our already elevated expectations. The Côte Rôtie and Condrieu are gorgeous – so sleek and polished, with a nose that you just want to dive into. We were also hugely impressed with the IGP Syrah – made with 35-45 year old vines, this was a delight.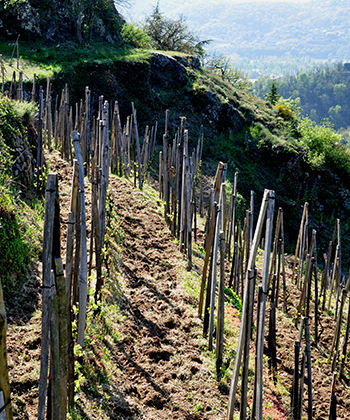 2019 SYRAH Vieilles Vignes Clos de la Bonnette
This is so much more than just an IGP wine, sourced from old vines and fragrant with ground pepper and wild flowers, raspberries and tangy damson fruit. In the mouth the wine is generously imbuedThis is so much more than just an IGP wine, sourced from old vines and fragrant with ground pepper and wild flowers, raspberries and tangy damson fruit. In the mouth the wine is generously imbued with earthy woodland fruits, spice, dried flowers and aromatic herbs. Pliant yet structured ripe tannins give shape to the wine, whilst a delicious ripe acidity pushed the wine along on the palate.L&S (Mar 2021)

75cl bottles, case of 6
In Bond

2019 CÔTE RÔTIE Damas Pourpre Clos de la Bonnette
There are wines that simply grab you by the scruff of the neck and demand your attention and this is one of them. This isn't shouty, no no, this is much more subtle, insinuating and aromaticallyThere are wines that simply grab you by the scruff of the neck and demand your attention and this is one of them. This isn't shouty, no no, this is much more subtle, insinuating and aromatically captivating. Grated ginger, ground pepper, raspberry and damson start the ball rolling on the fine fragrant nose, with undertones of forest floor and delicate spice. In the mouth the wine saturates the palate with beautifully fresh red fruits, ground spice, dark chocolate, herbs, underbrush and sappy damson. The tannic build is fine and gives grip, never heavy and supported by a lithe fresh acidity. You could drink this pretty much immediately, but with a bit of cellaring it's bound to get even better. Drinking range: 2022 - 2035L&S (Mar 2021)

75cl bottles, case of 6
In Bond
Domaine Benjamin et David Duclaux
5.8 Hectare 36,000 bottles produced. Brothers Benjamin & David are becoming quite the force in Côte Rôtie and are now considered to be one of the leading estates. I am constantly in awe at the wines produced here - floral elegance and real drive to the wines seem to be the hallmarks, with beautiful poise too. Based in the southern sector with sites in and around Tupin-Semons, this tiny domaine has until recently produced 3 wines. The addition of a new cuvee in 2018 Coteaux de Tupin, which is 80% stems and barrel fermented with only 934 bottles produced, impressed me greatly when tasting in barrel with Benjamin in January 2020. It entirely lived up to the hype when tasted in bottle in February 2021. Alongside La Chana, an early drinking style, and the more serious Le Germine and Maison Rouge, this is a beautiful set of wines that show everything that can be great about Côte Rôtie. There is also a relatively serious Condrieu, ripe and forward with a touch of spice.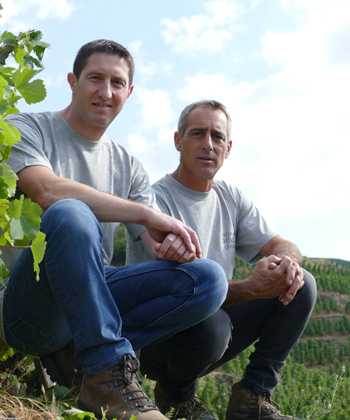 Domaine Clusel-Roch
From the 1950s to 1980 René and Josephine Clusel grew fruit and vegetables as well as Côte Rôtie. Their son, Gilbert, with his wife Brigitte Roch, stopped farming fruit and vegetables alongside, and expanded the domaine a little. Brigitte and Gilbert's son Guillaume, who joined the domaine in 2009, has added significantly to the vineyard area, mostly with with the addition of Gamay in the Coteaux du Lyonnais. Guillaume has now taken over the running of the estate, and today the property is around 13 hectares, but they still have only five hectares in Côte Rôtie and just half a hectare in Condrieu. The vines are planted on terraces along the Côte Rôtie, with two wooden stakes tied above each vine to help protect against the region's occasionally howling winds. Having officially converted to organic farming practices in 2002 (and now fully certified organic), most work in the vineyards is done manually, without the use of any chemical fertilisers. In order to even better express the tradition of the vineyard, the domaine only uses vines from their own selection of Syrah plantings, which are grafted in their own small nursery. According to Gilbert, these traditional Ampuis vines (vieilles serines) are less productive and give more complex aromas than available modern selections. The grapes are all hand-picked, backbreaking work on these perilous hills and left to naturally ferment with wild yeasts. This approach furthers the site purity in each of their wines. Annual production here still hovers at about 1250 cases per year. These are beautifully made wines with a very pure expression of place from this great region.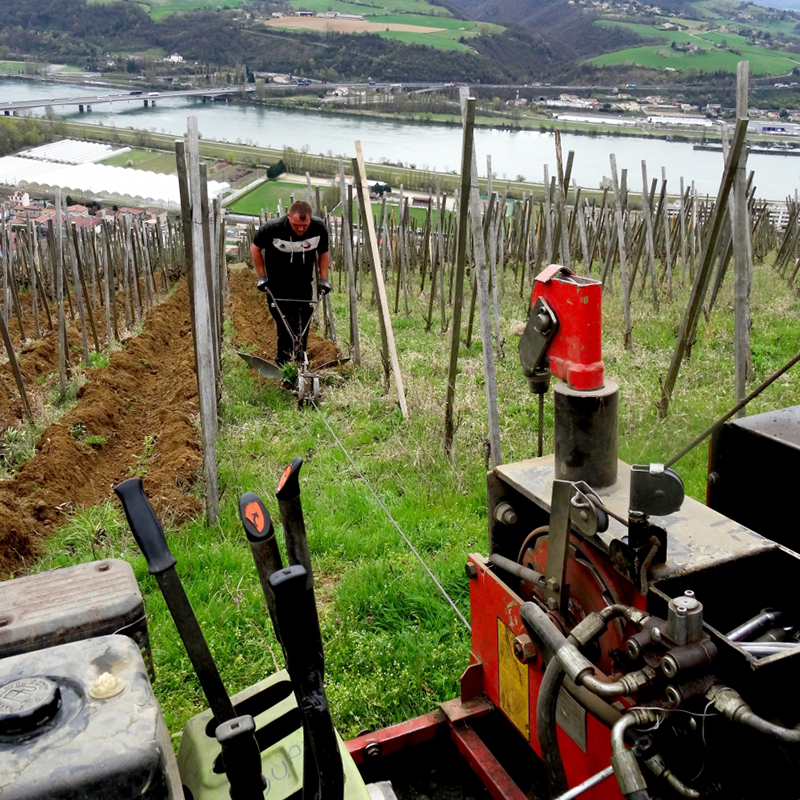 Domaine Patrick & Christophe Bonnefond
10 hectares 38,000 bottles produced. Another set of brothers making equally impressive wines, although these are from the northern sector more on schist with holdings in Colline de Couzou, Cote Rozier and Les Rochains. They seem to be always looking to make improvements and you can really tell that the obvious oak of 10 years ago has given way to wines of more purity and elegance, as with many in the appellation. Rozier and Rochains are the more serious wines, with a longer time in a small percentage of newer oak, whilst the more immediately approachable Colline de Couzou is made up of several sites including Rozier, Rochains, then from the south Coteaux de Tupin and Semons. The Condrieu is always a winner - for me it seems to hit the sweet spot in every vintage, never too exuberant but with enough floral notes and exotic spice all carried with good acidity. This year we have added the great value wines of Sensation du Nord - a Syrah and a Viognier - both perfect drinking now but equally a year or two for the Syrah would do no harm.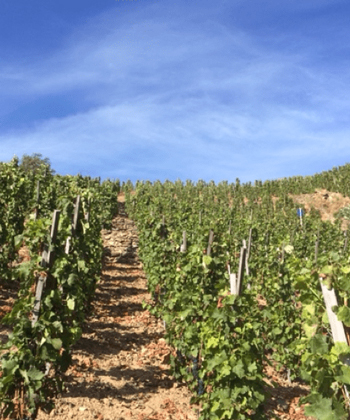 Domaine Rémi Niero
This estate is on an upward trajectory; every time we taste the wines we are impressed. Unusually for a domaine in this part of the world, they are white led with nearly 70% of the production dedicated to the beautiful but fickle Viognier grape. The Côte Rôtie is really smart too, polished and sleek providing immediate pleasure. One of the stars here is the St Joseph, on song and it is an absolute joy of a wine that just flows with drinkability. The smart and charming Rémi started to work alongside his father in 2004 and today is in charge of the domaine along with his wife Krystel. They are the 3rd generation of winemakers and continue the tradition of the estate's refined and pure wines from Viognier and Syrah working from their cellars in Condrieu. The domaine has recently fully converted to organic farming, the wines much like the estate are pristine and pure.
This is one of the original domaines of the Condrieu appellation, and centred on the oldest vineyard, above Condrieu itself and with a decent holding in the Coteau du Chéry, which, with the Coteau du Vernon, is considered one of the best sites. The domaine existed 45 years ago when the whole appellation was just 8 hectares of vines (it's now 160 hectares), under the name Pinchon. Rémi's father Robert married the Pinchon daughter, so now, having been Domaine Niero-Pinchon for a bit, it has been shortened to simply Niero when Rémi took over. The Condrieus come from just over 4 hectares of vines, all in the commune of Condrieu itself, in the parcels Coteau de Chéry, La Roncharde, Côte Chatillon, La Caille, Vergelas and Corbéry. The Condrieus are aged in tank (60%) and barrel (40%) for a year. The Côte-Rôties come from two sites, La Viallière and Le Coteau de Bassenon, from the southern end of the appellation, a total of nearly 2 hectares. They are aged for 16 months in barrel, with 20% new wood.