Clos de la Bonnette
A new (ish) find, having tasted at trade shows and fairs in France, it was a recent write up in Decanter by Matt Walls that drew our attention back to the domaine. He went so far as to list it as his top Condrieu from the 2019 vintage - a strong field with some fairly serious contenders! Husband and wife team Isabelle & Henri are fully certified organic, they had been farming fruit and vegetables in the region since the 1970s but since 2009 have focused solely on the vine. They make some very compelling wines from a tiny 5 hectare estate, split between Condrieu and two sites in Côte Rôtie. Tasting these in London turned us into wide-eyed children – the wines are truly magical and surpassed our already elevated expectations. The Côte Rôtie and Condrieu are gorgeous – so sleek and polished, with a nose that you just want to dive into. We were also hugely impressed with the IGP Syrah – made with 35-45 year old vines, this was a delight.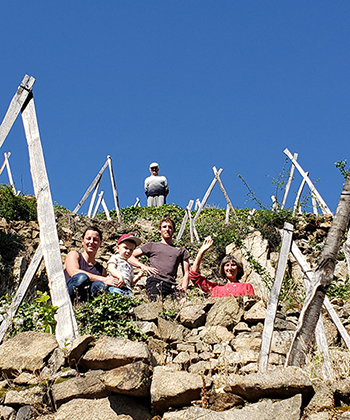 2020 VIOGNIER Archette Clos de la Bonnette
Fresh and beautifully detailed with white flowers, apricot skin, peach and nectarine. Some richness in the mouth but not overtly so with lithe stone fruit intensity, delicate honey and white flowerFresh and beautifully detailed with white flowers, apricot skin, peach and nectarine. Some richness in the mouth but not overtly so with lithe stone fruit intensity, delicate honey and white flower blossom, backed by a textured freshness. Delicious and ready to go. Drinking range: 2021 - 2025L&S (Apr 2021)

75cl bottles, case of 6
In Bond

2019 CONDRIEU Roches d'Arbuel Clos de la Bonnette

Certified organic cuvée from a selection of our youngest plots. 100% Viognier. Age of the vines: 4 to 10 years. Terroir: sandy soils on weathered granites

Harvest: 100%

Certified organic cuvée from a selection of our youngest plots. 100% Viognier. Age of the vines: 4 to 10 years. Terroir: sandy soils on weathered granites

Harvest: 100% manual Vinification: pneumatic pressing; alcoholic fermentation entirely in barrels; malolactic fermentation carried out to bring roundness; not glued, very light filtration. Aging: 12 months 100% in 228 l barrels; barrels of 2 or 3 wines minimum.

Limpid yellow colour with golden reflections; powerful, fine and complex nose with aromas of quince, vine peaches and pineapple with hints of apricot and vanilla; elegant, fresh and fine palate with aromas of vanilla, quince, passion fruit accompanied by citrus notes; very long aromatic persistence on vanilla notes.

Winemaker's notes (Mar 2021)

75cl bottles, case of 6
In Bond

2019 SYRAH Vieilles Vignes Clos de la Bonnette
This is so much more than just an IGP wine, sourced from old vines and fragrant with ground pepper and wild flowers, raspberries and tangy damson fruit. In the mouth the wine is generously imbuedThis is so much more than just an IGP wine, sourced from old vines and fragrant with ground pepper and wild flowers, raspberries and tangy damson fruit. In the mouth the wine is generously imbued with earthy woodland fruits, spice, dried flowers and aromatic herbs. Pliant yet structured ripe tannins give shape to the wine, whilst a delicious ripe acidity pushed the wine along on the palate.L&S (Mar 2021)

75cl bottles, case of 6
In Bond

2019 CÔTE RÔTIE Damas Pourpre Clos de la Bonnette
There are wines that simply grab you by the scruff of the neck and demand your attention and this is one of them. This isn't shouty, no no, this is much more subtle, insinuating and aromaticallyThere are wines that simply grab you by the scruff of the neck and demand your attention and this is one of them. This isn't shouty, no no, this is much more subtle, insinuating and aromatically captivating. Grated ginger, ground pepper, raspberry and damson start the ball rolling on the fine fragrant nose, with undertones of forest floor and delicate spice. In the mouth the wine saturates the palate with beautifully fresh red fruits, ground spice, dark chocolate, herbs, underbrush and sappy damson. The tannic build is fine and gives grip, never heavy and supported by a lithe fresh acidity. You could drink this pretty much immediately, but with a bit of cellaring it's bound to get even better. Drinking range: 2022 - 2035L&S (Mar 2021)

75cl bottles, case of 6
In Bond
Domaine Benjamin et David Duclaux
5.8 Hectare 36,000 bottles produced. Brothers Benjamin & David are becoming quite the force in Côte Rôtie and are now considered to be one of the leading estates. I am constantly in awe at the wines produced here - floral elegance and real drive to the wines seem to be the hallmarks, with beautiful poise too. Based in the southern sector with sites in and around Tupin-Semons, this tiny domaine has until recently produced 3 wines. The addition of a new cuvee in 2018 Coteaux de Tupin, which is 80% stems and barrel fermented with only 934 bottles produced, impressed me greatly when tasting in barrel with Benjamin in January 2020. It entirely lived up to the hype when tasted in bottle in February 2021. Alongside La Chana, an early drinking style, and the more serious Le Germine and Maison Rouge, this is a beautiful set of wines that show everything that can be great about Côte Rôtie. There is also a relatively serious Condrieu, ripe and forward with a touch of spice.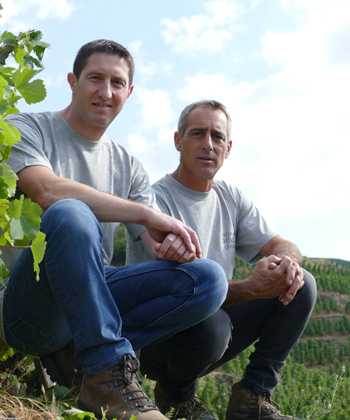 Domaine Clusel-Roch
From the 1950s to 1980 René and Josephine Clusel grew fruit and vegetables as well as Côte Rôtie. Their son, Gilbert, with his wife Brigitte Roch, stopped farming fruit and vegetables alongside, and expanded the domaine a little. Brigitte and Gilbert's son Guillaume, who joined the domaine in 2009, has added significantly to the vineyard area, mostly with with the addition of Gamay in the Coteaux du Lyonnais. Guillaume has now taken over the running of the estate, and today the property is around 13 hectares, but they still have only five hectares in Côte Rôtie and just half a hectare in Condrieu. The vines are planted on terraces along the Côte Rôtie, with two wooden stakes tied above each vine to help protect against the region's occasionally howling winds. Having officially converted to organic farming practices in 2002 (and now fully certified organic), most work in the vineyards is done manually, without the use of any chemical fertilisers. In order to even better express the tradition of the vineyard, the domaine only uses vines from their own selection of Syrah plantings, which are grafted in their own small nursery. According to Gilbert, these traditional Ampuis vines (vieilles serines) are less productive and give more complex aromas than available modern selections. The grapes are all hand-picked, backbreaking work on these perilous hills and left to naturally ferment with wild yeasts. This approach furthers the site purity in each of their wines. Annual production here still hovers at about 1250 cases per year. These are beautifully made wines with a very pure expression of place from this great region.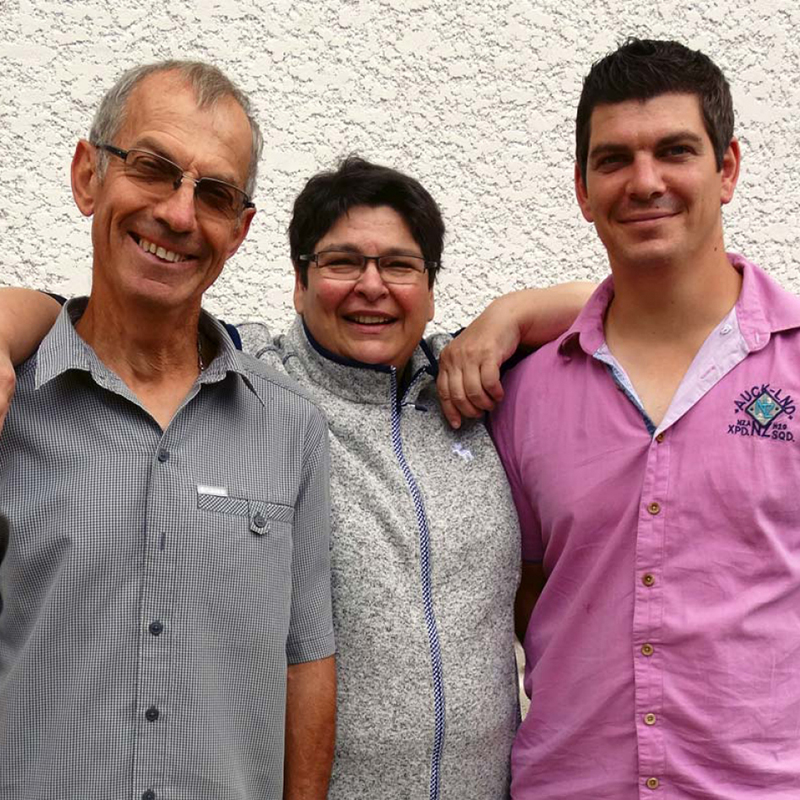 Domaine G&J Bott
A love story and a bit of good fortune; a love of the Syrah grape that led Graeme to the Rhone and the love of his life Julie, who came together whilst working at the prestigious cellars of Stephane Ogier. Theirs is a back story of adventure and spirit and one of serendipity too. Our relationship with the pair stretches back some 8 years or so, when we often stopped and shared a beer after the Marché aux vins in Ampuis every January, it was no surprise when they told us they were setting out on their own journey. The surprise came when they discovered that the house they had purchased in Verin, complete with 0.35 hectare of garden, was within the appellation of Condrieu, between the in-demand Coteau de Chery and the illustrious Chateau Grillet. They quickly took to clearing and planting some Viognier and this year is the first vintage of Condrieu Lieu dit l'Aleau and, with 934 bts & 60 magnums, it is going to be in demand. Graeme & Julie like to pick early to capture the freshness, the wines tend be expressive, bright and pure. Watch the videos:
Domaine G&J Bott
or
Condrieu Lieu-Dit L'ALEAU
.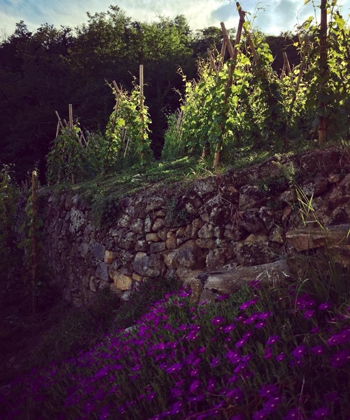 Domaine Gaylord Machon
You make an immediate judgement when you taste wine, and you can tell a lot about people on first appearances. The time I met Gaylord and Aurelie Machon was no exception. We have always enjoyed the wines, they are joyful and sing with freshness and serious intent. We saw them both at a trade show in the Rhone a few years ago and they were almost humbled by the fact that we had come to see them at their stand; we were duly invited to another tasting that evening in the wilds of the country. I must admit to thinking there must have been some mistake as the taxi trundled along dark dusty road that night for what appeared to be mile after mile before depositing us on what looked like a disused petrol station, bright lights & steamed up windows. However, inside told a different story. A party of revellers were inside, proving to be a real who's who of Crozes Hermitage. They were so impressed and surprised that we had made the effort to come and see them, they set about introducing us to all their friends, with no fear that their friends' wines would be better or worry that they might influence their importer.These are lovely people making lovely wines with a perpetual smile on their faces. Gaylord and Aurelie have 8.5 hecatres of organic land in the southern part of Crozes. They have real feeling for the wines, made with low intervention but with care and attention. The reds are very pure, with the Cuvee Ghany coming across as exuberant in its youth, whilst the more serious Cuvee Lhony, has more dark fruits, black olive tapenade and integrated oak. Both the red wines are named after their sons, whilst a white 'La Fille don't jai reve', the daughter of whom I dream, is a blend of mainly Roussanne and a bit of Marsanne.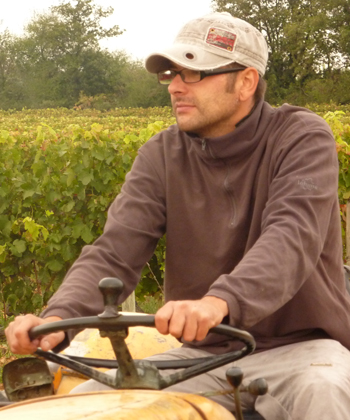 Domaine Gilles Robin
Gilles Robin took over the running of this vineyard in 1996, with the freedom to produce his own wines. With a history of winegrowing spanning four generations, Gilles' aim was to realise the potential of the 35 year old vines. He immediately used only natural fertilizers and reduced yields to just 40 hectolitres per hectare (8/10 bunches per vine) to give a richer concentration of fruit and quality. A new winery was built into the ground to allow the wines to be moved delicately by gravity, rather than being pumped. Gilles' vineyard now extends to Saint Joseph (where he makes a tiny volume) and Hermitage, the core vineyard averages forty years old, and the wines gain in subtlety and balance with every vintage. Gilles says of his wines, 'there is not a unique Syrah but rather a full spectrum of characteristics and potential expressed by Syrah varieties', to which might be added 'the spectrum of flavours of Syrah on different terroirs' as well, because his vineyards encompass the range of styles the appellation can produce. The 'Rochas' vineyard has deep soils which make for big wines with rustic tannins which take time to soften. It always produces tiny grapes which need fairly strong extraction to get the best of their deep, wild black fruit and spice notes. The 'Monico' vineyard is made up of broken-up rock and little pebbles and a deep clay. The clay retains water well and this is perfect for hot summers. A higher-toned red and black fruit character, ripe blackcurrant and blackberry, with elegant rather than massive tannins. Finally the 'Terres Rouges' vineyard is made of gravels and red clay, typical of the 'Terrasse des Châssis'. The Syrah here displays finesse, elegance and aromatic complexity. The strong iron monoxide content of this plot enables a maximum phenolic maturity. Intense colour, with purple highlights, aromas of violets, black fruits, sweet spices (pepper, nutmeg) and slightly smokiness. On the palate, this Syrah has silky tannins and fine minerality. All of these styles together make for beautifully balanced wines, the different cuvées emphasising the differing characteristics of primal fruit and sophisticated and complex depth. The vineyard has been organic since 2009.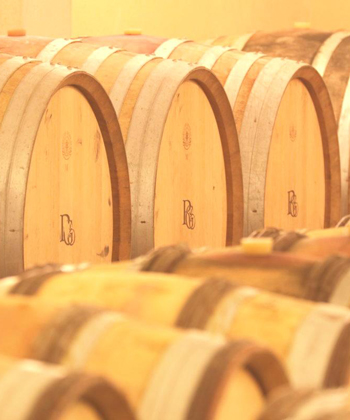 Domaine Lionnet
Husband and wife team Ludovic & Corrine are certainly pushing their small domaine in the right direction, fashioning some remarkably good wines from their miniscule 3.7 hectare estate. With 3 of those hectares in Cornas making traditional, rich, formidable wines, made with whole bunch ferments and minimal intervention with wild yeasts, these are wines with a structured sense with good tannin balance. Two wines are made, Terre Brune (burnt earth) and the fresher Pur Granit, along with a small amount of excellent St Jospeh red from 0.4 hectare and a white from 0.3 hectare, production is tiny, the wines sought after, long lived and serious. Cornas is definitely on the rise again, not quite the noisy neighbour of Hermitage, but justifying the renewed global interest.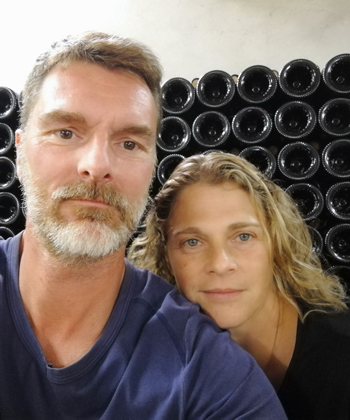 Domaine Patrick & Christophe Bonnefond
10 hectares 38,000 bottles produced. Another set of brothers making equally impressive wines, although these are from the northern sector more on schist with holdings in Colline de Couzou, Cote Rozier and Les Rochains. They seem to be always looking to make improvements and you can really tell that the obvious oak of 10 years ago has given way to wines of more purity and elegance, as with many in the appellation. Rozier and Rochains are the more serious wines, with a longer time in a small percentage of newer oak, whilst the more immediately approachable Colline de Couzou is made up of several sites including Rozier, Rochains, then from the south Coteaux de Tupin and Semons. The Condrieu is always a winner - for me it seems to hit the sweet spot in every vintage, never too exuberant but with enough floral notes and exotic spice all carried with good acidity. This year we have added the great value wines of Sensation du Nord - a Syrah and a Viognier - both perfect drinking now but equally a year or two for the Syrah would do no harm.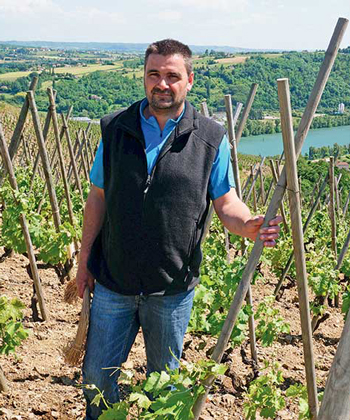 Domaine Pierre Gaillard
Pierre Gaillard's passion for wine-making developed at an early age when he was discovered ploughing in the vineyard with a plough horse when only twelve years old. After studying oenology at Montpelier he went on to work for a large estate in Côte Rôtie where he steeped himself in the 'terroirs' and traditions of this famous vineyard. In 1981 he bought his own vines in St Joseph and revived the 'Clos de Cuminaille', an ancient vineyard dating back to Roman times. Since then he has bought vines in both Côte Rôtie and Condrieu, and his family have continued to develop the business.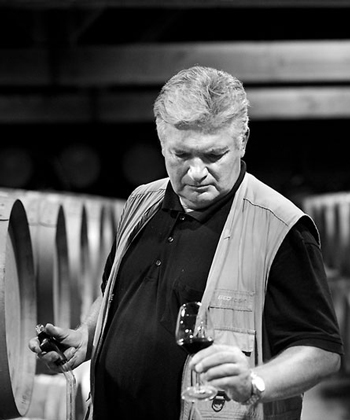 Domaine Rémi Niero
This estate is on an upward trajectory; every time we taste the wines we are impressed. Unusually for a domaine in this part of the world, they are white led with nearly 70% of the production dedicated to the beautiful but fickle Viognier grape. The Côte Rôtie is really smart too, polished and sleek providing immediate pleasure. One of the stars here is the St Joseph, on song and it is an absolute joy of a wine that just flows with drinkability. The smart and charming Rémi started to work alongside his father in 2004 and today is in charge of the domaine along with his wife Krystel. They are the 3rd generation of winemakers and continue the tradition of the estate's refined and pure wines from Viognier and Syrah working from their cellars in Condrieu. The domaine has recently fully converted to organic farming, the wines much like the estate are pristine and pure.
This is one of the original domaines of the Condrieu appellation, and centred on the oldest vineyard, above Condrieu itself and with a decent holding in the Coteau du Chéry, which, with the Coteau du Vernon, is considered one of the best sites. The domaine existed 45 years ago when the whole appellation was just 8 hectares of vines (it's now 160 hectares), under the name Pinchon. Rémi's father Robert married the Pinchon daughter, so now, having been Domaine Niero-Pinchon for a bit, it has been shortened to simply Niero when Rémi took over. The Condrieus come from just over 4 hectares of vines, all in the commune of Condrieu itself, in the parcels Coteau de Chéry, La Roncharde, Côte Chatillon, La Caille, Vergelas and Corbéry. The Condrieus are aged in tank (60%) and barrel (40%) for a year. The Côte-Rôties come from two sites, La Viallière and Le Coteau de Bassenon, from the southern end of the appellation, a total of nearly 2 hectares. They are aged for 16 months in barrel, with 20% new wood.